Mini
It is necessary to keep an eye on the home loan interest rates and take meaningful action whenever necessary.
The Reserve Bank of India lowered the repo rate earlier this month by 25 basis points – the third successive time it had cut the key lending rate in its bi-monthly policy review.
The repo rate has come down to 5.75 percent — the lowest it has been since July 2010. The repo rate influences commercial deposit and loan rates in the country. Therefore, a falling repo rate should bring cheer to small borrowers, right?
The answer is more complex.
Banks have not been able to fully transmit these rate cuts from the RBI to their customers. Therefore, interest rates have fallen at a much slower rate than the repo rate. A quick check for the home loan rates in the past one year reveals that in some cases, loan rates may have grown even as the repo rate has shrunk.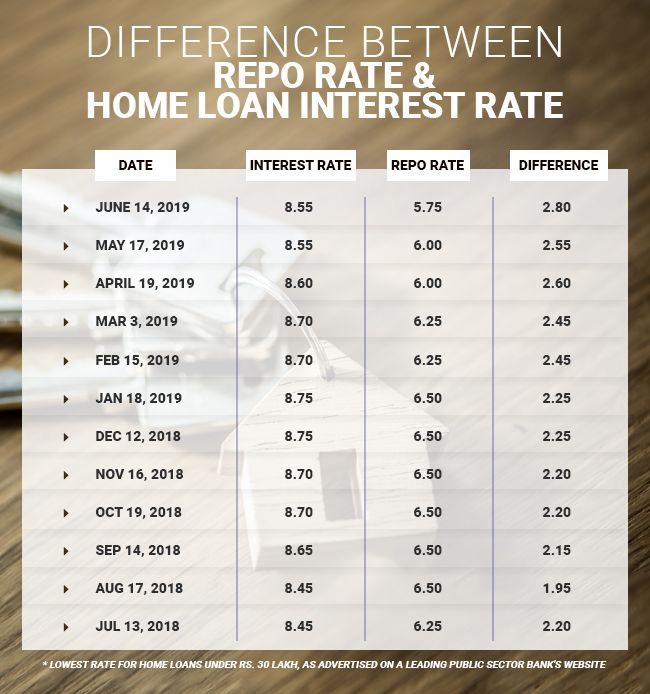 In mid-July 2018, the repo rate was 6.25 while the lowest interest rate advertised for home loans under Rs 30 lakh was 8.45. A year later, the repo rate has reduced by 50 basis points while the rate on the same loan has increased by 10 basis points.
Small borrowers need the benefit of rate cuts as well. They want their EMIs to get smaller and the cost of borrowing to reduce in tandem with the falling repo rate. So, in a situation where their own loan rate isn't falling, should the small borrowers consider refinancing their homes?
Compare Interest rates
You must take stock of the prevalent home loan interest rates in the market. It is possible that your own lender may have lowered its rate while you're still paying a higher rate. From April 1, 2016, all bank loans were linked to the bank's MCLR. This was a departure from the base rate regime, which was less effective in transmitting rate cuts to borrowers. With MCLR-linked loans, periodic revisions of interest rates became mandatory.
From April 1, 2018, the RBI mandated all banks to link the old, base rate-linked loans to their MCLR. Following this, the RBI announced that from April 1, 2019, all bank lending had to be linked to external benchmarks. So far, only the State Bank of India has linked its deposit and one home loan product to an external benchmark. They have chosen the repo rate as this benchmark. With an external benchmark, banks are likely to transmit rate cuts better.
For you as a borrower, it, therefore, becomes critical to know if you're paying a competitive rate of interest. If you're not, it's time to act.
Check with your bank about internal transfer
Before you take the option to refinance your home, check with your own bank or non-banking financial company (NBFC) about the possibility of reducing your loan rate. Sometimes, this may be done after the payment of a processing fee. If you do decide to transfer the loan to another bank or NBFC, scan the market thoroughly for the best deals. Also, remember to thoughtfully shortlist your loan options before you finalise one. Lastly, do not apply for many loans at once. Doing so would damage your credit score.
Ascertain long-term savings before refinancing
Let's assume you had borrowed Rs 50 lakh for 20 years at a rate of 9 percent. Your EMI is Rs 44,986 and your total interest over 20 years is Rs 57.96 lakh. Let's say you've followed this plan for three years. Now, after 36 EMIs, you are considering a loan transfer. Consider the loan options available to you.
Let's say you now have the opportunity to move a loan being offered to you at 8.75 percent. In three years, you have already paid Rs 16.19 lakh, but your principal payment was only Rs 3.08 lakh. Your loan balance is still Rs 46.92 lakh. If you refinanced your home for the next 17 years at an interest rate of 8.75 percent, your EMI will be a slightly lower at Rs 44,268. And your interest on the new loan would be Rs 43.38 lakh. That, combined with interest already paid, amounts to Rs 56.49 lakh – which is Rs 1.47 lakh less than what you would have paid had you continued with the first loan.
Bear in mind that these numbers are for illustrative purposes only, and your actual interest on a floating rate loan would rise or drop with any change in interest rates. You must also subtract the cost of the refinancing — processing fees for the new loan, any fees for closing the old loan — from your perceived gains.
Over the long term, the cost of your home loan far exceeds the initial cost of acquisition of your home. Therefore it is necessary to keep an eye on the interest rates and take meaningful action whenever necessary. Do scan online marketplaces periodically for the best refinancing opportunities. It may just save you lakhs of rupees in the long term and help you get out of debt sooner.
The writer is CEO of BankBazaar.com.
Read Adhil Shetty's columns here.