SIP is an EMI you are paying to your own self. Ensure that you receive the right amount.
"Know what you own, and know why you own it." – Peter Lynch
It's time to check if your existing SIP is aligned to your goal.
SIP is an EMI you are paying to your own self. Ensure that you receive the right amount. It doesn't matter if you're an expert investor or a newbie - merely starting a SIP is not enough, monitoring and re-evaluation of your SIPs is also important. You must have definitely learnt of the multiple benefits of investing in SIPs and for someone who wishes to build up capital over the longer term and is not familiar with equity markets, investing regularly through SIP in a mutual fund is one strategy that can help you build wealth, step by step, over a period of time. What it really means is that you invest a fixed sum from your savings every month, instead of making a heavy one-time investment. Over the years, a SIP can add up to give really substantial returns, through a disciplined investing approach which can benefit from the power of compounding and rupee-cost averaging. While mutual funds help investors diversify across a host of stocks, SIPs will help you diversify over time. And by staying committed to your SIP for a long period of time, you'll be able to average out the cost of purchase. Investing in SIPs is a long haul, so be sure to consider your existing investment and align it according to your profiler as per your requirement.
Begin with Goal setting:
Your goal could be anything - saving for your retirement, your child's marriage, further education or even a foreign holiday. You can achieve your goal by investing in SIP. Linking your SIPs to specific goals will not only help you monitor your progress every month but will also determine how much money you're keeping away every month to get there?
For Example - a monthly SIP of Rs. 5000 at the rate of 12 percent p.a would grow up to Rs 11.50 lakh in 10 years, Rs. 174.75 lakh in 30 years.
The true benefit of SIP is reaped by investing at lower levels and we also recommend to not over-diversify your investments. The amount you invest in SIP will help you to reach your goal in the stipulated time period.
Blessing in Disguise:
Investing modestly but regularly ensures that even in the worst of scenarios, impact on your investments is relatively low and it rebounds when the market picks up.
For Example – If a monthly SIP of Rs 5,000 at Rs10 per unit plunges to Rs 7 per unit, then there is no need to panic instead it is a blessing in disguise because it brings up positive aspects like low price per unit wherein more units get allotted to your portfolio and further when the NAV goes up it will eventually yield fruitful results of capital appreciation.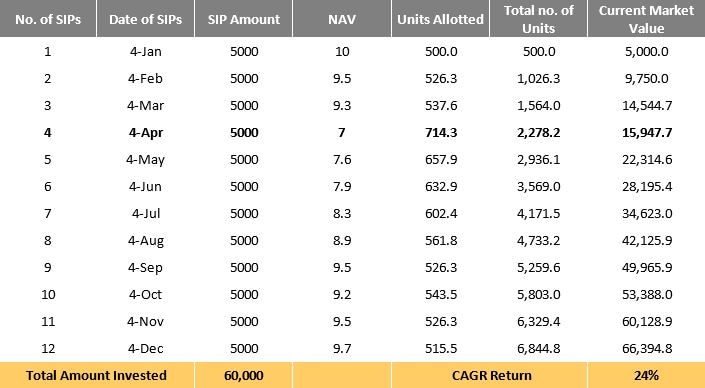 Beef up your investment amount every year:
Although SIPs follow a pattern in the way payments are made, the amount doesn't necessarily have to stay the same every year. As your income rises, your savings will also go up. Ideally, for a salaried person, the investment amount should also increase every year in line with the increase in your income. By doing so, you can have bigger goals even though your present income doesn't allow it.
Spread your SIP payment Dates:
Fund houses have specific dates on which SIP investments are made, and we're sure yours has too. So if you're planning to start a SIP through the same funds, or different funds for each goal, it would be wise to spread each investment across different dates of the month. This allows you to retain some cash in your savings account since the money does not flow out at one go. But the bigger advantage is that you reduce the risk of market timing because the money gets invested on different days, refuting any adverse market movements in the interim.
You must know when to review your SIPs
Knowing when to end something is just as important as deciding when to begin. If you've been smart and linked your SIP to a goal, end the SIP as the goal draws closer. And if you've achieved your goal before time, shift your investments to a more stable investment option. Leaving your money exposed to the whims of the market would not be a wise move. On the other hand, if you have not managed to save the required amount, extend the SIP tenure.
"Someone's sitting in the shade today because someone planted a tree a long time ago." – Warren Buffet
Note: All information provided in the article is for educational purpose only. Views & opinions expressed in the article are not of the company and don't affect any official policy or position of any other agency, organization. They don't constitute any professional advice or service.
Harsh Joshi is head - Investor Product Business, Broking & Distribution, Motilal Oswal Financial Services Ltd.
First Published: Feb 26, 2019 1:32 PM IST