The financial services sector globally has been jolted by the Silicon Valley Bank crisis. Banking funds in India have not been spared. What should investors in India do under the circumstances? CNBC-TV18.com got some answers from experts.
The fall of Silicon Valley Bank (SVB) and Signature Bank has dented sentiments in the banking and financial services space, reverberating all over the world. The direct impact on the Indian banking sector was negligible to low. However, incessant selling is clearly reflected in the banking sector funds, as evident from the short-term performance returns of the 16 schemes under this category.
On nine-month and one-year time frames, the returns are positive, but the shorter-term performances show negative returns. Take a look: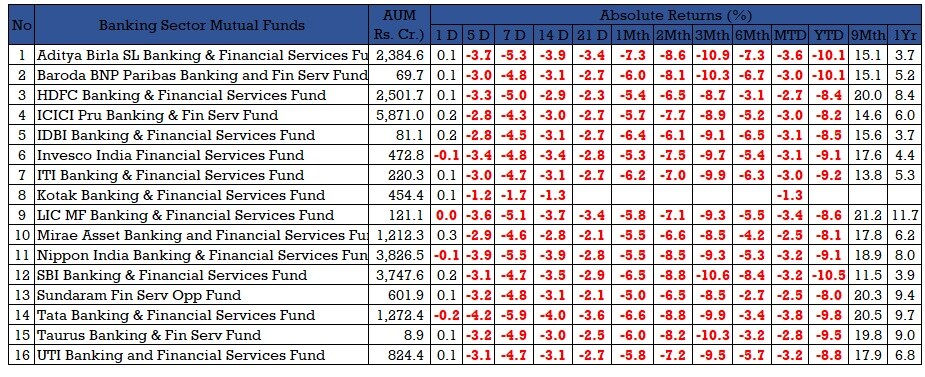 (Source: ACEMF on behalf of FYERS; Data as on March 17, 2023)
Negative returns are also visible in Nifty Bank constituents.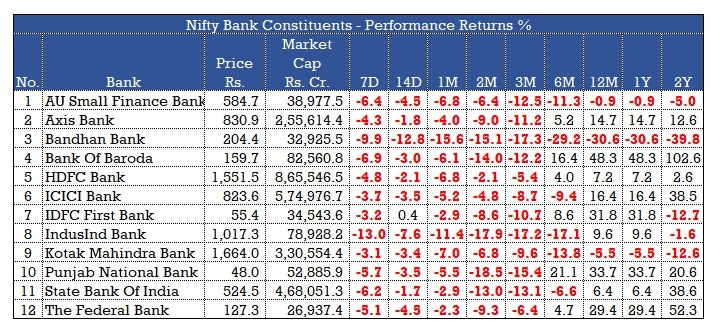 (Source: ACE Equity on behalf of FYERS; Data as on March 16, 2023)
What's leading the fall?
This fall in returns can be attributed to the volatile stock market conditions and rising interest rates, said Gopal Kavalireddi, Head of Research at FYERS, while talking to CNBC-TV18.com.
"Ever since the rate hike cycle commenced, the expectations of lower net interest margins, higher cost of funds and impact on credit growth abound. With banks increasing the deposit rates with a lag, compared to the repo rate hikes by Reserve Bank of India (RBI), the impact was delayed but inevitable," Kavalireddi said.
Between May 2022 and February 2023, the repo rate has gone up by 250 basis points (bps), leading to an increase in interest rates.
Additionally, foreign institutional investors (FIIs) have been on a selling spree since October 2021, paring down their investment holdings in many banks and financial sector entities.
Is it worth investing in banking funds now?
Kavalireddi said banking funds are suited only for investors with sufficient understanding of the risk and a longer investment time horizon, to even out the volatility in stock movements and deliver sustainable returns.
"We need to understand that portfolios of thematic funds by nature are very concentrated in a particular sector and are exposed to concentration risk. Banking stocks are susceptible to macro and micro economic factors, interest rate cycles, credit and deposit growth rates among other factors," he told CNBC-TV18.com.
He felt that the current interest rate hike cycle is approaching its finality, and a higher but stable interest rate environment is expected from the second half of the calendar year.
Therefore, investors can initiate their investments in the banking sector funds through the systematic investment plan (SIP) mode to benefit from rupee cost averaging, while the sector undergoes a price and time consolidation for some more time.
Anita Gandhi, Whole Time Director and Head of Institutional Business at Arihant Capital, also felt that stability will resume soon.
"Interest rates have risen in India. But, our banking system does not have similar threat (like Silicon Valley Bank) as long as asset liability management is proper in terms of maturities and interest rate sensitivities," Gandhi told CNBC-TV18.com.
(Edited by : Shoma Bhattacharjee)