Equity mutual funds have witnessed a net inflow at Rs 2,224 crore in November, data released by the Association of Mutual Funds in India (AMFI) said. This is the lowest inflow recorded since April 2021. In October, the same was registered at Rs 9,253 crore. However, Systematic Investment Plan (SIP) has once again hit record high in the month of November, while witnessing inflow of Rs 13,307 crore.
The fall in inflows into equity and equity linked-schemes comes at a time when shares surged on the back of an uptick in foreign fund flows. The NSE Nifty 50 and S&P BSE Sensex logged monthly gains of 4.14 percent and 3.87 percent respectively, in November.
The large cap fund registered an outflow of Rs 1,038.8 crore.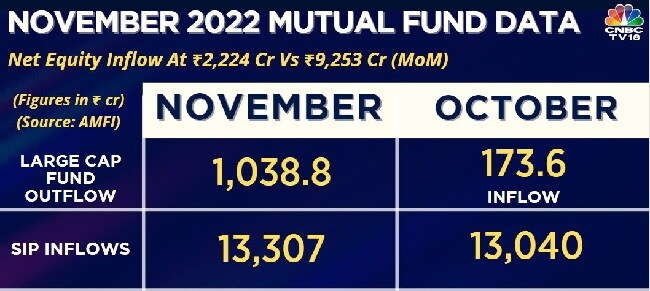 Debt funds
The total debit scheme inflow came in at Rs 3,668.6 crore and corporate bond fund inflow was registered at Rs 3,466.4 crore, The total Assets and management (AUM) was registered at Rs 40.37 lakh in November.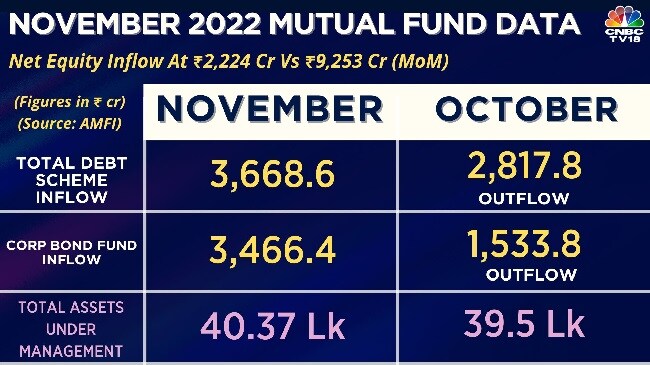 Hybrid fund outflow came in at Rs 6,477 crore and liquid fund witnessed inflow at Rs 34,276 crore. The ETF inflow was registered at Rs 1,967.3 crore. Meanwhile, credit risk outflow was registered at Rs 204.1 crore.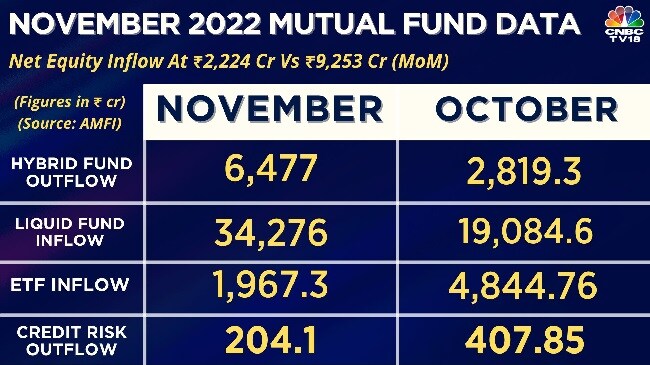 Consequently, major equity categories- large cap funds, focused funds, ELSS funds, flexi cap funds - saw net outflows this month, with large cap funds leading the outflow table.
Sectoral and thematic funds saw the biggest inflows.
Meanwhile, passive funds continued to see investor interest with index funds witnessing inflows of Rs 8,601.73 crore in November. Gold exchange-traded funds (ETFs) saw outflows of Rs 198 crore as investors booked some profits amid the rise in bullion prices.
Sharing views on the monthly data, N S Venkatesh, Chief Executive, AMFI said: "Market continues to react to global headwinds. Rate hikes will continue to impact global markets but not for long, irrespective of that mutual fund industry has performed well. There have been outflows from the retail schemes as people are encashing profits, the reason being increased consumption, owning to the festive season. Retail investors have faith in the MF Industry growth, therefore they will re-enter the market quickly. We have seen encouraging growth in many schemes, especially Index schemes led by equity schemes."
"We believe the upcoming budget will bring cheer to the market which will clear the pathway to more inflows in various schemes, however debt schemes will stabilise once the RBI rate hikes stabilise. However, Mutual Fund investors have shown resilience and continue to invest in SIPs, with consistent contribution month on month.," Venkatesh added.
According to Suresh Soni, CEO at Baroda BNP Paribas, if we really look over the last one year, or equity AUMs have gone up by about 20 percent, it's about 3 lakh crore up and similarly in hybrid category in the AUMs have been up.
"So broader trends are up, SIP numbers have stayed strong. Month-on-month, there can always be a small amount of variation based on some amount of profit booking that can happen in a month or some amount of reduction that happens. But broader trend is very positive. We have seen the industry growing quite well and this is the first time the industry has crossed 40 lakh crore, so that's a big number in terms of the overall AUM itself," he said.