We are excited to
partner with Eight Roads Investments
, the investment arm of Fidelity International Limited. With Eight Roads as an investor, we will continue to innovate and expand our advisory offering across financial products.
Index funds have outperformed actively managed funds over the last year. While Nifty has advanced around 12 percent in the last financial year, average returns by
large-cap Mutual funds
remained at 8.92 percent. We have been a proponent of index first approach to portfolio construction since the start and you can see our index recommendations
here
.
In the past year, large-cap Index has out-performed the mid-cap Index.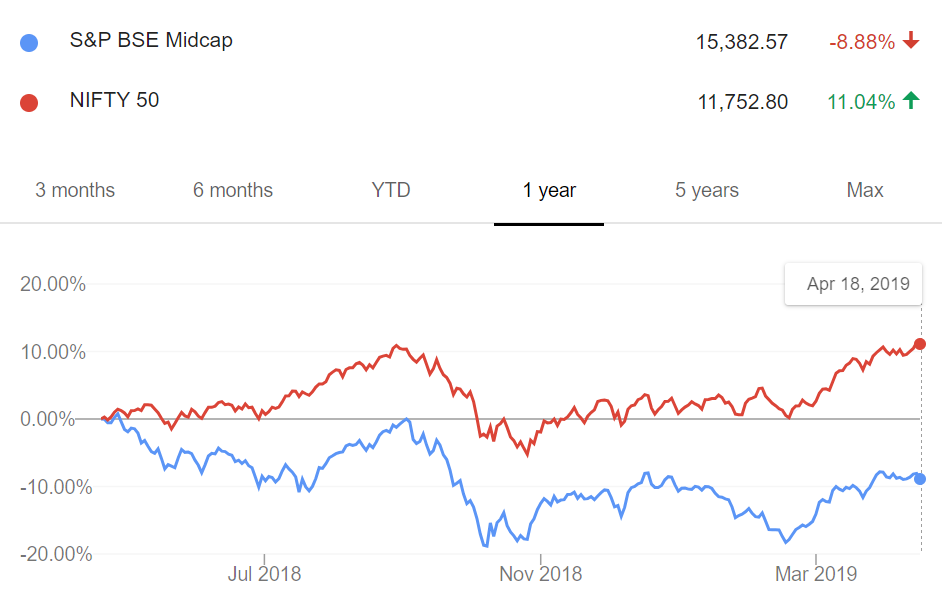 However, in the long run, the mid-cap Index does better. Over the past 16 years, your investment in the mid-cap Index would have returned 19% annually vs 17 percent annually for the large-cap index.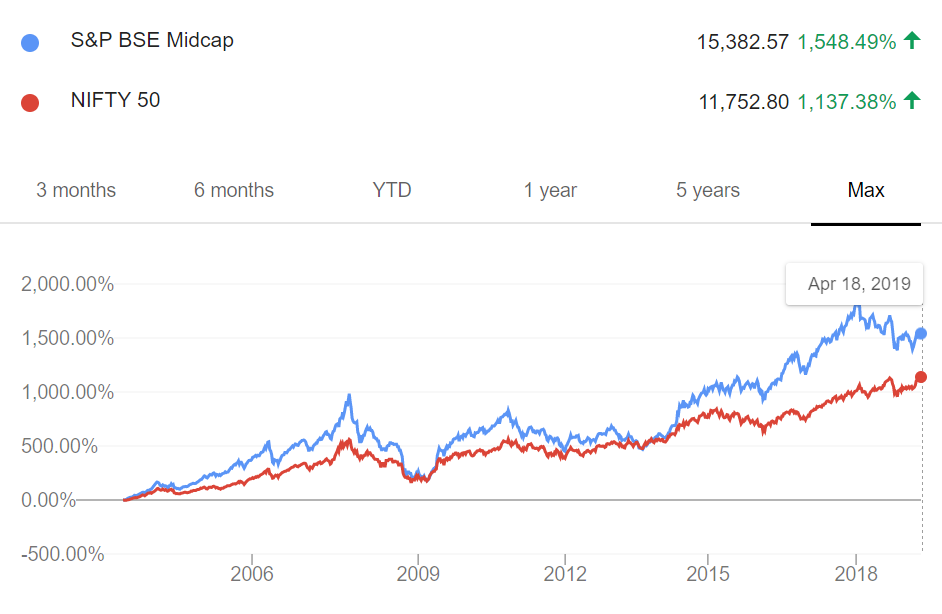 Enter Nifty Next 50, which is our recommended large-cap index. Nifty Next 50 Index is 45 percent of our
equity basket allocation
. Over the past 16 years, an investment in Nifty Next 50 would have returned 21.12 percent annually vs 19 percent annually for the mid-cap Index.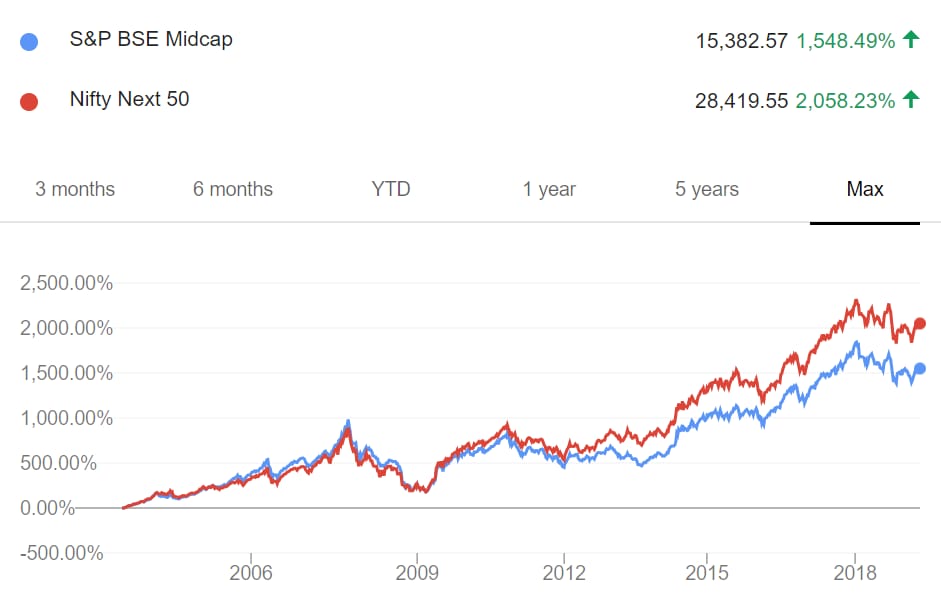 Direct funds are cheaper than ever before, with the revised cost slabs for mutual funds kicking in from April 1. Retails investors benefit from the change in TER norms as prescribed by SEBI earlier during October 2018.
Select Mutual Funds with exposure to Essel Group have clarified on their plans to process redemptions in schemes impacted by such exposure.
HDFC
has rolled over the redemption of one of its FMP by around 1 year, they issued a statement saying that
The purpose of rollover/extension is due to the current interest rate scenario and portfolio positioning, the yields prevailing in the short maturity bucket present an option for investors to lock in their investments at the current prevailing yields.
We are working closely with the Essel group for optimal recovery from Konti & Edisons for the benefit of our unit-holders as we believe such recovery will take place albeit with some delay.
Mirae Asset
has approved the change in Fundamental attributes of
Mirae Asset India Equity Fund.
The scheme will change from a multi-cap fund to a large cap one from 1/May onward and will be named Mirae Asset Large Cap Fund. Unitholders of Mirae Asset India Equity Fund who do not wish to retain their holdings in the scheme can redeem their units without any exit load between 1/Apr and 30/Apr 2019.
Index Returns
| | | | |
| --- | --- | --- | --- |
| Index | Weekly open | Weekly close | Change |
| BSE Sensex | 38,767.11 | 39,140.28 | 0.96% |
| Nifty | 11,643.45 | 11,752.80 | 0.94% |
| S&P BSE SmallCap | 15,022.18 | 15,021.20 | -0.01% |
| S&P BSE MidCap | 15,426.45 | 15,382.57 | -0.28% |
Source- BSE/NSE
Top 5 best performing funds
Source – Kuvera.in
Top 5 worst performing funds
Source – Kuvera.in
Top 5 best performing ELSS funds
Source – Kuvera.in
What investors bought
We saw the most inflows in these 5 Funds –
Source – Kuvera.in
What investors sold
We saw the most outflows in these 5 Funds –
Source – Kuvera.in
Movers & Shakers
1
/
LIC Mutual Fund
announced the resignation of Hemant Bhargava and appointment of M.R. Kumar as Associate Director on the Board of LIC Mutual Fund Asset Management Limited.
2/
Principal Mutual Fund
has announced the launch of the Principal Small Cap NFO. This open-ended equity scheme will be open for subscription from 22/Apr.