Trade setup for Monday, September 26: The Nifty50 faces important resistance at 17,500 and may slide all the way to 17,000 in the near term, say experts. Here's what the technical charts suggest.
Indian equity benchmarks suffered sharp losses on Friday, continuing to fall for a third straight session, amid a market-wide sell-off as the rupee plunged to an all-time low against the US dollar, putting pressure on financial stocks.
Globally, investors remained on the back foot after the Fed repeated a 75-basis-point hike in the key rate for a third straight time and reiterated its commitment to controlling red-hot consumer inflation.
What do the charts suggest for Dalal Street?
The
Nifty50
has fallen sharply
after forming an
indecisive candle on the daily chart, sinking below a crucial short-term moving average, according to
Rupak De, Senior Technical Analyst at LKP Securities.
"Momentum oscillator appears to be in a bearish crossover on the daily timeframe. The trend looks negative, which may take the Nifty towards 17,000 over the short term. On the higher end, it has resistance at 17,500," he said.
Time to sell the rise in banking
Having faced extreme selling pressure from the higher levels following the Fed announcements, the Nifty Bank has breached crucial support at 40,000 on a closing basis, according to Kunal Shah, Senior Technical Analyst at LKP Securities.
"This confirms the breakdown... The index remains in a sell-on-rise mode with a hurdle at 40,500 and the next support visible at 39,000," he said.
Here are key things to know about the market ahead of the September 26 session:
SGX Nifty
On Monday, Singapore Exchange (SGX) Nifty futures — an early indicator of the nifty index — fell as much as 190 points or 1.1 percent to 17,142, suggesting a gap-down opening ahead on Dalal Street.
Equities in other Asian markets began the week in the red tracking sharp losses on Wall Street last Friday, with MSCI's broadest index of Asia Pacific shares outside Japan down 0.8 percent at the last count. Japan's Nikkei 225 was down 2.3 percent and China's Shanghai Composite flat.
S&P 500 futures were down 0.4 percent. On Friday, the three main US
indices tanked 1.6-1.8 percent
.
Earlier that day,
European markets took a hit as Saudi led declines across the Middle East, following a fall in energy prices and on fears that aggressive rate hikes by major central banks to tame inflation could cause a global recession. The pan-European Stoxx 600 index finished 2.3 percent lower.
What to expect on Dalal Street?
Mohit Nigam, Head-PMS at Hem Securities, identified the following levels to watch out for:
| | | |
| --- | --- | --- |
| Index | Support | Resistance |
| Nifty50 | 17,150 | 17,500 |
| Nifty Bank | 39,000 | 40,000 |
Key moving averages
In a bearish signal, the Nifty remains below all six of its simple moving averages.
| | |
| --- | --- |
| Period (No. of sessions) | SMA |
| 5 | 17,364.4 |
| 10 | 17,454.4 |
| 20 | 17,560.3 |
| 50 | 17,655.8 |
| 100 | 17,779.5 |
| 200 | 17,686.7 |
FII/DII activity
Foreign institutional investors (FIIs) remained net sellers of Indian shares for a third straight day on Friday.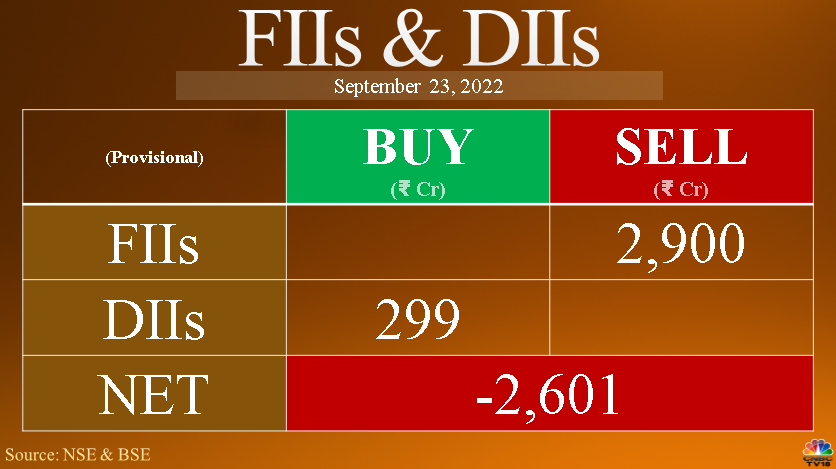 The maximum call open interest is accumulated at the strike price of 18,000, with 1.8 lakh contracts, and the next highest at 17,500 and 17,600, with 1.3 lakh each, according to exchange data. On the other hand, the maximum put open interest is at 16,000, with 1.2 lakh contracts, and at 17,000, with one lakh.
This indicates a strong hurdle at 18,000 and an immediate base at 17,000.
Here's one stock that saw an increase in open interest as well as price:
| | | | | |
| --- | --- | --- | --- | --- |
| Stock | Current OI | CMP | Price change (%) | OI change (%) |
| CIPLA | 7,655,050 | 1,064.45 | 0.42% | 0.29% |
Long unwinding
| | | | | |
| --- | --- | --- | --- | --- |
| Stock | Current OI | CMP | Price change (%) | OI change (%) |
| ZEEL | 87,255,000 | 259.4 | -5.50% | -26.41% |
| AUROPHARMA | 12,184,000 | 515.5 | -1.39% | -19.48% |
| UPL | 22,670,700 | 701.25 | -3.12% | -18.35% |
| INDHOTEL | 25,274,248 | 326.25 | -2.44% | -16.49% |
| CANFINHOME | 4,031,625 | 517.7 | -4.62% | -16.18% |
(Increase in price and decrease in open interest)
| | | | | |
| --- | --- | --- | --- | --- |
| Stock | Current OI | CMP | Price change (%) | OI change (%) |
| DEEPAKNTR | 1,788,750 | 2,165.60 | 0.07% | -13.70% |
| LALPATHLAB | 1,178,750 | 2,502.60 | 3.42% | -7.83% |
| AMBUJACEM | 43,097,400 | 536.55 | 0.31% | -7.29% |
| TATASTEEL | 210,634,250 | 104.3 | 0.29% | -6.00% |
| METROPOLIS | 849,600 | 1,460.20 | 0.84% | -5.37% |
(Increase in price and decrease in open interest)
| | | | | |
| --- | --- | --- | --- | --- |
| Stock | Current OI | CMP | Price change (%) | OI change (%) |
| POWERGRID | 35,826,300 | 202.7 | -8.18% | 5.12% |
| MFSL | 1,806,350 | 781.85 | -3.81% | 4.21% |
| NMDC | 51,043,950 | 127.65 | -2.85% | 1.40% |
| BEL | 72,048,000 | 106.85 | -3.26% | 1.27% |
| GUJGASLTD | 5,667,500 | 488.2 | -3.97% | 1.24% |
(Decrease in price and increase in open interest)
52-week highs
A total of 33 stocks from the BSE 500 universe — the broadest index on the bourse — reached the milestone:
| | | |
| --- | --- | --- |
| ABFRL | AUTOIND | TIINDIA |
| AGI | BARODARY | TRINITYLEA |
| AHLEAST | BCONCEPTS | VALENCIA |
| AIML | BHARATAGRI | VCKCAP |
| AKASHDEEP | BUTTERFLY | VESUVIUS |
| ALSTONE | CAMPUS | VIDLI |
| AMBARPIL | CFEL | VINAYAKPOL |
| ANUBHAV | CJGEL | VIRGOGLOB |
| ARCHITORG | COMPUPN | WIREFABR |
| ARISINT | TAJGVK | ZENLABS |
| ASHNI | THEMISMED | ZMULTIPU |
52-week lows
Eleven stocks hit 52-week lows:
| | | |
| --- | --- | --- |
| BIOCON | LICI | ZENSARTECH |
| GLAND | MASTEK | |
| IEX | MEDPLUS | |
| IOC | SANOFI | |
| JCHAC | SIS | |
First Published: Sept 26, 2022 12:54 AM IST