Trade setup for Friday, October 28: The Nifty50 may face selling pressure only below 17,625, which could take it to 17,500-17,450 levels, say experts. Here's what the technical charts suggest.
Indian equity benchmarks managed to finish a choppy session in the green on Thursday amid volatile trade, ahead of the expiry of October derivatives contracts due by the end of the day. Globally, caution persisted among investors on the impact of steep rate hikes on economic growth.
Later in the day, the ECB announced a rate hike along expected lines and a quarterly GDP reading from the US turned out better than Street expectations.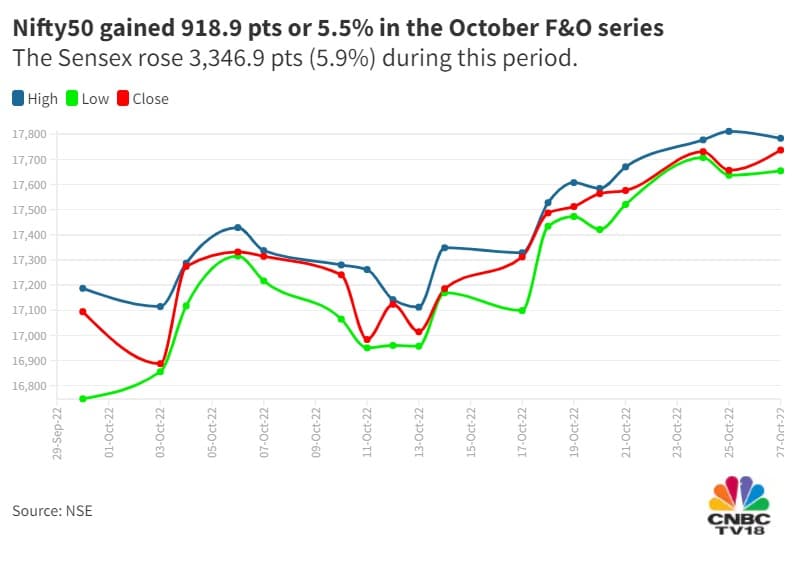 What do the charts suggest for Dalal Street?
The
Nifty50
has consistently found resistance near 17,800 for three straight sessions and taken support near 17,625, according to
Shrikant Chouhan, Head of Equity Research (Retail) at Kotak Securities.
"Investors are positive about the India growth story, which is driving the market higher despite several headwinds on the external front," he said.
You may still buy the dip in Nifty Bank
A slide below immediate resistance at 41,500 will take the banking index in a
short-covering move towards 42,000,
Kunal Shah, Senior Technical and Derivatives Analyst at LKP Securities, pointed out.
"The Nifty Bank remains in a buy-on-dip mode as long as it holds support at 40,500," he said.
Here are key things to know about the market ahead of the October 28 session:
On Friday, Singapore Exchange (SGX) Nifty futures — an early indicator of the Nifty index — rose as much as 64 points or 0.4 percent to 17,866.5 ahead of the opening bell on Dalal Street.
Equities in other Asian markets began Friday in the red, following a mixed handover from Wall Street, with MSCI's broadest index of Asia Pacific shares outside Japan quoting down one percent at the last count.
Japan's Nikkei 225 was down 0.4 percent, China's Shanghai Composite 0.8 percent and Hong Kong's Hang Seng 1.8 percent.
S&P 500 futures were down 0.4 percent. On Thursday, the S&P 500 finished 0.6 percent lower and the Nasdaq Composite fell 1.6 percent, though the Dow Jones rose 0.6 percent.
What to expect on Dalal Street
Kotak Securities' Chouhan believes a breakout above 17,800 could take the 50-scrip index all the way to the
17,900-18,000 zone.
"On the flipside, a fresh round of selling is possible only after the dismissal of 17,625, below which, it could slip till 17,500-17,450 (levels)," he said.
| | | |
| --- | --- | --- |
| Period (No. of sessions) | Nifty50 | Nifty Bank |
| 5 | 17,712.7 | 41,292.8 |
| 10 | 17,708.6 | 41,274.9 |
| 20 | 17,681.2 | 41,172 |
| 50 | 17,580.1 | 40,635.9 |
| 100 | 17,370.7 | 39,835.1 |
| 200 | 17,321.7 | 39,576.6 |
Key levels to watch out for
The maximum call open interest is accumulated at the strike price of 17,800, with almost two lakh contracts, and the next highest at 18,000, with 1.8 lakh contracts, according to provisional exchange data. The maximum put open interest is placed at 17,700, with 1.6 lakh contracts, and at 17,500, with 1.3 lakh.
This suggests immediate resistance at 17,800 and immediate support at 17,700.
Foreign institutional investors (FIIs) net purchased Indian shares worth Rs 2,818 crore on Thursday, according to provisional exchange data.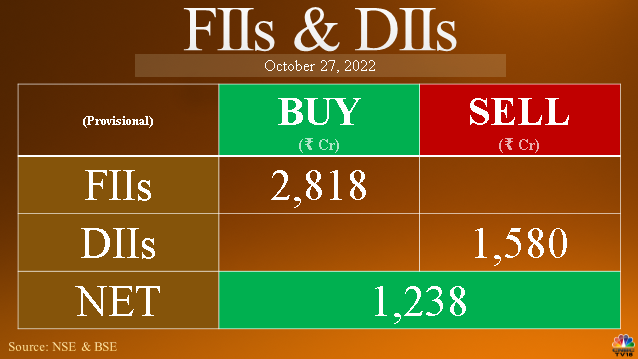 Here are five stocks that saw an increase in open interest as well as price:
| | | | | |
| --- | --- | --- | --- | --- |
| Stock | Current OI | CMP | Price change (%) | OI change (%) |
| MARUTI | 595,500 | 9,071.35 | 0.93% | 57.97% |
| PIIND | 270,750 | 3,214.10 | 3.04% | 55.59% |
| M&M | 3,300,500 | 1,295 | 1.35% | 53.32% |
| SUNPHARMA | 4,437,300 | 1,008 | 1.84% | 47.55% |
| HDFC | 3,969,900 | 2,378.35 | 0.76% | 41.10% |
Long unwinding
| | | | | |
| --- | --- | --- | --- | --- |
| Stock | Current OI | CMP | Price change (%) | OI change (%) |
| FSL | 3,801,200 | 102.75 | -3.16% | -69.22% |
| PIDILITIND | 368,000 | 2,567.80 | -1.98% | -62.77% |
| MFSL | 620,750 | 678.6 | -0.50% | -60.94% |
| JUBLFOOD | 1,835,000 | 592.6 | -0.13% | -60.15% |
| MRF | 7,530 | 87,250 | -0.04% | -53.12% |
(Increase in price and decrease in open interest)
| | | | | |
| --- | --- | --- | --- | --- |
| Stock | Current OI | CMP | Price change (%) | OI change (%) |
| LALPATHLAB | 145,000 | 2,627.25 | 1.13% | -67.41% |
| JINDALSTEL | 7,777,500 | 468.5 | 3.79% | -65.80% |
| HDFCAMC | 312,600 | 2,073.25 | 0.55% | -60.75% |
| COFORGE | 183,150 | 3,900.75 | 0.08% | -59.71% |
| POLYCAB | 135,000 | 2,787.50 | 0.65% | -55.78% |
(Increase in price and decrease in open interest)
| | | | | |
| --- | --- | --- | --- | --- |
| Stock | Current OI | CMP | Price change (%) | OI change (%) |
| HDFCLIFE | 5,233,800 | 532.65 | -0.22% | 27.47% |
| ICICIPRULI | 2,101,500 | 500 | -1.02% | 21.48% |
| TECHM | 6,125,400 | 1,079.40 | -0.26% | 15.58% |
| PAGEIND | 12,300 | 50,960 | -2.25% | 10.85% |
| TATACOMM | 749,500 | 1,221.85 | -0.88% | 7.00% |
(Decrease in price and increase in open interest)
Twenty four stocks in the BSE 500 universe — the broadest index on the bourse — hit 52-week highs:
| | | |
| --- | --- | --- |
| AXISBANK | FEDERALBNK | NHPC |
| BDL | GODFRYPHLP | PHOENIXLTD |
| BHARTIARTL | GRANULES | RVNL |
| BLUESTARCO | IIFL | SJVN |
| CANBK | KEI | SUMICHEM |
| CIPLA | KRBL | SUNPHARMA |
| COCHINSHIP | MAHSCOOTER | TRITURBINE |
| CONCOR | MIDHANI | VSTIND |
Ten stocks hit 52-week lows:
| | |
| --- | --- |
| AMBER | NYKAA |
| DELHIVERY | OFSS |
| GLAND | PRINCEPIPE |
| JCHAC | SHILPAMED |
| MPHASIS | TEAMLEASE |