Trade setup for Thursday, October 20: The Nifty50 is showing signs of exhaustion and a slide to 17,200 cannot be ruled out, experts warn. Here's what the technical charts suggest.
Indian equity benchmarks managed to close higher for the fourth session in a row on Wednesday, as gains in financial and oil and gas shares aided the upmove losses in IT and metal stocks limited the upside. Investors awaited more of
corporate earnings
from India Inc for domestic cues.
Globally, equities saw mixed moves amid nervousness about hawkish central banks and the impact of steep rate hikes on economic growth.
What do the charts suggest for Dalal Street?
The
Nifty50
has formed a brief distribution on the
hourly chart
after opening at the hurdle zone of 17,500-17,600 and
moved down subsequently, according to
Gaurav Ratnaparkhi, Head of Technical Research, Sharekhan by BNP Paribas.
"The hourly momentum indicator is showing signs of exhaustion," he warned.
Time to buy the dip in Nifty Bank
The Nifty Bank index faces a tough hurdle at 40,500, which it has failed to take out on a closing basis, said Kunal Shah, Senior Technical and Derivatives Analyst at LKP Securities.
"A closing above 40,500 will lead to an upmove towards 41,000-41,500 levels. The index remains in a buy-on-dip mode with strong support at 40,000-39,800 levels,"
he said.
Here are key things to know about the market ahead of the October 20 session:
On Thursday, Singapore Exchange (SGX) Nifty futures — an early indicator of the Nifty index — fell as much as 163.5 points or 0.9 percent to 17,340.5 in early Asian trade, suggesting a gap-down start ahead on Dalal Street.
Equities in other Asian markets fell on Wednesday, following a weak handover from Wall Street, with MSCI's broadest index of Asia Pacific shares outside Japan trading 1.2 percent lower at the last count. Japan's Nikkei 225 was down 1.1 percent, China's Shanghai Composite 0.3 percent and Hong Kong's Hang Seng 2.2 percent.
S&P 500 futures were down 0.6 percent. On Wednesday, the S&P 500 fell 0.7 percent, the Dow Jones 0.3 percent and the Nasdaq Composite 0.9 percent.
What to expect on Dalal Street?
Sharekhan's
Ratnaparkhi believes that going by the overall structure of the market, the Nifty50 can start to slide as it hovers near its crucial resistance zone.
"Unless it crosses the hurdle of 17,500-17,600 on a closing basis, it is likely to take a dip towards 17,300-17,200 in the coming sessions," he said.
Key moving averages
The Nifty50 managed to stay above its long-term simple moving average for a second straight session in a bullish sign.
| | |
| --- | --- |
| Period (No. of sessions) | Simple moving average |
| 5 | 17,533.4 |
| 10 | 17,535.7 |
| 20 | 17,464.4 |
| 50 | 17,257.4 |
| 100 | 17,220.3 |
| 200 | 17,353.8 |
Key levels to watch out for
The maximum call open interest is accumulated at the strike price of 17,600, with 1.8 lakh contracts, and the next highest at 17,700, with 1.5 lakh, according to provisional exchange data. The maximum put open interest is placed at 17,000, with 1.6 lakh contracts, and at 17,500, with 1.3 lakh.
The data indicates strong resistance at 17,600 and immediate support at 17,500.
Foreign institutional investors (FIIs) remained net sellers of Indian shares for the ninth session in a row on Wednesday, according to provisional exchange data.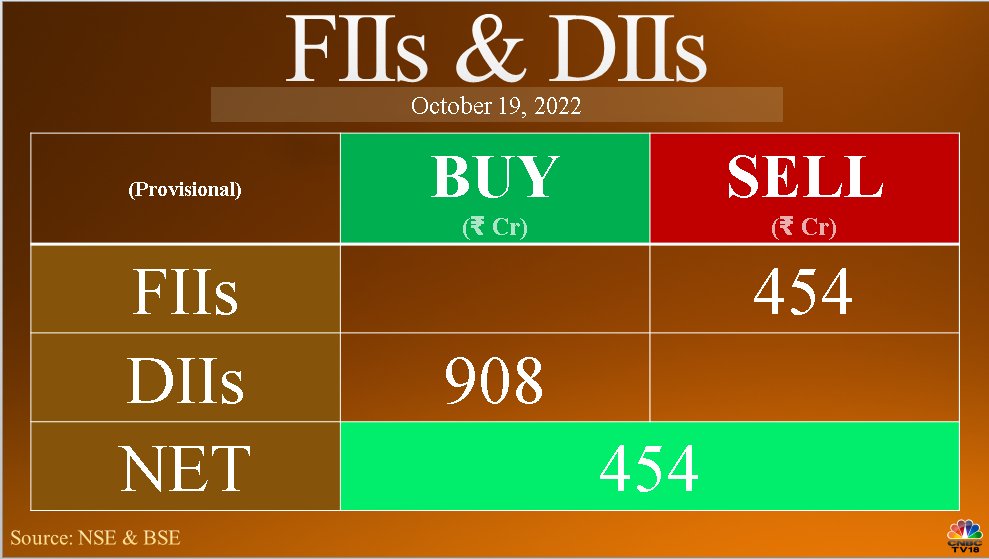 Here are five stocks that saw an increase in open interest as well as price:
| | | | | |
| --- | --- | --- | --- | --- |
| Stock | Current OI | CMP | Price change | OI change |
| CONCOR | 6,252,000 | 771 | 6.82% | 15.18% |
| APOLLOHOSP | 1,503,125 | 4,383.35 | 0.11% | 15.03% |
| PIIND | 1,687,750 | 3,169.95 | 2.60% | 14.75% |
| GUJGASLTD | 6,556,250 | 480 | 1.10% | 14.72% |
| ULTRACEMCO | 1,871,700 | 6,425 | 0.88% | 12.12% |
Long unwinding
| | | | | |
| --- | --- | --- | --- | --- |
| Stock | Current OI | CMP | Price change | OI change |
| BHEL | 124,110,000 | 67.45 | -1.39% | -6.96% |
| SBIN | 48,043,500 | 553.85 | -1.07% | -5.39% |
| GRANULES | 7,874,000 | 356.15 | -0.67% | -3.86% |
| COALINDIA | 27,329,400 | 238.4 | -1.55% | -3.78% |
| TATACOMM | 2,727,000 | 1,210.25 | -2.50% | -2.64% |
(Increase in price and decrease in open interest)
| | | | | |
| --- | --- | --- | --- | --- |
| Stock | Current OI | CMP | Price change | OI change |
| ESCORTS | 1,125,850 | 1,997.40 | 0.62% | -6.89% |
| GNFC | 5,541,900 | 722.3 | 1.41% | -5.77% |
| TORNTPHARM | 1,736,500 | 1,580.35 | 1.01% | -3.54% |
| IBULHSGFIN | 38,448,000 | 125.1 | 0.72% | -2.63% |
| IEX | 41,790,000 | 141.15 | 0.71% | -2.58% |
(Increase in price and decrease in open interest)
| | | | | |
| --- | --- | --- | --- | --- |
| Stock | Current OI | CMP | Price change | OI change |
| AARTIIND | 655,350 | 683.65 | -8.12% | 99.87% |
| LTTS | 819,400 | 3,434.95 | -6.47% | 44.72% |
| TORNTPOWER | 3,777,000 | 482.95 | -0.30% | 32.33% |
| ICICIBANK | 59,923,875 | 893.25 | -0.67% | 14.71% |
| POLYCAB | 910,500 | 2,702.20 | -1.85% | 12.42% |
(Decrease in price and increase in open interest)
Fifteen stocks in the BSE 500 universe — the broadest index on the bourse — reached the milestone:
| | | |
| --- | --- | --- |
| AEGISLOG | FEDERALBNK | POLYCAB |
| CHALET | IDFCFIRSTB | RHIM |
| COALINDIA | INDIANB | TIINDIA |
| CUB | MASFIN | TVSMOTOR |
| EIDPARRY | MIDHANI | WESTLIFE |
52-week lows
Twelve stocks hit 52-week lows:
| | | |
| --- | --- | --- |
| ALOKTEXT | LICI | NYKAA |
| APLLTD | MEDPLUS | SANOFI |
| BSOFT | MOTHERSON | SHILPAMED |
| GLAXO | NATCOPHARM | SUNTECK |