YES Bank reported its worst quarterly results after top management rejig. It posted PBT (Profit Before Tax) loss of Rs 24 billion and a net loss of Rs 15 billion in Q4FY19.
Many analysts have downgraded Yes Bank's rating after it reported huge losses in the fourth quarter of the fiscal year 2018-19. However, few analysts are still bullish on the stock.
YES Bank reported a Rs 2,400 crore loss before tax and a net loss of Rs 1,500 crore in Q4FY19, mainly due to a reversal of fees and contingent provisions (Rs 2,100 crore).
In just one quarter, the
private lender's
provisions rose nearly seven times to Rs 3,662 crore from Rs 550 crore reported in the December quarter. This was mainly on the back of two exposures by the bank, which were related to an airline company and infrastructure conglomerate, which are supposed to be Jet Airways and IL&FS.
Motilal Oswal maintained "buy" on YES Bank as it believes that the private lender's asset quality will improve on the bank's strategy shifting toward building a strong retail franchise. The brokerage house believes that corporate governance and balance sheet growth is likely to moderate.
"Expects ~50% of the below investment grade book to slip in coming quarters. The bank will improve its PCR to 60% in the coming years," the brokerage added.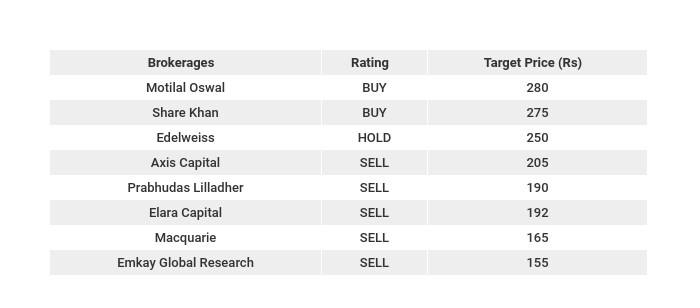 Share Khan also remain bullish on the stock as it believes that the private lender currently trades at ~1.6x its FY21E book value, which is reasonable. It expects the near term upside to be limited as the bank's strategy, business mix and conservatism may entail into slower growth and moderate return ratios.
Other brokerages who have downgraded the stock believe that the private lender's challenges will persist in the next quarter as well. Sudden change in the asset quality post CEO transition is a key negative for the stock's performance in the future.