Mini
Page used to trade at 70 times FY20e when the stock price touched the 52 week high prices. With the fall in price, the stock is trading at 53 times FY20e.
Bengaluru-based
Page Industries Ltd
, the maker of Jockey International garments till 2040, continued to trade above the price to earnings of 52 times FY20E and 42 times FY21E post the recent correction in the stock from its 52-week-high levels.
The company has the exclusive right to manufacture, distribute and market innerwear cum leisurewear products under the 'Jockey' brand in India, Sri Lanka, Maldives, Bangladesh, Nepal and UAE. It is also a licensed retailer of 'Speedo' swimwear products and accessories in India.
From August 2018 till now, Page has lost 34 percent in terms of its share price. Since its listing in 2007, the stock gave a return of 67 times at the current market price and 100 times when stock touched its 52 week high levels.
For example:
For 15 shares bought at Rs 360 is Rs 5,400 (Actual Cost of Investment).
For 15 shares at Rs 24,140 (Closing Market Price) is Rs 3,62,100.
For 15 shares at Rs 36,370 (52 week high) is Rs 5,45,550.
Major Opportunities
Consistency: Page maintained stability over the years in terms of revenues and return on capital employed (ROCE). The firm maintained consistency in terms of financial performance and quality of products without compromising the pricing.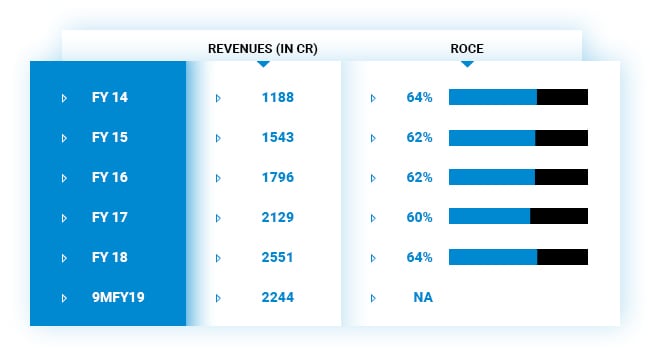 Market Share: The company has a market share of 55 percent in men and women's innerwear, and is gaining sales in Atlesiure and kids wear. It has also gained 50-60 percent market share in ecommerce platforms. Currently, Page has 9-10 percent market share in men's Athleisure and three percent in women's Atleisure.
Strong Distribution Network: The firm has pan India presence with over 50,000 touch points, 2,200 distributors and is targeting over 1,000 exclusive brand outlet by 2020 from 470. Page's main competitor, Van Heusen, has 12,000 touch points and 100 distributors.
Push-Based Demand Approach: The company pays high incentives to distributors to maintain a push-based approach for all the Jockey products. Distributors push Jockey products when customers approach to buy innerwear at multi-brand outlets, which help the company to gain market share.
Low Labour Attrition Rate: Page has employed over 22,000 labours across different locations as innerwear industry is very labour intensive. The company has reported an attrition rate in the range of 12-13 percent. Talking on other players, they reported attrition in the range of 70-80 percent. This feat has been achieved through measured capacity expansion, focus on hiring women and providing lifestyle supports to labours.
Long Term Management Guidance: The company management has been guiding to achieve revenue growth of 20 percent plus for the next 20 years, ROCE to remain above 50 percent plus levels and margins above 20-22 percent.
Major Risks
Competition: Van Heusen, India's leading power dressing brand from Aditya Birla Fashion and Retail Ltd (ABFRL), is giving a stiff competition to Page in the innerwear segment. Currently, Van Heusen is aggressively expanding the distribution network and has over 1,200 distributors.
The Aditya Birla brand is expected to grow by 2x in the next two year. Though, international brands like Fruit of the Loom, Hanes and FCUK failed in India earlier. Van Heusen and Jockey offer a premium product with a similar price range. While other players being in the same segments offer products at lower pricing including Rupa and Dollar Lux.
Dilution: The promoter holding continues to dilute and currently stood at 48 percent. Also, Jockey International has removed the requirement of a minimum 50 percent stake for promoters in the company.

Volume Growth: Seeing a damper in the men's innerwear volumes growth which fell from 17 percent in FY15 to just two percent in H1FY19.
Expensive valuation: Page used to trade at 70 times FY20e when the stock price touched the 52 week high prices. With the fall in price, the stock is trading at 53 times FY20e. While other players in the same segment trades in the range of 19-30 times.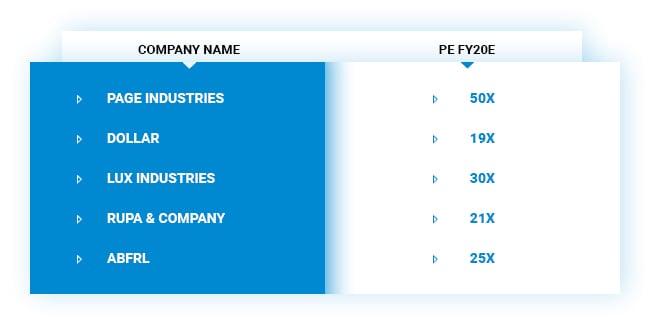 Recently, Ambit Capital had initiated coverage on the stock with "SELL" rating and target price at Rs 20,000 with the downside of 13 percent. According to the brokerage house, in innerwear, no company was able to maintain product consistency, keep brands fresh, expand distribution and still maintain strong profitability.
However, with the growing competition, Page had maintained 15 percent earnings per share (EPS) compound annual growth rate (CAGR) over the next two decades.
Trading at premium always attach risk to it and only time & market will tell how to take it ahead apart from its fundamental story, which continues to remain intact.
To read more such stories, click here.