Mini
Plummeting sales of JLR, downgrade by credit rating agencies and poor earning performance led to the fall in Tata Motor stock price
Tata Motors has eroded over 50 percent of investors' wealth in the last 1 year on the back of plummeting sales of JLR, downgrade by credit rating agencies and poor earnings performance.
The stock has fallen by 55 percent from its 52-week high Rs 377 hit on Feb 27, 2018, and is currently trading at Rs 171. It hit a 52-week low of Rs 142 on Feb 8, 2019, after posting December quarter results. In comparison, Nifty50 has gained nearly 4 percent in the last 1 year.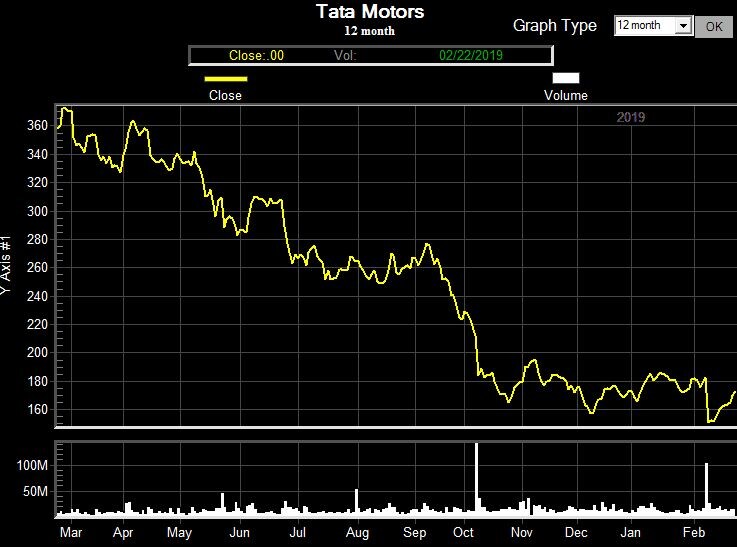 The December quarter has been weak for the entire auto sector. Tata Motors in its Q3FY19 reported a consolidated quarterly loss of Rs 26,961 crore, the biggest ever in its history. The major reasons behind the quarterly loss were weak sales in China and de-stocking of Jaguar Land Rover (JLR).
JLR reported a loss for the third straight quarter as net sales declined by 1 percent on a YoY basis to GBP 6.2 billion, as volumes fell 11 percent on a YoY basis. EBITDA margin shrank 180 bps to 7.3 percent impacted by one-off cost on account of de-stocking and warranty cost.
The automaker, post earnings, said its performance was impacted by challenging market conditions, particularly in China and inventory corrections.
Brokerage firms such as Axis Capital and Motilal Oswal downgraded the company post-December quarter results.
Though most analysts see no near-term trigger for the stock, they say crude prices, Brexit, trade wars might continue to affect margins of the automaker. The company should now focus on cutting costs to improve profitability in JLR, the analysts add.
Global sales of the company for the month of January, including Jaguar Land Rover, also fell by 12 per cent as compared to January 2018.