Mini
In the current volatile market, most investors have turned gloomy and bearish about equities. However, this is the time to dive right in as markets won't be the same in the next five years. Here are five large cap stocks that have risen 400-1600 percent in last 5 years
In the current volatile market, most investors have turned gloomy and bearish about equities. However, this is the time to dive right in as markets won't be the same in the next five years. Here are five large cap stocks that have risen 400-1600 percent in last 5 years:
Bajaj Finance:
This stock has surpassed everyone's expectations. Investing in Bajaj Finance would have turned Rs 100,000 to nearly Rs 1,700,000 in just five years.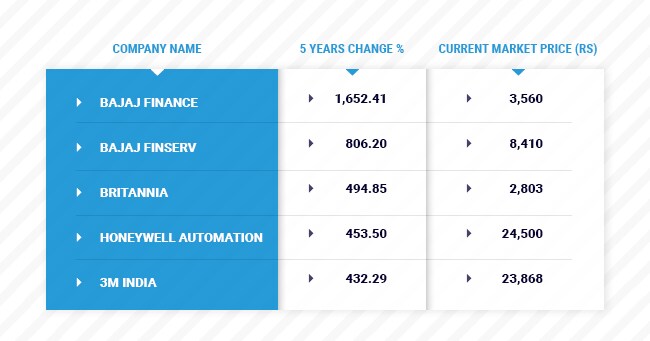 Bajaj Finserv: Bajaj Finance's twin Bajaj Finserv has also returned well over 800 percent in a duration of five years.
Britannia: The FMCG major has given nearly 495 percent returns in the last five years. Britannia is a consumption stock that will only continue to capture the market. Most analysts are bullish on the stock as the company reports healthy earnings every quarter and recently has announced a ramp up of its international business with an investment of Rs 160 billion.
Honeywell Automation: The Fortune 500 company is another stock that has exceeded investors' hopes and has given about 453 percent returns over the past five years. Honeywell Automation is known as a leader in providing automation and software solutions. It has delivered healthy results every year, with revenue and net profit growing 17.66 percent and 43.69 percent respectively in FY19-18.
3M India: 3M India has delivered 432.29 percent returns in the last five years. 3M India is a technology-driven company that provides products for both consumers and businesses. The conglomerate's return on equity of 22.48 percent and healthy earnings compensate the hefty price the investors pay for its relatively expensive stock which is currently trading upwards of Rs 23,500.