There are various ways to assess a company's financial health. Working capital cycle (WCC) is one of the most important ones. WCC is the time taken by an entity to convert funds invested in the day-to-day matters of a business (in inventory, debtors, creditors) to cash.
More often than not, a low WCC improves cash flows but also yields better return ratios.
(Working capital cycle (
days = Stock days + debtor days – creditor days)
To study WCC trends in FY18 vis-à-vis FY17, we shortlisted BSE companies that fulfill all the following criteria:
1 – Stock days declined year-on-year
2 – Debtor days declined year-on-year
3 – Creditor days increased year-on-year
Only 168 companies met every condition stated above. Of this, 34 delivered over 100 price return in the last 2 years.
Of these 34 stocks, 8 witnessed a minimum upside of 100 percent in 1 year as well as a 2 year period.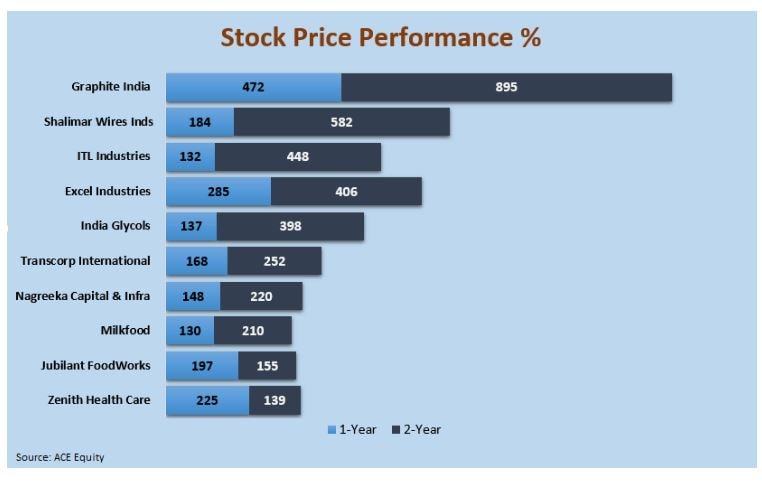 Appendix
Stock days: This is an indicator of how a company manages its inventory of raw materials (manufacturers), purchased goods (particularly in case of trading businesses) and finished products.
Stock days = (Closing stock / cost of goods sold)*365
Debtor days: This indicates the pace at which a company recovers dues from its debtors.
Debtor days = (Debtors / net sales)*365
Creditor days: This indicates the period taken by a company to pay dues to its creditors.
Creditor days = (Creditors /cost of goods sold)*365
Disclaimer: The views and investment tips expressed by investment experts are their own and not that of the website or its management. Users are advised to check with certified experts before taking any investment decisions.