The Fortis board of directors decided to recommend the binding offer of the
Burman-Munjal consortium
late on Thursday, which is likely to keep the stock positive throughout the market session on Friday.
The stock price is likely to rise as the consortium kept sweetening their offer since they showed their interest in the healthcare firm in April.
On April 12, the firm
gave an unsolicited binding offer to invest Rs 1,250 crore via preferential allotment route.
UPDATE: Fortis stock fell about 2% in morning trade on the BSE
After seeing its competitors, the consortium revised their offer on April 19 to infuse Rs 1,500 crore and an upfront investment of Rs 750 crore with Rs 5 crore via preferential issue of shares and Rs 10 crore via preferential issue of warrants on the condition of seeking two board seats.
The offer has now finally settled for a total of Rs 1,800 crore with infusing Rs 1,050 crore upfront.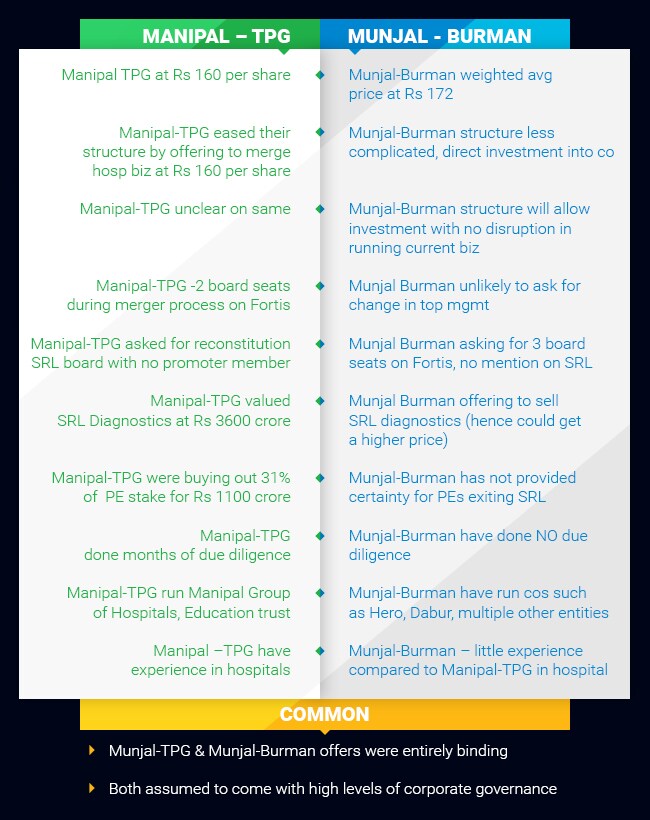 The deal will infuse Rs 800 crore through a preferential allotment of equity shares at Rs 167 per share and a preferential issue of warrants of Rs 1,000 crore at Rs 176 per share or as per SEBI ICDR guidelines whichever is higher.
The consortium-led by Sunil Kant Munjal of Hero Enterprise and the Burman family of Dabur submitted a binding bid to invest Rs 1,800 crore in Fortis with Rs 1,050 crore upfront. It also offered to divest diagnostic unit, SRL, through an independent valuation. They are planning to buy out RHT Holding using funds from SRL.
The consortium faced tough competition with Manipal, which kept revising their offer in order to win the race for the hospital chain.