The India VIX index - known in market parlance as the fear gauge - saw its biggest surge in 20 months amid heightened geopolitical tensions, as investors globally tracked newsflow on the Russia-Ukraine conflict closely. The VIX measures the expectation of volatility in the near term.
As heightened geopolitical tensions sent global markets tumbling on Thursday, Dalal Street's own gauge of volatility hit the highest level recorded in more than 20 months. The NSE's India VIX index - also known in market parlance as the fear gauge - surged 32 percent to finish the day at 30.3, having almost touched 34 during the session.
That made it the India VIX's biggest jump since June 17, 2020 - both intraday and at the close.
Indian equity benchmarks Sensex and Nifty50 suffered their worst single-day loss since May 2020 amid a global sell-off after Russian President Vladimir Putin announced a military operation in Ukraine.
"Undoubtedly, volatility is likely to remain on the higher side till the time this global uncertainty does not fade away," Sameet Chavan, Chief Analyst-Technical and Derivatives at Angel One, told CNBCTV18.com.
"When the India VIX jumped beyond 24 earlier this week, that itself was a sign of caution. Today when things actually escalated with respect to the Russia-Ukraine conflict, we are seeing a massive surge in the index," he said.
All sectors were deep in the red, with the heavyweight financial services space being at the forefront of the market-wide crash.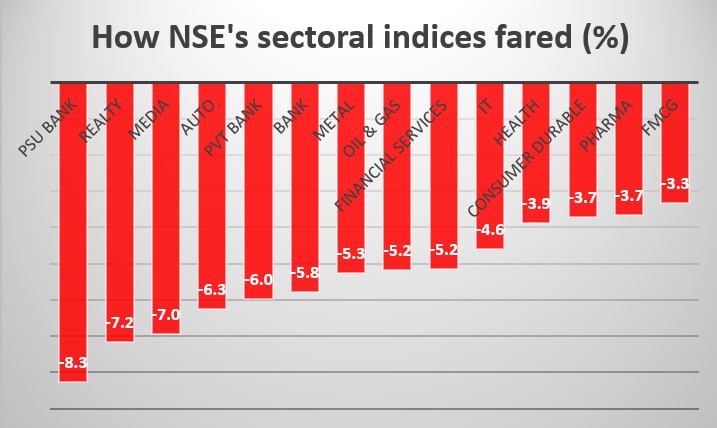 In a televised address, Putin claimed that it is intended to protect civilians. He said the action comes in response to threats coming from Ukraine, and that Russia is not targeting to occupy Ukraine.
Shockwaves of the bloodbath on Dalal Street reached broader markets too. The Nifty Midcap 100 and Nifty Smallcap 100 barometres plummeted around six percent each.
The smallcap index is now in bear territory, having retreated 22.5 percent from its peak. The midcap gauge is almost there, 19.3 percent from its high.
The India VIX's surge to the 34 level raises the alarm for Dalal Street, said AK Prabhakar, Head of Research at IDBI Capital Markets.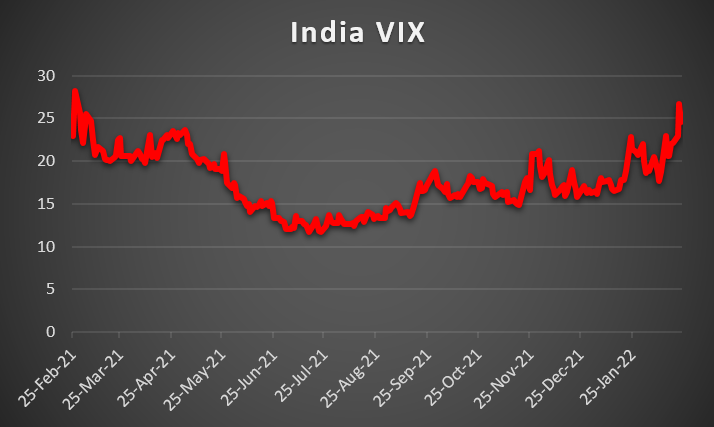 "Besides the Russia-Ukraine crisis, there could be multiple reasons for nervousness among market participants, including the F&O expiry, soaring crude oil rates, imminent Fed rate hikes,
state elections
and the new margin system," he told CNBCTV18.com.
What should you do now?
Chavan of Angel One suggests traders to stay light and avoid aggressive bets.
"Investors can capitalise on the opportunity to accumulate quality propositions in a staggered manner," he added.
In March 2020, the India VIX index had skyrocketed to 86.6 after India announced a full lockdown to tackle soaring COVID-19 cases.
(Edited by : Akanksha Upadhyay)
First Published: Feb 24, 2022 10:37 AM IST