Ruchi Soya's shares jumped on Tuesday, despite market regulator SEBI allowing potential investors to withdraw their bids in the edible oil maker's follow-on-public offer for a temporary period. The stock ended 15.9 percent higher at Rs 945 apiece on BSE.
The regulator asked bankers of Ruchi Soya -- controlled by yoga guru Ramdev-backed Patanjali Ayurved -- to give an option to investors to withdraw their bids citing "circulation of unsolicited SMS" about the share sale.
Ruchi Soya Industries said in a regulatory filing that it has come across some messages on social media speculating about investment opportunities in the FPO and the company's shares being available at a discount to the market price.
The company claimed the message has not been issued by it or any of its directors, promoters or group companies. It also said it has lodged an
FIR in Haridwar
to investigate the messages under the IT Act and Section 420 of the Indian Penal Code (IPC).
SEBI's order came after Ruchi Soya's FPO closed for bidding on Monday with an overall subscription of
3.59 times
.
Bidders will now have the option to withdraw their applications till March 30.
JN Gupta, Former ED at SEBI and MD at Stakeholders Empowerment Services (SES), told
CNBC-TV18
that in his view, the regulator should not have given the choice of withdrawing bids to institutional and HNI investors.
Meanwhile, BSE on Tuesday erroneously displayed data of demand on its platform in the section meant for cumulative bids of both itself and NSE.
BSE later said the figures shown in the cumulative section were its standalone numbers for Monday -- the final day of the bidding process -- citing the sudden change in the process.
"The Exchange displays cumulative bids of both exchanges every three minutes. Ruchi Soya FPO extended for two days for only withdrawal of bids as per SEBI's directive...
Since this was a sudden change of process and the system had to consider these changes, for few updates in the 'cumulative bids details' section, only BSE bids data was shown instead of cumulative data of both the exchanges. The same was restored to the previous day's data," the exchange said.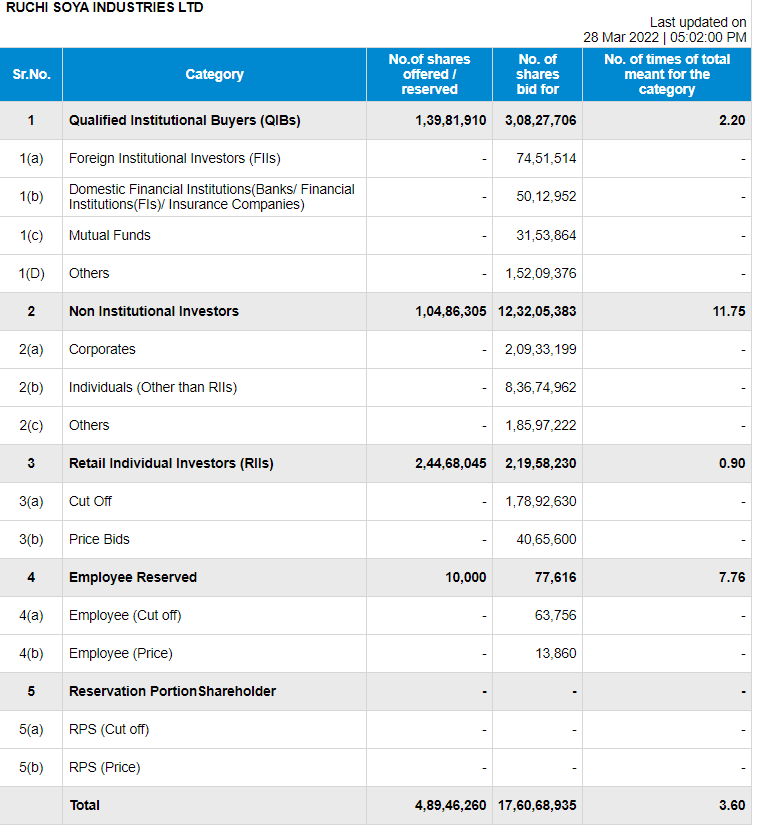 Prior to the FPO, the company had raised Rs 1,290 crore from anchor investors.