Shares of Reliance Infrastructure plunged 14 percent intraday after the Anil Ambani-led company reported a consolidated net loss of Rs 3,301 crore in the fourth quarter of 2018-19, its biggest ever loss.
In its press release, the company said, "Net loss is largely a result of one-time impairment of Reliance Naval and Engineering Ltd acquired in 2016 which was already NPA (non-performing asset ) company."
Reliance Infra shares fell as much as 14.6 percent intraday to to hit a 52-week low of Rs 50.50 per share. In last one month, the stock has tanked about 48 percent and, in last one year, it has declined over 87 percent.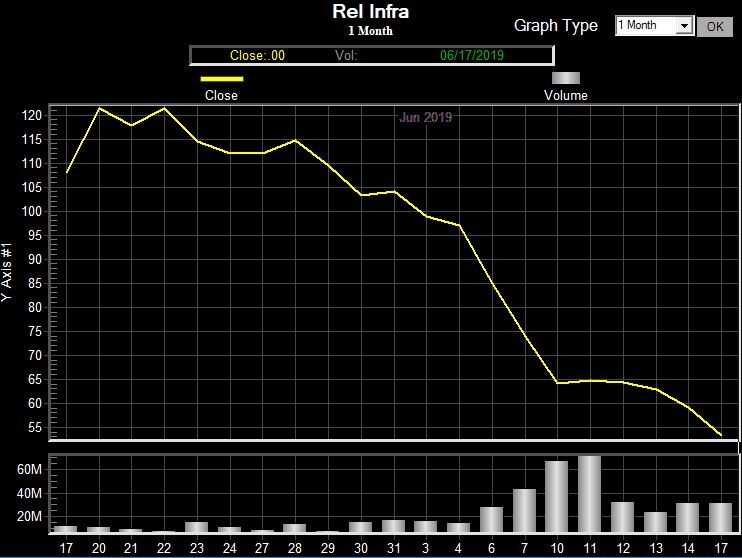 At 9.51 AM, the stock price was trading at 53.90 per share, down 8.8 percent from its previous close. The Nifty 50 traded 0.5 percent lower at 11,765.30.
The company during the quarter undertook write-offs and impairment of over Rs 8,500 crore. The write-off also includes one time sale of power distribution business in Mumbai used to offset one time loss on sale of RPower shares by the lenders and one-time losses consolidated from RPower.
The company in its press release also added that it aims to be zero debt in the next financial year or earlier based on liquidity events.
Consolidated total income during the quarter was at Rs 4,234 crore as against Rs 3,709 crore in the corresponding quarter last year.
Disclaimer: CNBCTV18.com advises users to check with certified experts before taking any investment decisions.