The oil marketing companies continue to fall for the second day in a row due to high oil prices.
Shares of oil refining companies such as Hindustan Petroleum Corp, Bharat Petroleum Corp and Indian Oil Corp fell between 4 and 7 percent on Thursday following a sharp slump in the local currency.
After opening at an all-time low, the Indian rupee fell further to a life-low of 69 against the US dollar on Thursday. The partially convertible currency has weakened about 8 percent so far this year.
India, which imports about 80 percent of its crude oil needs, is vulnerable to a sharp fall in local currency as it affects the overall import bill and disrupts the fiscal position.
The increasing crude oil prices and trade war concern between US and China are the reasons behind rupee weakening, according to market experts.
Oil prices have been rallying for much of 2018 on tightening market conditions due to record demand and voluntary supply cuts led by the Middle East dominated producer cartel of the Organization of the Petroleum Exporting Countries (OPEC).
The rally in international crude oil prices has inflated India's crude oil import bill by 23 percent to $8.2 billion in the month of April, data published by Petroleum Planning and Analysis Cell showed.
Mirroring the concerns, shares of Hindustan Petroleum fell 2.8 percent to Rs 269, Bharat Petroleum Corp declined 2 percent to Rs 375 while Indian Oil Corp lost 1 percent to Rs 154 in the morning trades on the Bombay Stock Exchange.
Here's the stock trend for the three OMCs as of 09:35 am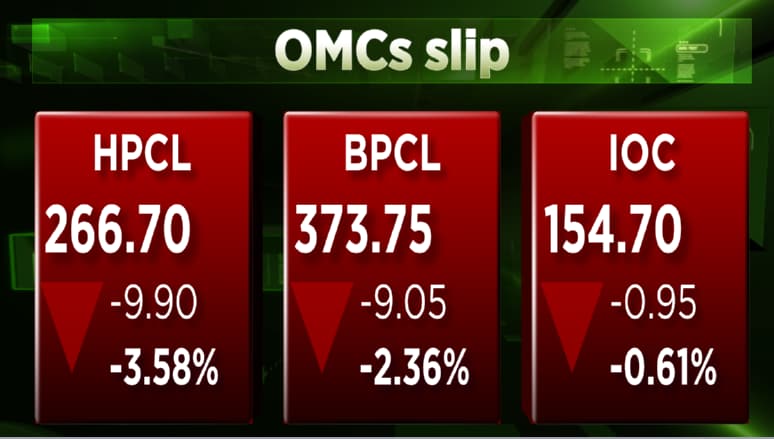 (With inputs from Reuters)