The initial public offering (IPO) of Neogen Chemicals will open for subscription from April 24-26. Through the IPO, the company is looking to raise about Rs 70 crore by issuing fresh equity shares, with promoters offloading 29 lakh shares. The price band of the IPO is at Rs 212-215 per share.
About the company
: Neogen chemicals is a 27-year-old manufacturer of bromine-based and lithium-based specialty chemicals. The company is a leading manufacturer of these products for pharmaceutical, agrochemical and other specialty chemical companies in India, Europe and Japan.
Neogen is also focusing on custom sand contract manufacturing. The work has already commenced in the new area with customers in Japan and Europe.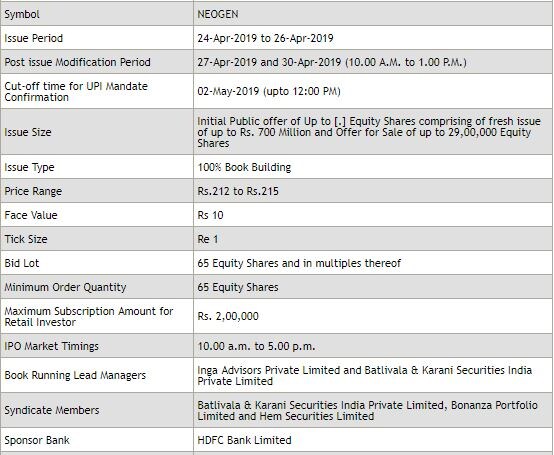 Source: NSE
Manufacturing sites: Neogen has two manufacturing sites in operation located at Navi Mumbai and Karkhadi. Both sites are well maintained with a large variety of reactor sizes, material of construction (MOC) with distillation columns and downstream processing including pressure filters dryers etc. Capacity utilization of these two facilities are at 60-85 percent.
The company's third site to manufacture specialty inorganic Lithium compound of about 12,00,000 tonnes per annum is coming up at the Dahej SEZ in Gujarat. Neogen expects this facility to be operational by FY20.
Competitors to watch out for: Neogen Chemicals will face tough competition from the large cap chemical companies like Aarti Industries, Vinati Organics, Atul Ltd and Navin Fluorine. Both Aarti and Atul are currently trading at 39-40 P/E multiple while Vinati and Navin are trading at 20-58 times.
Growth of this sector: Indian specialty chemical companies are set to invest high amounts on capacity expansions after China shuts its facilities. In last few years, the demand for specialty chemicals has improved sharply. Thus, expect profit margins of specialty chemical companies to remain higher.