The stock market was volatile in the first half of the fiscal year 2019-20, certain key sectors such as auto witnessed a sharp decline in valuation, due to slowing economic growth, waning demand and negative global cues. However, ICICI Direct believes recent economic measures announced by the government in the last two months are likely to boost the economy going ahead. Nifty earnings, given the benefits of tax cuts and improved demand, is likely to witness a healthy 20 percent+ CAGR over the next two years, the brokerage said. Here are seven stocks recommended by ICICI Direct for Muhurat trading this year: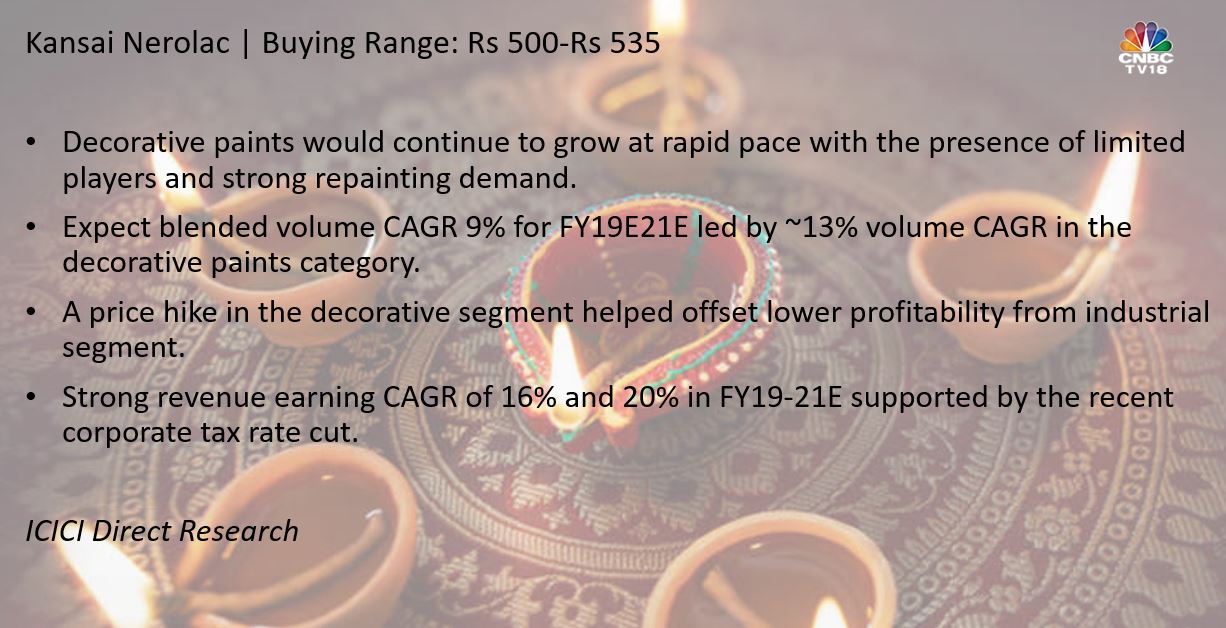 Kansai Nerolac is the largest industrial paint company in India with more than 35 percent market share in industrial paints and third largest player with an overall market share of 14 percent. With sustainable growth in decorative paints and subdued industrial demand, the company has increased its revenue contribution from decorative paints to 55 percent while the rest comes from the Industrial.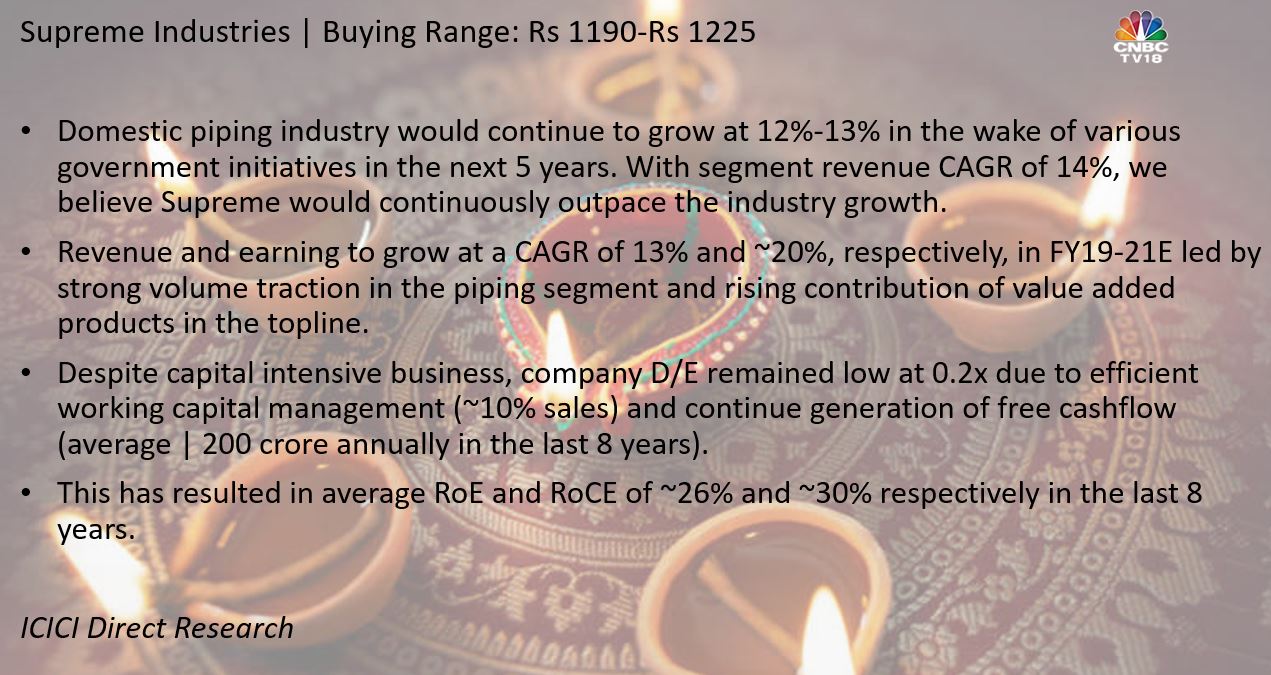 Supreme is one of the largest plastic processors in India with a manufacturing capacity of ~ 6 lakhs tonnes. It has four business division namely Plastic piping division, Industrial products, Packaging products and consumer furniture segments. Supreme Industries is one of the largest PVC pipe and consumer furniture companies with organized market share of ~14 percent and 26 percent, respectively.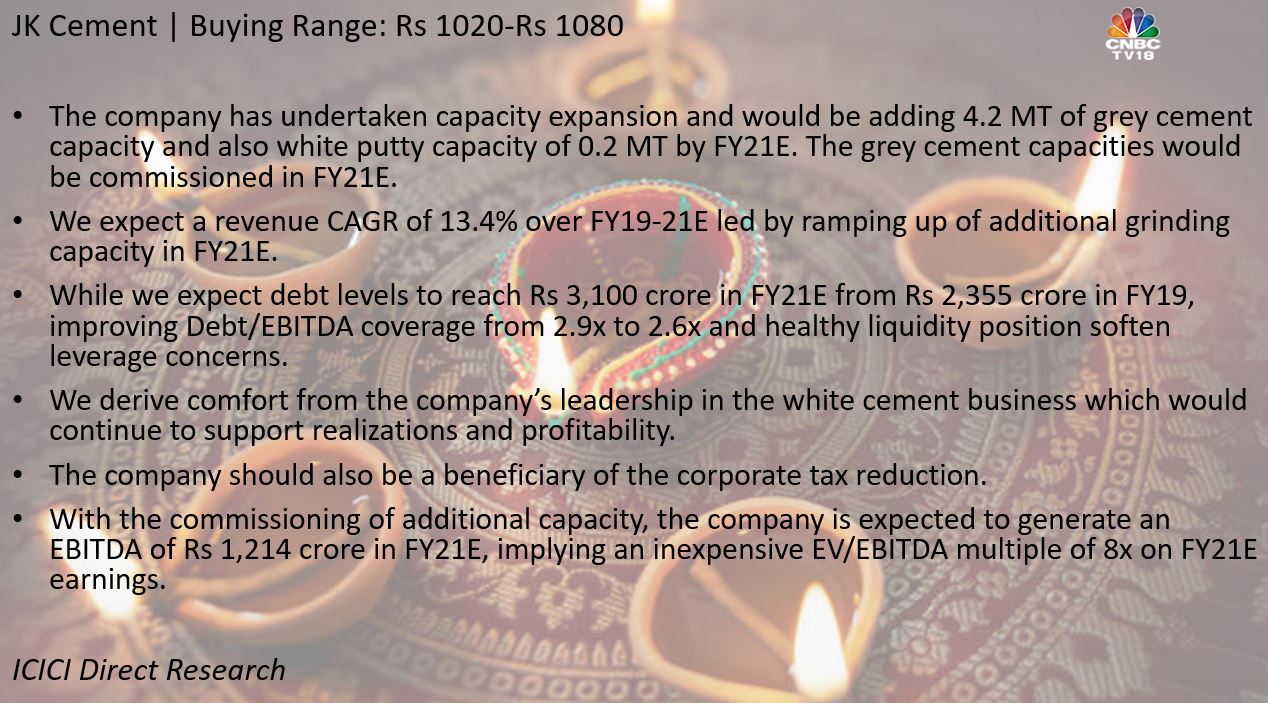 JK Cement is among the top cement manufacturers in the grey cement space and a leader in the white cement market in India. It currently has a capacity of 10.5 MT for grey cement and a 1.3 MT capacity of white cement and wall putty combined. The company operates majorly in the north and southern India markets.
United Breweries (UBL) is the market leader in the Indian beer market with ~52 percent market share. The company is equipped with a strong portfolio of brands and the largest distribution network in India, which is difficult to emulate for new global brands entering the Indian market.
Dabur has a well-diversified product portfolio catering to different segments. It has three brands (Real, Vatika, Amla) with a turnover of Rs 1,000 crore+ and 16 brands with a turnover of Rs 100 crore+. Competitive intensity from Patanjali has subsided significantly resulting in double-digit growth for Dabur in most categories over the last few quarters. With a wave of demand for ayurvedic and natural products, the company has gained significant market share in ayurvedic brands mainly in toothpaste, shampoos and hair oil categories.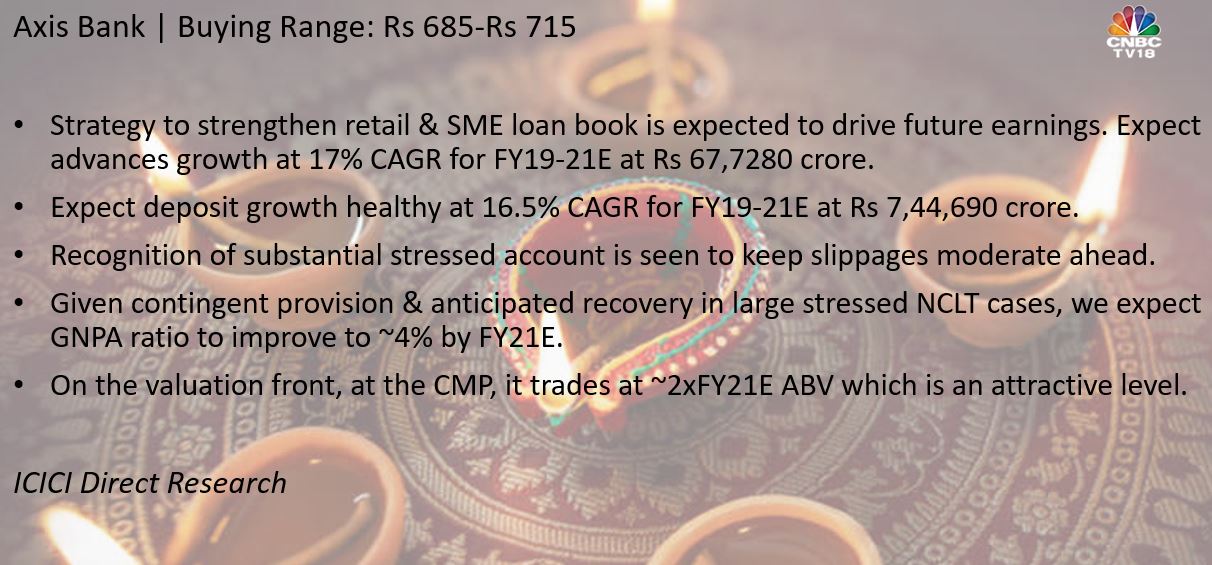 Axis Bank, a third-largest private bank in terms of advances, offers entire spectrum of financial services to customers covering large and midcorporates, MSME, agriculture and retail businesses. The long term focus is on a higher return on risk-weighted lending and tight cost control to enhance return ratios.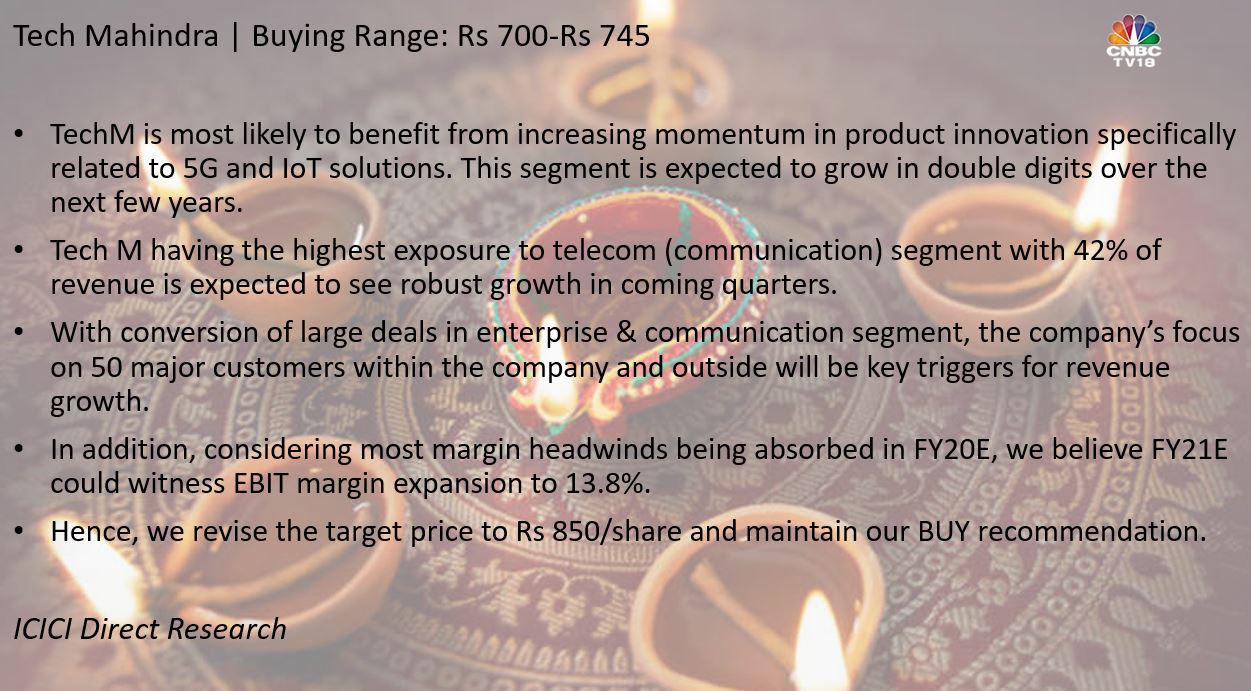 Tech Mahindra (TechM), an IT services company, generates 42 percent of its topline from telecom segment, 19.4 percent from manufacturing, 12.8 percent from BFSI and rest from retail, transport and technology. Geography-wise the company generates 47.6 percent from the Americas, 27.6 percent from Europe and 24.8 percent from the rest of the world.