Jet Airways, the debt-ridden airline is currently sitting non-operational for the last two weeks after the company's lenders failed to infuse urgent capital required to run operations. The shutdown has impacted the stock negatively but its worst fate was decided last year itself when the stock could not breach its Rs 366 level.
The stock was first listed on March 14, 2005, with an opening price of Rs 1,155. In these last 14 years, the stock has slumped about 800 percent. It reached its all-time high of Rs 1,348 per share on April 25, 2005. And, since then, the stock has only been falling. In fact, in last one year, the stock price has come down by 79 percent. Currently, the airlines market capitalization stands at mere Rs 1,444 crore.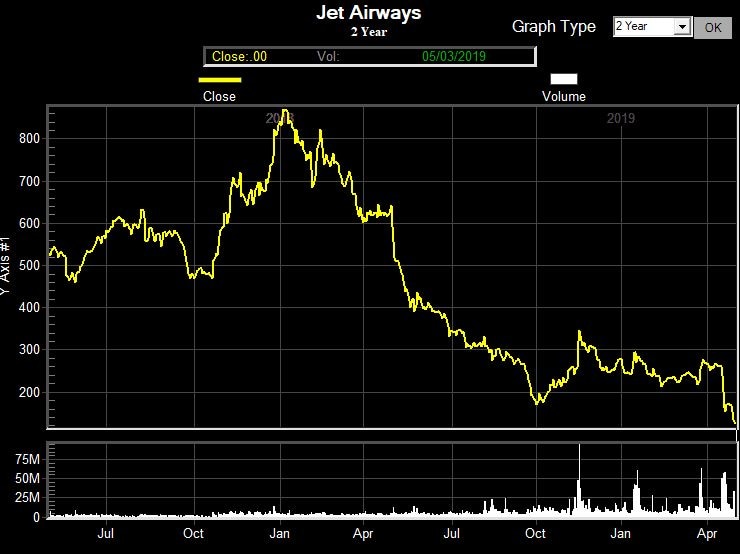 Jet Airways exponential growth in the initial years was a sign of defeat. The high taxed aviation turbine fuel and leasing of aeroplanes landed the company in a vulnerable position. This started to create a large pile of debt, which was avoided in the beginning. Increase in crude oil prices last year finally hit the airlines hard, and Jet had to quit the industry.
Today, Jet Airways has 'no financial value'. Jet is currently staring at a debt of Rs 8,500 crore, a working capital requirement of Rs 2,000–3,000 crore, and contingent liabilities estimated at another Rs 3,000–5,000 crore.
In its annual report, as of March 31, 2018, the company mentioned that it had Rs 5,370 crore in cash and cash equivalents at the beginning of the year. By the end of the year (2018), the amount decreased to only Rs 3,205 crore.
In terms of results, the company continued to gain increased revenue over the years but its total expenses also remained the same. With quarters gone by, its net profit started to decline and eventually became negative.
In terms of valuation, Jet stands at a negative P/E (Price-to-Earnings) of 0.34x coupled with negative EPS (Earnings per share) of 373.62. The stock is now only a trading item for all the enthusiastic market participants. Most brokerages believe that its share price would go as low as Rs 50 per share after which it will turn into a penny stock.