4 Min(s) Read
Indian IT stocks have outperformed the overall market year-to-date by 6 percent, as Q3 was not as bad as feared. However, with the macro uncertainty rising, Q4 earnings will provide the full picture.
Banking, financial services, and insurance (BFSI) is the largest vertical for Indian IT services companies, contributing significantly to their revenue. The exposure to this sector ranges from 30 percent for Infosys and TCS to over 50 percent for Mphasis.
With renewed fears of a global banking crisis, there are concerns regarding the impact on the growth scenario of IT companies.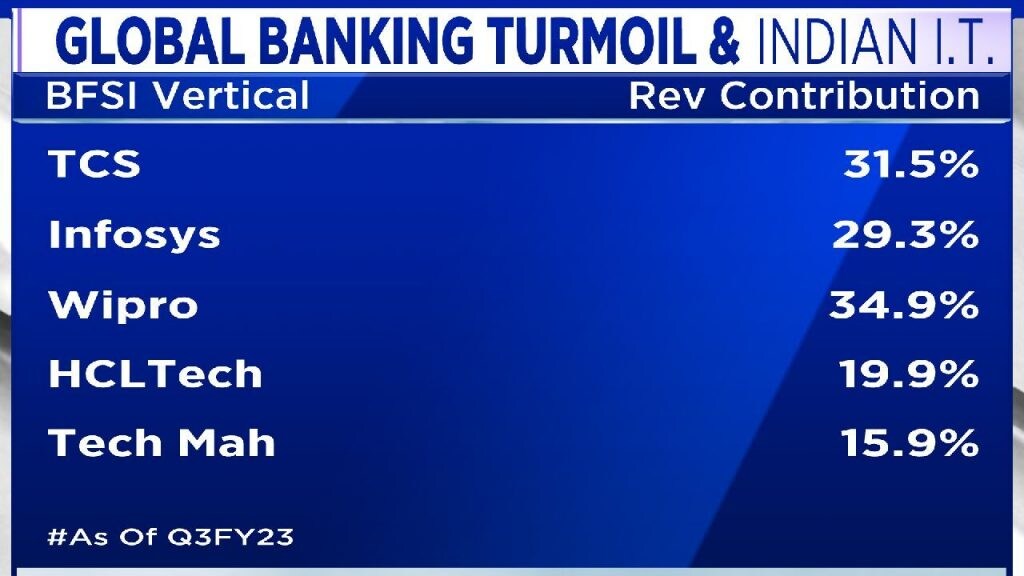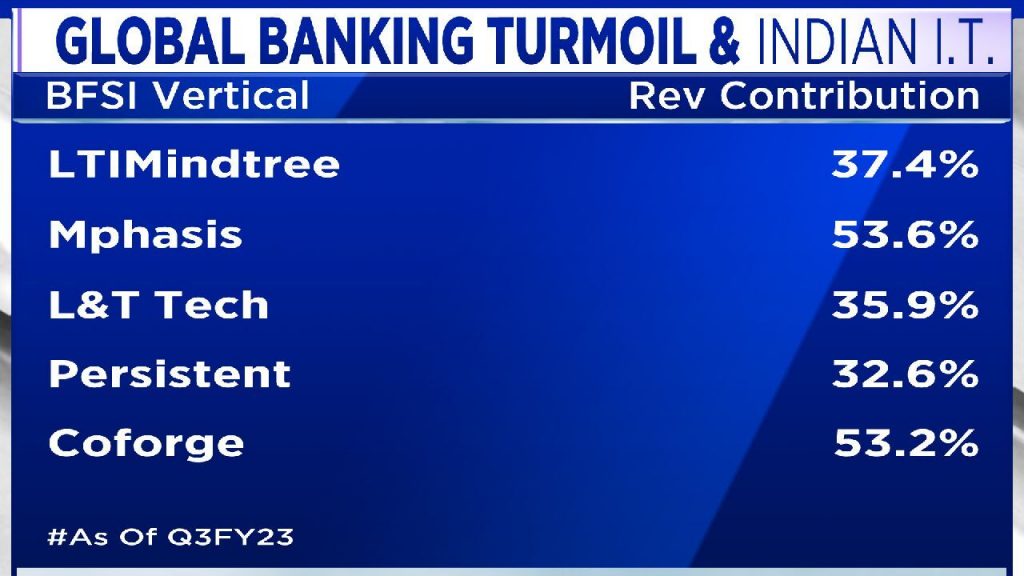 As per CLSA, there are two possible scenarios. The first scenario is a contained crisis with quick interventions by central banks, which may affect decision-making in the BFSI vertical in the near term but should have minimal impact on other verticals. The second scenario is a larger and elongated crisis that affects revenue growth in the BFSI vertical over 2-3 quarters and weighs on other verticals, such as retail and telecom, as seen during the Global Financial Crisis (GFC).
However, CLSA believes that margins should stay resilient in both scenarios, at least for scale companies, as seen in FY09-10. There may be a calibration of annual wage hikes/promotions in FY24. CLSA has ignored the third scenario in which a large global bank failing sparks a wider credit crisis and a prolonged global recession. However, they see minimal probability of such a scenario playing out, so they have ignored it for now.
According to JPMorgan, the collapse of SVB, Signature Bank, and concerns of liquidity across US/EU can further soften tech spends by banks over the short-term to one year, leading to a slowdown in growth in bank tech budgets. This can impact Indian IT in two ways. Firstly, there may be a delay in deal ramp-ups, which may impact revenue conversions over the next 1-2 quarters. Secondly, there may be a delay in deal closures, which may impact revenues over the next 3-4 quarters.
JPMorgan estimates that US regional banks' exposure is highest at TCS and Infosys, likely less than 2-3 percent of their total revenue. They estimate SVB exposure is 10-20 bps for TCS, Infosys, and LTI Mindtree, which may lead to a provision in Q4FY23. While this has driven a correction and taken multiples down by 0.5-1SDs, estimates do not factor in the increased EPS risk from any further slowdown in spending.
Indian IT stocks have outperformed the overall market year-to-date by 6 percent, as Q3 was not as bad as feared. However, with the macro uncertainty rising, Q4 earnings will provide the full picture.
It is worth noting that the BFSI vertical has been a key growth driver for Indian IT companies, and any slowdown in this sector can impact the overall growth of the companies. While the immediate impact may be minimal, the longer-term impact will depend on how the crisis unfolds and the actions taken by central banks to contain it.
In an interaction with CNBC-TV18, Girish Pai, Head-Research, Nirmal Bang Instl Equities explained that mid-size banks constitute 45-50 percent of lending, which means that there could be a risk to US growth. This is because regional banks tend to lend to small and medium-sized businesses, which are the backbone of the US economy.
These businesses may struggle to access credit if mid-size banks experience a downturn. This could lead to a reduction in IT spends as businesses cut back on discretionary spending.
Despite the potential risks to the industry, Pai remains optimistic about the future of IT. He expects tier 1 IT companies to show 3-5% CC growth in FY24. This is because large IT companies have the resources to weather any potential downturns in the market.
He said, "My sense is that the consensus estimates are currently factoring in about high single digit US dollar revenue growth for FY24 versus 23. My estimates are below consensus. They are probably in that 3 to 5 percent range for tier-I companies. From a margin perspective, my sense is that the consensus building in margin expansion going into FY24, versus 23."
Pai also sees downside risks to IT revenue and margin estimates. He said, " We are building in an explicit shallow recession in our estimates, with a potential downside. So my sense is that street is to kind of pull down its estimates on both revenue and on margins, going into the next couple of quarters."