Hindustan Unilever (HUL) will sustain its high multiples on the back of continued healthy volume growth, aligned with best-in-breed return ratios and synergies from GlaxoSmithKline acquisition, said Motilal Oswal.
The brokerage maintains a 'buy' rating on the stock with a target price of Rs 2,125 per share.
According to Motilal Oswal, HUL's rural growth remains well ahead of the urban sector. On the volume growth front, it expects the FMCG giant to report 8 percent growth for Q4FY19.
It is pertinent to note that HUL has been an outperformer on volumes compared to its peers, despite being multiple times larger as shown in the table below.
The brokerage expects HUL's volumes, topline and earnings to outperform its peers on the back of strong execution on Naturals sub-segment, a continuous trend towards premiumisation and increase in efficiency levels.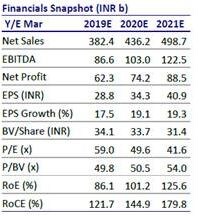 "There could be a temporary blip in Q4FY19 demand. Material cost outlook will remain benign along with ad intensity," Motilal Oswal added.
With benefits on the demand front due to the budget coming through in FY20, volume growth forecast is 7.5 percent for FY20/21, it further mentioned.
First Published: Mar 18, 2019 10:09 AM IST