Shares of Eveready Industries has fallen 53 percent since April 1, 2019, and in the last 15 months, the market value of India's largest maker of dry and flashlight batteries has plunged 75 percent.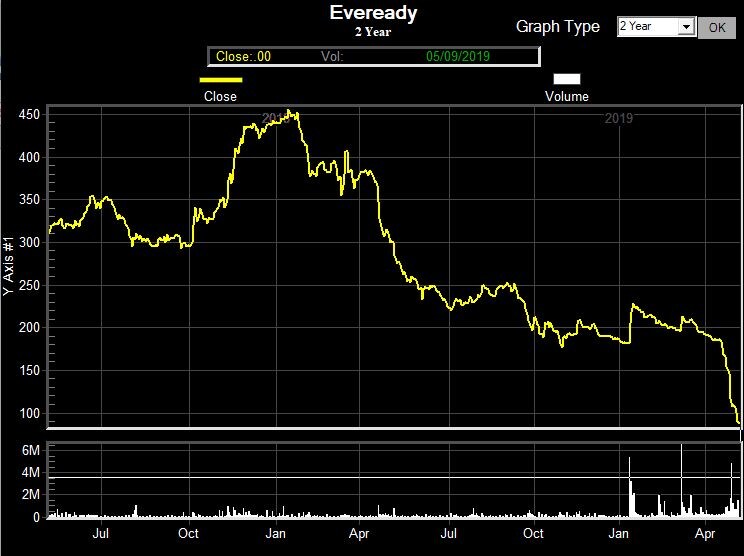 Credit Rating:
This month,
India Ratings and Research
downgraded the company's long-term rating because of continued high net leverage and weakened liquidity. The reason behind this was the pile of ballooning debt and interest costs.
Financial performance: The company's deteriorating financial performance can be seen in the third quarter of FY19 where its finance cost doubled to Rs 16.77 crore from Rs 6.89 crore a year ago due to increased distribution cost. Also, its net profit declined 99 percent to Rs 20 lakh during the same quarter. Meanwhile, its debt level stood at Rs 320 crore, as of September 2018.
The battery maker's distribution costs rose due to an increase in crude oil prices and weakening rupee. Since Eveready imports bulk of materials from China, weak rupee was a huge concern, as it triggered the input costs to go higher. Soon enough, rising debt started to hurt the company's profitability.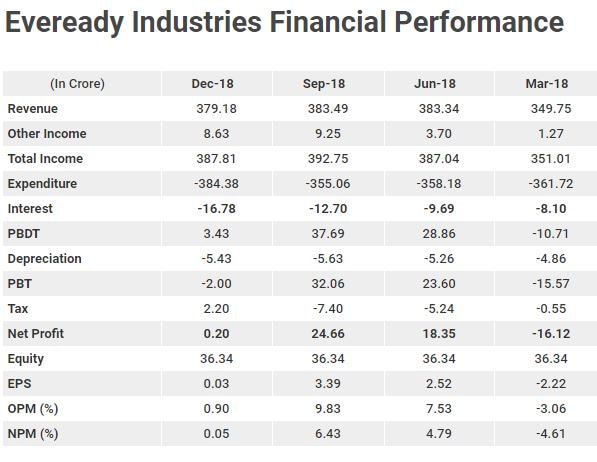 Moving on, according to media reports, Brij Mohan Khaitan, former chairman, Williamson Magor, holding company of Eveready Industries, was planning to sell its share in the firm earlier this year.
According to
The Economic Times
, US battery makers
Energizer Holdings Inc
and Duracell International were eyeing a controlling stake in the company. In April, BM Khaitan resigned as chairman of Eveready Industries India, citing personal reasons.
In March 2019, DSP Small Trust Fund sold 21.74 lakh shares of Eveready Industries in the open market via a bulk deal. As of March 2019, Eveready Industries' promoter holding stands at 44.11 percent.