Mini
The share price of Future Retail rose 2.48 percent intraday on Friday after Amazon announced that it will acquire 49 percent stake in Future Coupons, a firm owned by Future Group promoter Kishore Biyani.
The deal, which is likely to be valued at about Rs 1500 crore, will give the American online giant a minority stake in supermarket chain FRL.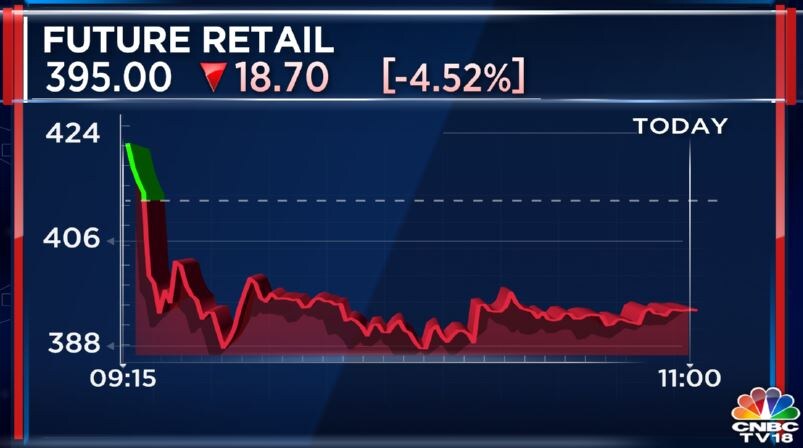 At 1:40 PM, Future Retail's shares were trading 7.42 percent lower at Rs 383 per share on the NSE. Intraday, the share price surged 2.48 percent to its day's high of Rs 424.
As part of the deal, Amazon will effectively hold 3.58 percent stake indirectly in Future Retail. The deal is likely to have been done at 60-90 percent premium of current Future Retail share price.
Amazon has been granted a call option as part of the agreement. A call option allows Amazon to acquire all or part of the promoters' shareholding in FRL if allowed by law. A call option is exercisable between the third and tenth years.
Morgan Stanley on Amazon-FRL deal said, "Transaction would be at a 'significant' premium to the warrant issue price of Rs 505 per share. The calculation suggests Amazon may acquire 3.6-4.8 percent in FRL at a 40-87 percent premium."
It also added, "Expect Amazon to adopt the hybrid retail model in India. We see FRL being the preferred partner for Amazon's grocery business."
Meanwhile, the share price of Future Enterprises rose 8.9 percent to day's high of Rs 27.90.
Disclaimer: CNBCTV18.com advises users to check with certified experts before taking any investment decisions.