Setting a new record, foreign institutional investors (FIIs) have infused more than Rs 50,900 crore in Indian markets so far in the month of November, the highest ever in a single month. With this massive sum, the FIIs have turned net positive for the year 2020 in the domestic market.
According to the provisional data available on the exchanges, FIIs have net bought Rs 55,552.64 crore worth of shares till November 24. Total inflows in the year 2020 so far amount to Rs 96,766 crore.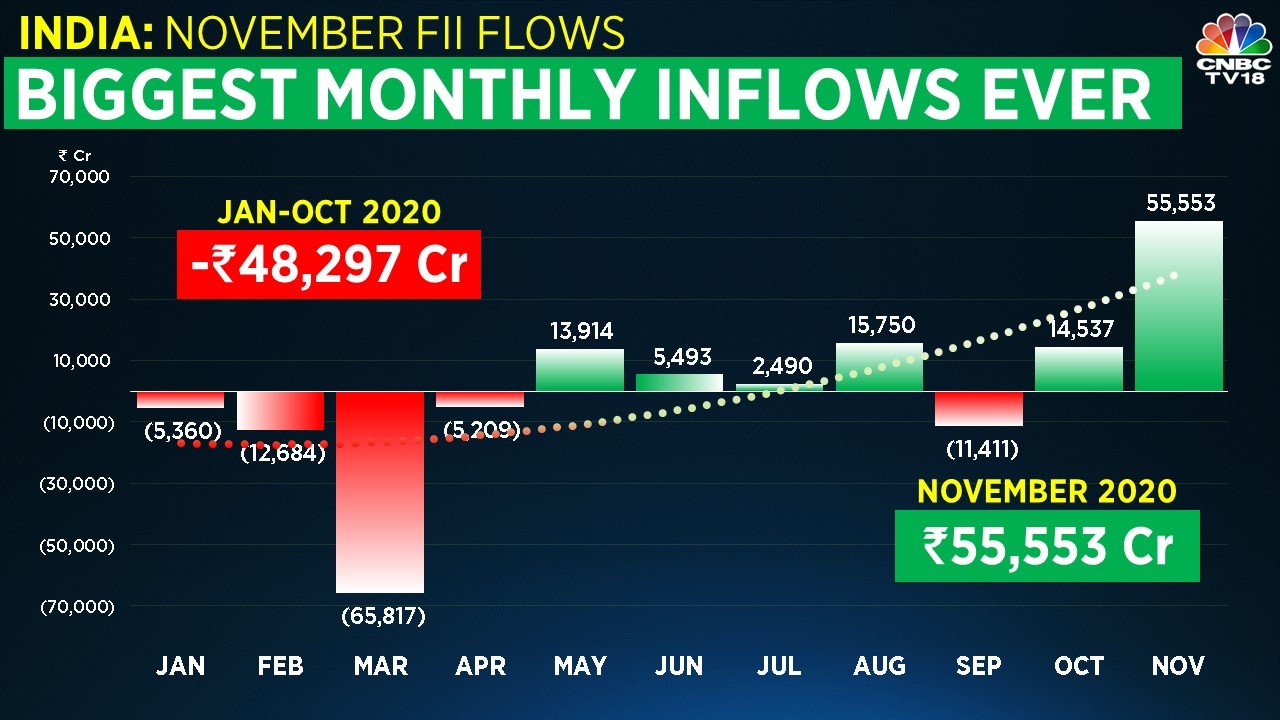 This helped the benchmark indices Sensex and the Nifty hit record high levels. The Nifty has rallied over 74 percent since its March lows and trading above 13,000 levels. It took just 14 trading sessions for the Nifty to rise to 13,000 from the 12,000 level.
The inflow increased considerably especially after the end of the US Presidential election and weakness in the dollar index. Another major reason behind such a large inflow was the expected stimulus worth trillions of dollars from central banks to revive economies that are hit hard by the COVID-led lockdown, experts said.
Asian stock markets are luring the biggest foreign flows since 2013. Nine regional stock markets have witnessed combined inflows of about $48 billion since October 1, most since the fourth quarter of 2013.
Japan led the way with $27.4 billion inflows followed by India at $9.2 billion, South Korea and with $6.4 billion worth of inflows.
Also read:
Analysts believe that the positive developments on the COVID-19 vaccine front, better than expected September quarter corporate earnings and global central banks infusing liquidity to support pandemic-hit economies resulted in the robust FII inflows.
"This unprecedented FII buying is on account of trillions of dollars worth stimulus from global central banks to revive the COVID-19 pandemic-hit economies. The flow of liquidity is expected to continue for the foreseeable future. I do not see any reason for a big correction in the market from here," said Sudip Bandyopadhyay, Group Chairman, Inditrade Capital.
Bandyopadhyay is of the view that the market will continue to inch higher going ahead and any dips should be utilised as a buying opportunity.