DMart supermarket chain, owned by Avenue Supermarts Ltd, and Shankara Buildpro, a leading player in the organised home improvement retail space, were listed in 2017.
Both the stocks were well received by the D-Street and turned into multibaggers within a short period of time. From issue price, DMart gained 460 percent, while Shankara surged 415 percent.



However, fundamentals caught up and the D-Street started to sense some fear in Shankara's numbers as their quarterly profits declined, total debt increased and operating cash flows started reducing. While DMart's financials improved since listing, Shankara's only worsened.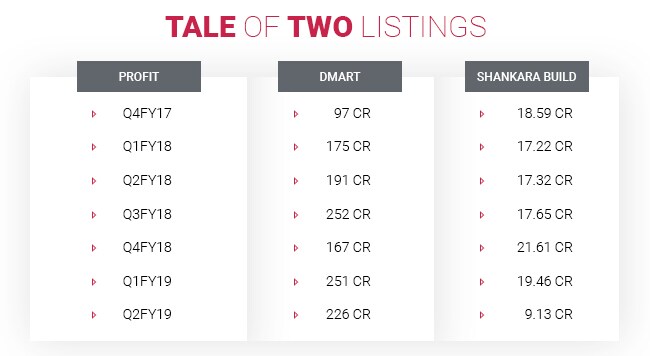 DMart is just 15 percent of its peak on account of stretched valuations and Shankara has fallen 70 percent from record levels of Rs 2,365 per share.

Shankara Buildpro is holding a business update call tomorrow and D-Street would like some clarity on the company's cash flow performance, working capital position and granular details on store closing, re-location and new store openings.