Indian shares ended with mild gains led by IT and auto stocks, while financials, energy and telecom stocks dragged indexes. The Nifty50 index ended at 10,876.75, up 18.05 points or 0.2 percent from the previous close, while the BSE Sensex closed at 36,194.30, up 23.89 points or 0.1 percent.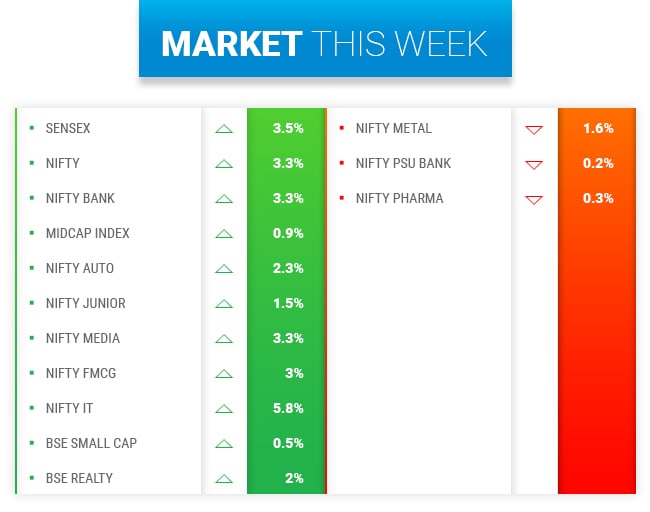 Benchmark indexes surged over 3 percent this week on continuing bearish trends in crude oil prices, boosting rupee value against the dollar along with signs of a breakthrough between the US and China on trade tariff war front.
The Nifty Bank moved up 3 percent this week, but the Nifty PSU Bank index dipped marginally. The Nifty Metal slipped more than 1.5 percent.
Here's a list of top stocks for this week:
Nifty Gainers This Week
TCS: Shares ended with 8.6 percent weekly gains, settling at Rs 1,974.80, rising 0.73 percent at close.
Infosys: Shares ended higher by 7.5 percent this week and also gained 1.35 percent at close to settle at Rs 670.
IndusInd Bank: The private sector bank's shares dipped 1.18 percent at close, quoting at Rs 1,640.90, but rose 6.7 percent on a weekly basis.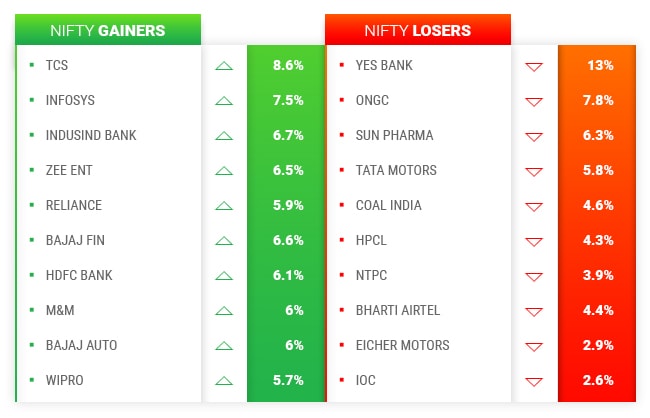 Zee Entertainment: The Essel group company's shares quoted higher by 1.14 percent to Rs 487.65 at close. This week, the stock surged 6.5 percent.
Reliance Industries Ltd: RIL shares jumped nearly 6 percent this week on group telecom firm Reliance Jio posting growth in subscribers against rivals Airtel and Vodafone Idea. The oil-to-telecom conglomerate's shares quoted at Rs 1,167.10, marginally lower by 0.12 percent.
Nifty Losers This Week
Yes Bank: Rana Kapoor-led private sector bank traded volatile this week on rating downgrades and negative news flow. The share recovered to close higher at Rs 170.50, rising 6.26 percent, but overall declined by 13 percent this week.
ONGC: The public sector gas major's shares dipped nearly 8 percent this week and also ended lower by 1.2 percent to close at Rs 139.40.
Sun Pharma: The pharma shares dipped 6.3 percent on a weekly basis, but posted gains of 1.32 percent to close at Rs 490.80.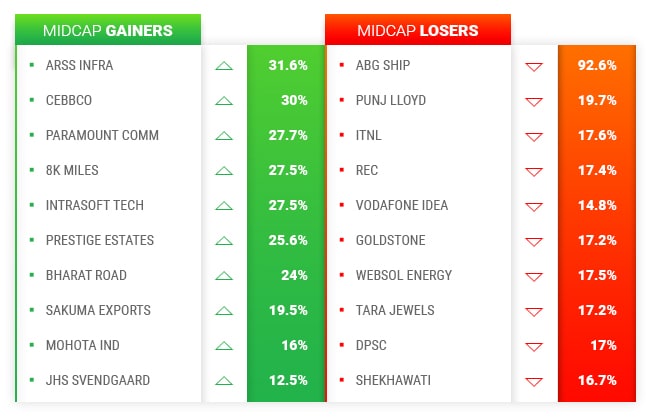 Tata Motors: The automobile share slipped 5.8 percent this week, dragged by negative news related to its luxury car brand, Jaguar Land Rover. It turned out to be among the top most losers today, falling 3 percent, to settle at Rs 172.15.
Coal India: The public sector company's shares dipped 4.6 percent this week. The stock quoted at Rs 245.35, down more than half a percent at Friday's close.
Disclosure: Network18, the parent company of CNBCTV18.com, is controlled by Independent Media Trust, of which Reliance Industries is the sole beneficiary.