If the movement of stock prices in the week gone by is anything to go by, then it looks like big gains are likely to come from small packages. Experts are speculating that the worst maybe behind for the broader market.
Well the stocks in small & mid-cap space are likely to see a big rally in the coming weeks.
The S&P BSE Smallcap index rose 3.4 percent and the S&P BSE Mid-cap index gained 2.3 percent for the week ended March 1 compared to 0.5 percent rise in the Sensex and 0.67 percent gain seen in the Nifty50 during the same period.
"Among the Nifty-500 index, only 15 percent of the stocks are trading above their 50- and 200-DMA. Only around 10-15 percent of stocks in the Midcap 100 and Smallcap 100 indices are trading constructively," Vipin Khare- Director of Research, William O'Neil India told Moneycontrol.
"To confirm that the markets have bottomed out, investors should look for a follow-through day (where market gains more than 1.5 percent in a day). It is the best indication that markets have bottomed out and are set for the next rally," he said.
The broader markets in the last one year have corrected far more than the benchmark Nifty or Sensex. Post the fall in the mid and small-cap space, there is an opportunity for stock picking but the idea is to pick stocks with a time horizon of 18-24 months, suggest experts.
We have collated a list of 24 stocks that have been featured in the preferred list of top brokerage houses.
Kotak Institutional Equities' list of preferred stocks include CESC, Cholamandalam, Escorts, Federal Bank, M&M Financial Services, Max Financial Services, Shriram Transport and Sadbhav Engineering.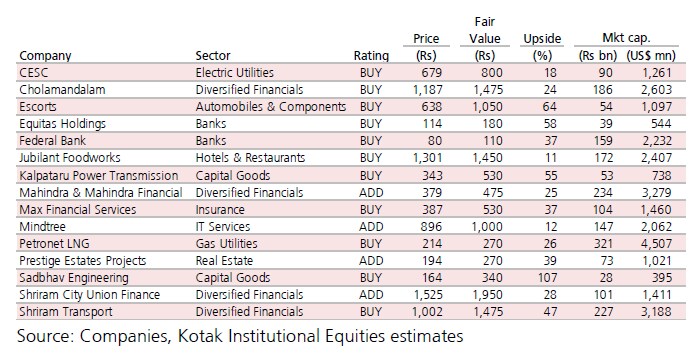 Motilal Oswal handpicks 10 mid-cap stocks which include LIC Housing Finance, IGL, Oberoi Realty, Indian Hotels, JSPL and DCB Bank.

In terms of valuations, the Nifty Midcap index is now trading at valuations which are similar to or marginally lower than the levels seen in 2014 wherein the first legs of the midcap bull-run started.
"The emphasis should be on choosing those names which have strong balance sheets and return ratios with sound management quality. However one has to be mindful of near term volatility and hence investments would need to be made with an 18-24 month time horizon at the least," Shibani Kurian, Sr. Vice President and Head of Equity Research, Kotak Mahindra AMC told Moneycontrol.
"In this environment, the opportunity is presenting itself in terms of selective investment in some of the high quality -high growth midcap names which have witnessed correction," she said.
How to pick midcap stocks:
The above list will help investors in shortlisting stocks for investment for their portfolio but there are other parameters which one should be aware of before you press the buy button.
Value investors prefer stocks that are priced at a discount based on traditional methods of evaluation, such as the price-earnings ratio or price-to-book value etc.
But, these measures may not always true and might not show the correct picture. Khare said that William O' Neil after a detailed study of past market trends, established that three out of four stocks decline during a weak market.
"Now, that the market is showing signs of resilience, there is an emerging bias toward value stocks. However, what the street considers bargains based on measures such as price/earnings or price/book ratios may not be always true," he said.
Khara advises investors to track industry group and find two leading stocks that are similar in terms of market share, earnings growth, management expertise, fund buying interest etc. the one trading at lower multiples might be the better choice.
Kurian of Kotak Mahindra AMC advise investors to focus on those names which have scalable and strong business models, those with strong balance sheet characteristics, low leverage and improving return ratios and last but not the least, sound and stable management.