The clamour for an excise duty cut on petrol and diesel in India is rising as fast as oil prices over the past month.
For oil market companies (OMCs) to reach margins before the election period brought prices to a halt, a rise of Rs 4-5 per litre is needed.
Oil prices in India did not move
for nearly a fortnight
as southern state of Karnataka was caught in an election frenzy.
Fuel prices
rose by a few paise
on May 14, a day after campaigning for elections in the state came to a halt.
However, petrol prices in India are already at their all-time highs when global crude oil, although rising, is nowhere close to their peaks.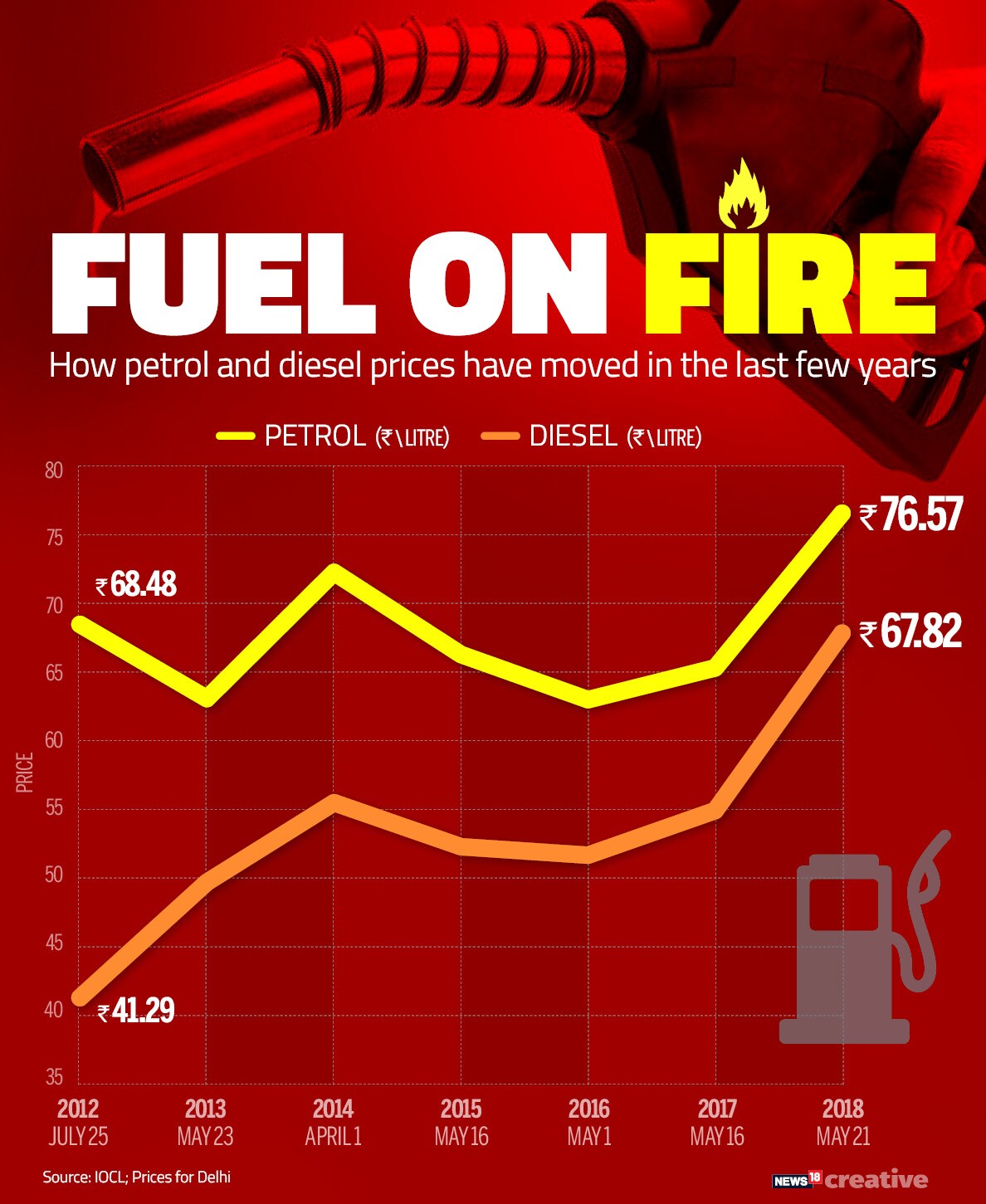 Currently, crude is trading at around $79 per barrel as against its all-time high of $150 per barrel in 2008.
Naturally, the noise to cut petrol and diesel prices in India is getting shriller.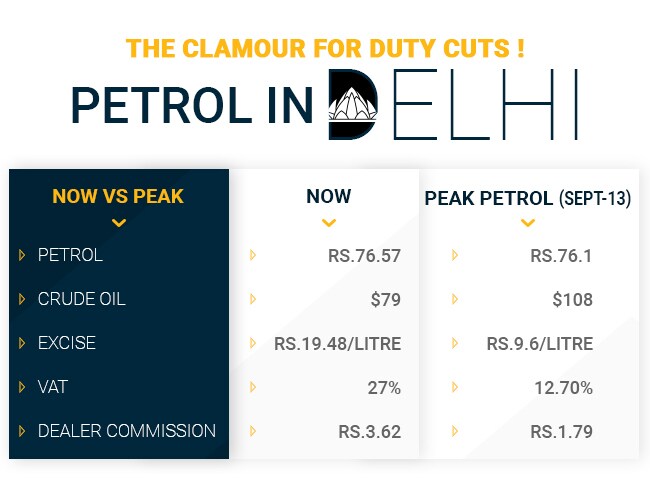 As this table shows, per litre of petrol reached its peak in New Delhi in September 2013 when it touched Rs 76.1. Crude oil at that time was trading at $108 per barrel. Today, a litre of petrol in New Delhi is retailing at Rs 76.57 when crude is at $79.
What has led to this spike? Excise duty.
Excise duty on a litre of petrol in September 2013 stood at Rs 9.6 per litre while today it stands at Rs 19.48 per litre. Value added tax (VAT) too has reached 27% as against 12.70% in the given period.
A similar story is unfolding for diesel as well.
Oil minister Dharmendra Pradhan told a television news channel that his ministry is contemplating ways to keep retail oil prices in check in the country.
He said that various alternatives are being looked at and he would "work out something soon" without giving much details.
However, is there fiscal space available with him to cut excise duty is a question that needs deliberation.
FICCI said, "As per some estimates, every Rs 1 per litre cut in excise duties results in potential revenue losses of Rs 13,000 crore (0.1% of GDP)."
Data suggests that Rs 2 per litre excise duty will take care of $4 per barrel worth of crude price rise. However, the union government doesn't seem to have the fiscal space.
Economic Survey 2017-18, presented earlier this year, has estimated that for every $10 per barrel rise in crude prices, GDP growth will reduce by 0.2-0.3 percentage points, while the current account deficit will increase by 0.4 percentage points of the GDP and WPI inflation climb up by 1.7 percentage points.
A State Bank of India (SBI) report said an increase in the crude oil prices will impact India's imports.
A $10 per barrel increase in crude prices will increase the import bill by about $8 billion, which will decrease the gross domestic product (GDP) by 16 basis points and increase the fiscal deficit by 8 basis points, the report said.
"The crude oil price rise by $17 in the span of a year, has been reflected in the imports, showing growth of 19.59%. Crude oil prices are expected to rise further this year and we expect imports to grow by at least 14%. This will stretch the FY19 current account deficit to 2.5% of GDP," the bank said.
Industry body FICCI too has been demanding the government to cut excise duty on fuel.
"Over the last few years, falling oil prices contributed significantly towards improving the health of the economy. With global oil prices once again spiralling upwards, the macro-economic risks of higher inflation, higher trade deficit and pressure on balance of payments with attended consequences for the Rupee value have once again surfaced," said Rashesh Shah, president, FICCI.
He said, "Given that overall excise duties have been raised by as much as Rs 11.77 per litre for petrol and Rs 13.47 per litre for diesel, while reduction has been mere Rs 2 per litre, there is a scope of bringing down the excise duties. While such a move will have an implication on the fiscal revenues at this juncture there is a need to do the fine balancing act."