Polycab India, the largest maker of cables and wires in the country, will launch its initial public offering (IPO) on April 5.
The initial public offering (IPO) of
Polycab India
, the largest maker of cables and wires in the country, will open for subscription on April 5. The company aims to raise around Rs 1,345 crore through the share sale with the
price band
of Rs 533-538 per share. The Polycab IPO closes on April 9
Polycab India on Thursday raised Rs 401 crore from 25 anchor investors. The company has allotted more than 74.5 lakh shares to 25 anchor investors at a price of Rs 538 apiece.
The Polycab IPO is a mix of fresh issue of equity shares worth about Rs 400 crore and an offer for sale of 1.76 crore shares. The quota for employees has been fixed at 1,75,000 shares and they will be given a discount of Rs 53 per share. The lot size is 27 shares.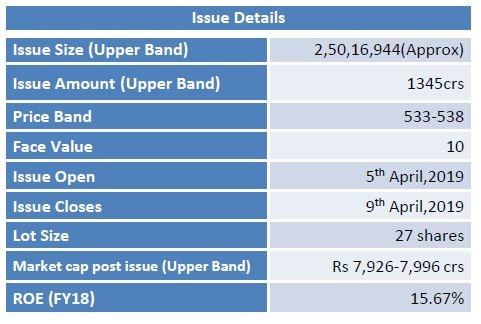 Post the issue, the promoters will hold 68.70 percent stake while the remaining will be held by the public.
About the company
Polycab manufactures and sells cables and wires such as power cables, control cables, instrumentation cables, solar cables, building wires, flexible cables, flexible/single multi-core cables, communication cables and others.
In 2009, it diversified into the engineering, procurement and construction business, and in 2014, the company further diversified into the FMEG (lights, switches, fans etc) or fast moving electrical goods segment.
Currently, the company has 24 manufacturing facilities, including two joint ventures with Techno Electromech and Trafigura. Polycab has more than 2,800 dealers and distributors and sells products to over 1 lakh retail outlets in India.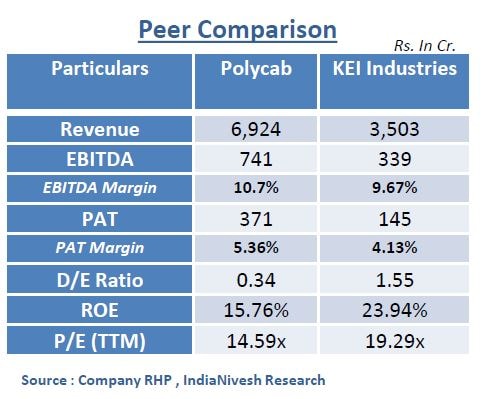 Graphic: IndiaNivesh
Financials
The company has been delivering robust growth for the past several years, with the revenue CAGR of 10 percent, EBITDA CAGR of 22 percent and profit after tax CAGR of 43 percent for the last three years. According to brokerage IndiaNivesh, the company has high cash flows and good return ratios. It is also virtually debt free which makes it a compelling investment idea.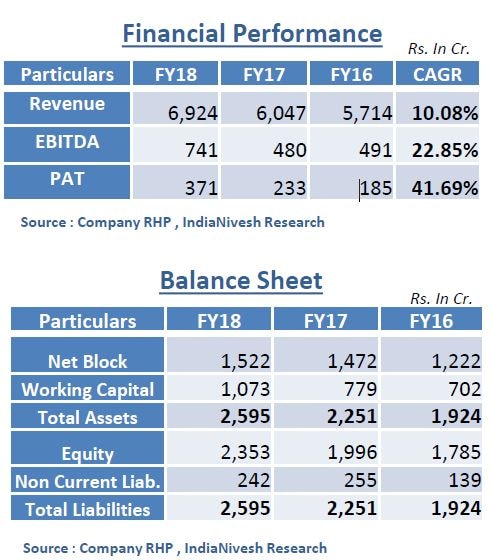 Graphic: IndiaNivesh
"Today in the organized sector in the country, we have about 18 percent market share and the entire industry which also has 34 percent in terms of unorganized sector, we have a market share of 12 percent," Polycab CEO Ramakrishnan Ramamurthi told CNBC-TV18 in an interview.
"The consolidated EBITDA in cable and wire part of the business is at about 12.7 percent. Wires tend to be a bit more profitable than the cables," he added.
Proceeds
"We plan to utilise the proceeds of the issue for partially retire our debts as well as for meeting our working capital requirements," its deputy chief financial officer Gandharv Tongia told PTI.
Out of the Rs 400 crore of a fresh issue, Polycab plans to use nearly Rs 80 crore for scheduled repayment of all or a portion of certain borrowings availed by the company, Rs 240 crore would be spent towards meeting incremental working capital requirements and the remaining will be utilised for general corporate purposes.
Expert View
IndiaNivesh said the Polycab IPO comes at a significant discount to its nearest comparable. "Managements focus to diversify through FMEG (lights, switches, fans etc.) augurs well for future growth. FMEG is margin accretive, which leads to higher profitability and better customer mix of B2B and B2C."
"High cash flows, retiring of debts, good return ratios, foreseeable revenue and growth visibility make it a compelling investment idea," added the brokerage.
Risk Factors
Significant increases or fluctuations in prices of, or shortages of, or delay or disruption in the supply of primary raw materials could affect the estimated costs, expenditures and timelines which may have a material adverse effect on the business, financial condition, results of operations and cash flows, said IndiaNivesh.
The company's business is highly skewed on the performance of the wires and cables market. Any adverse changes in the conditions affecting the wires and cables market can adversely impact the business, financial condition, results of operations, cash flows and prospects, added the brokerage.