Bharti Airtel's proposed fundraising of up to Rs 32,000 crore(about $4.5 billion), if completed, is credit positive, Moody's said in a research report on Monday. The global brokerage firm, however, has kept the telecom major's ratings unchanged at Ba1 negative as Moody's expects leverage to remain elevated, while profitability and cash flow of Airtel's core Indian mobile segment will remain under pressure.
On February 28, the Sunil Bharti Mittal-promoted Airtel had announced a fundraising proposal of up to Rs 32,000 crore(about $4.5 billion) to reduce debt and financing costs to take on competitions, particularly Reliance Jio. Of the Rs 32,000 crore, Rs 25,000 crore will be raised by way of a rights issue and another Rs 7,000 crore will be mobilised through foreign currency perpetual bonds.
Moody's said in its report that the proposed rights issue, if completed, is credit positive for Bharti because it will allow the company to reduce debt and improve its liquidity.
Airtel is likely to finalise the terms and conditions of the rights issue and decide on the issuance of the perpetual bond in the next several weeks.
"Assuming the Rs 25,000-crore rights issue is completed and all proceeds are used to pay down bank debt at the Indian operations immediately, consolidated adjusted debt to EBITDA ratio would fall to around 3.8x from 4.5x for FY19," Moody's noted in its report.
Moody's, also, manually deconsolidates 53.5 percent owned Infratel's EBITDA and debt and estimates the recapitalisation of operating leases to better reflect the continuing operations.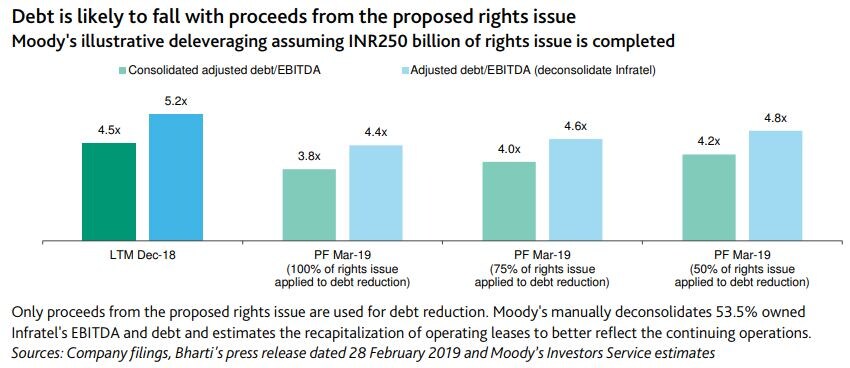 "However, there may be timing differences with respect to actual debt reduction particularly considering our expectations for capex and profitability of the Indian operations. As a result, we believe some of the debt reduction may only be temporary as bank debt may be re-borrowed to provide additional liquidity amid ongoing competition in the Indian mobile market," the brokerage added.
Bharti's EBITDA has fallen 27 percent to Rs 26,500 crore in 2018 from Rs 36,400 billion in 2016.

The company is also contemplating a perpetual bond with conditions allowing for full accounting equity credit. But, according to Moody's they will need evaluate the amount and terms and conditions of the perpetual bond when disclosed.
"Nonetheless, we expect a significant portion of proceeds from the rights issue will be used to lower debt, strengthen Bharti's balance sheet and providing the company with greater financial and operational flexibility for its Indian operations," the Moody's report concluded.
Bharti Airtel shares were down 0.6 percent, quoting at Rs 305 on BSE, while the benchmark Sensex was down by 55 points at 36,008 at 09.55 am.
Disclosure: Network18, the parent company of CNBCTV18.com, is controlled by Independent Media Trust, of which Reliance Industries is the sole beneficiary.