The Indian benchmark indices ended 0.4 percent lower for the week following negative global sentiment as investors worried over higher crude prices following geopolitical developments in the Gulf of Oman.
On Friday, benchmark indices ended lower dragged mainly by banking stocks.
The BSE Sensex closed 289 points (0.73 percent) lower at 39,452, down 0.4 percent for the week, while the broader NSE Nifty50 ended lost 91 points (0.76 percent) to 11,823, down 0.4 percent for the week. The Nifty Midcap underperformed indices, losing 1.2 percent for the week.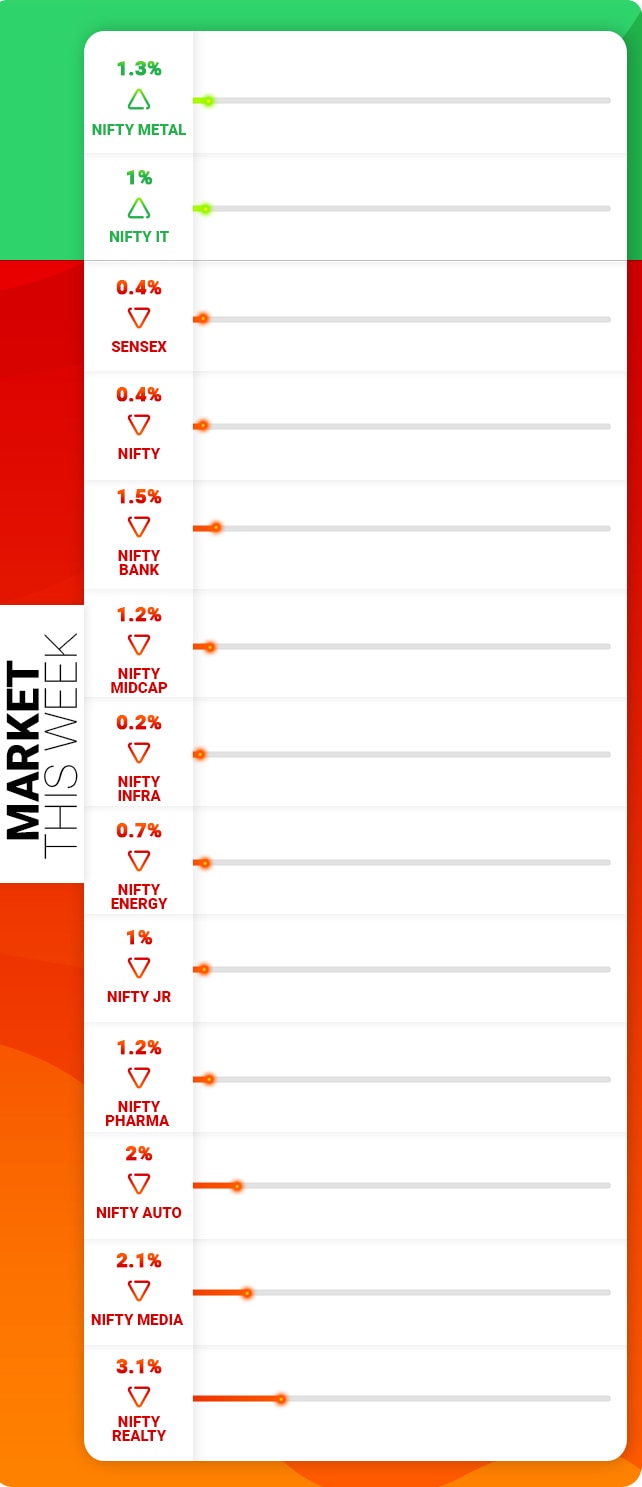 All sectoral indices, except the Nifty Metal and the Nifty IT, were down for the week. The Nifty Realty index fell the most, down over 3.1 percent followed by the Nifty Media (down 2.1 percent), the Nifty Auto (down 2 percent), the Nifty Bank (down 1.5 percent), the Nifty Pharma (down 1.2 percent) and the Nifty Energy (down 0.7 percent). Meanwhile, the Nifty Metal and Nifty IT indices rose 1.3 percent and 1 percent for the week.
Nifty Gainers
Steel stocks gained most during the week after union steel ministry suggested its commerce counterpart to bring certain changes in norms used for imposing anti-dumping duties with a view to making them more effective for protecting domestic players from cheap imports.
The sentiment was also improved after China increased anti-dumping duties on some US, EU steel tubes and pipes and on hopes of a resolution of US-China trade war.
While Tata Steel, which was the best performer on the Nifty for the week, gained 4 percent, while JSW Steel was up 3.4 percent. Vedanta stock rose during the week, up 3.3 percent after Copper prices surged 1.2 percent, to their highest level in two weeks.
TCS also added 3.3 percent on weaker rupee during the week. Among other gainers, Grasim rose 3.1 percent, Britannia was up 2.2 percent, Hindalco gained 1.8 percent, and PowerGrid advanced 1.5 percent.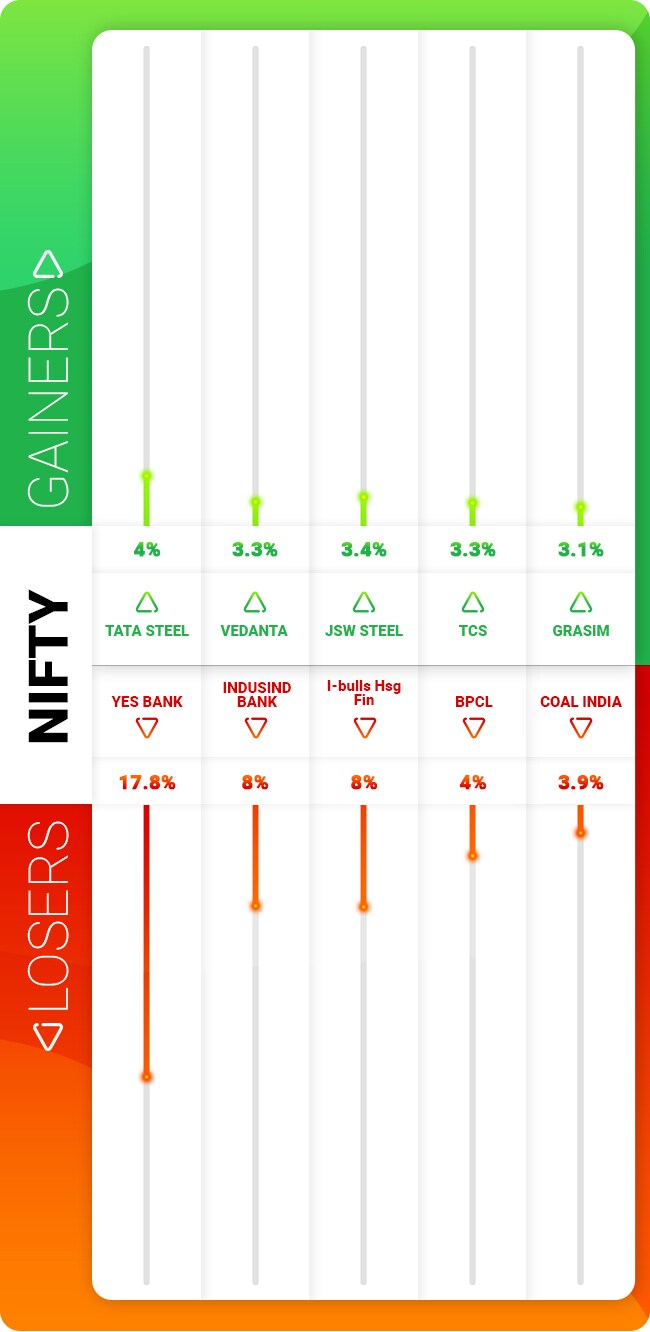 Nifty Losers
Yes Bank was the worst performing stock for the week, down 17.8 percent after global brokerage firm UBS retained its 'sell' rating on the stock and cut its target price to Rs 90 per share from Rs 170 earlier. During the week, Moody's also placed the private sector lender's ratings under review for a possible downgrade citing its high exposure to the struggling non-banking financial companies (NBFC) and realty sectors.
Meanwhile, IndusInd Bank lost 8 percent after UBS downgraded the stock to 'sell' from 'neutral' and reduced its target price to Rs 1,400 per share from Rs 1,700 earlier.
Indiabulls Housing Finance declined 8 percent during the week after a plea was filed against it alleging misappropriation of Rs 98,000 crore of public money. However, the plea was later withdrawn from the Supreme Court by the petitioner Abhay Yadav.
BPCL fell 4 percent as crude oil prices rose amid ongoing geopolitical tensions in the Gulf of Oman. Other losers include Coal India (down 3.9 percent), Hero MotoCorp (down 3.3 percent), Maruti Suzuki (down 2.9 percent), Bajaj Auto (down 3 percent).
MidCap Gainers
Bata India was the top midcap gainer for the week, up 3.5 percent, followed by Strides Pharma (up 3.5 percent), Muthoot Finance (up 3 percent) and Cadila Health (up 1.2 percent).
Wockhardt shares rallied 1.7 percent after the US health regulator issued zero 483 observations for bioequivalence centre in Maharashtra. The pharma company informed exchanges that the US Food and Drug Administration has carried out an inspection of its bioequivalence centre located at R&D centre, Aurangabad in Maharashtra during June 10-12.
MidCap Losers
BEML was the top loser in midcap space, down 6.9 percent for the week. Debt-heavy companies like RBL Bank and Ujjivan Finance also fell over 6 percent for the week.
Tata Communications declined 6 percent after it divested its 26 percent stake in STT Tai Seng, which operates the data centre business in Singapore, to STT APDC at an agreed consideration based on fair market value and changing market conditions.
Among other losers, Biocon slipped 6.1 percent followed by Ceat (down 4.9 percent), Ajanta Pharma (down 4.1 percent), and TVS Motor Company (down 3.5 percent).