Mini
Indian benchmark indices ended mildly lower week as investors remained cautious in the absence of an announcement about a government fiscal stimulus package.
Indian benchmark indices ended mildly lower week as investors remained cautious in the absence of an announcement about a government fiscal stimulus package to curb slowdown and rollback of foreign portfolio investment (FPI) surcharge. Also, trade war worries affected the sentiment.
For the week, the NSE Nifty and the BSE Sensex were down 0.6 percent each.
On Friday, benchmark indices ended flat as gains in banking and auto stocks were capped by losses in IT stocks. The Sensex ended 39 points higher at 37,350, while the broader Nifty50 index added 18 points to end the day at 11,048.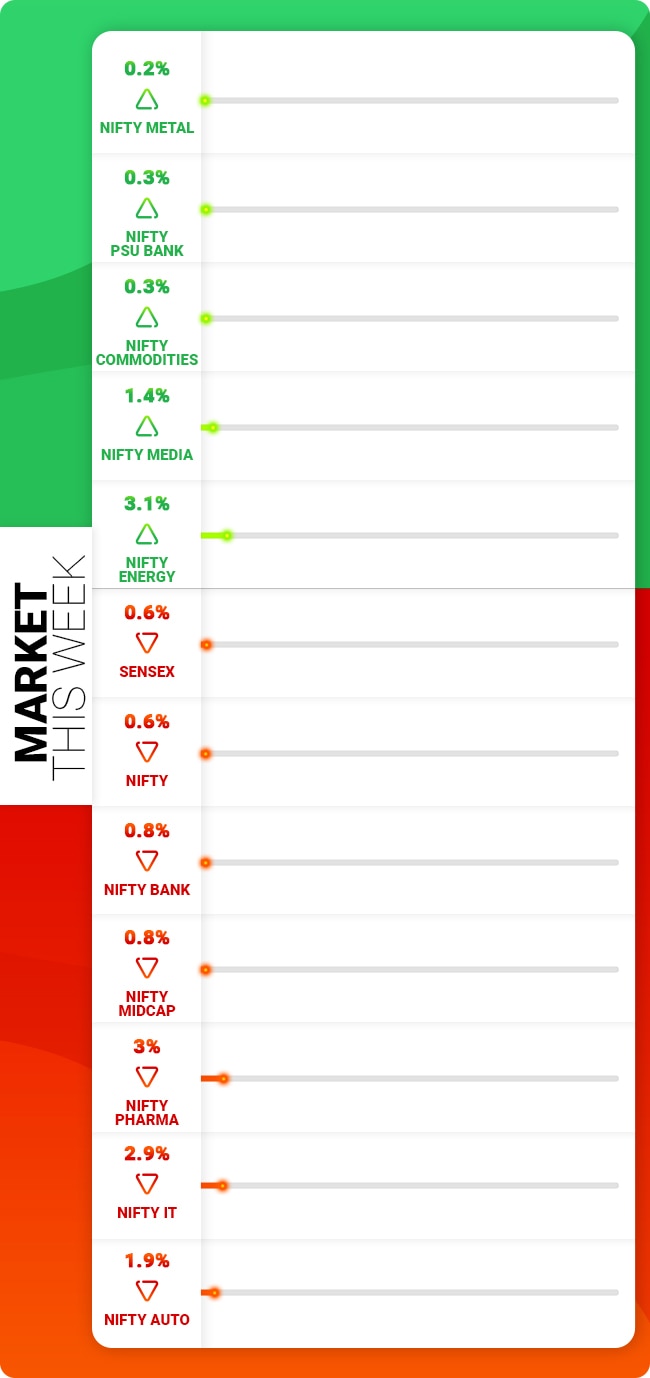 For the week, sectoral indices were mixed for the week. The Nifty Pharma fell the most, down 3 percent followed by the Nifty IT (down 2.9 percent). The Nifty Auto fell 1.9 percent, while the Nifty Finance lost 1.8 percent for the week. Meanwhile, the Nifty Energy gained 3.1 percent and the Nifty Media was up 1.4 percent for the week.
Nifty Gainers
Indiabulls Housing was the top Nifty performer for the week, up 11 percent, after the law firm Managium Juris tendered a public apology for filing a petition against the housing finance company with false and sensational allegations related to the merger with Lakshmi Vilas Bank.
Reliance Industries Ltd (RIL) surged 10 percent following big bang announcements by chairman Mukesh Ambani at its 42nd annual general meeting (AGM) held on August 12. Deal with Saudi Aramco, commitment to become a net-zero debt company, plans of listing Jio and Reliance Retail and rapid growth in the consumer business were some of the major announcements at the AGM.
GAIL advanced 3.7 percent after the company reported 15 percent quarter-on-quarter (QoQ) growth in its standalone profit at Rs 1,288 crore for Q1, helped by a better financial performance by gas marketing, gas transmission segments and liquid hydrocarbon segment.
Among other gainers, Zee rose 5.3 percent, PowerGrid added 4.5 percent, JSW Steel was up 3 and UPL gained 2.9 percent.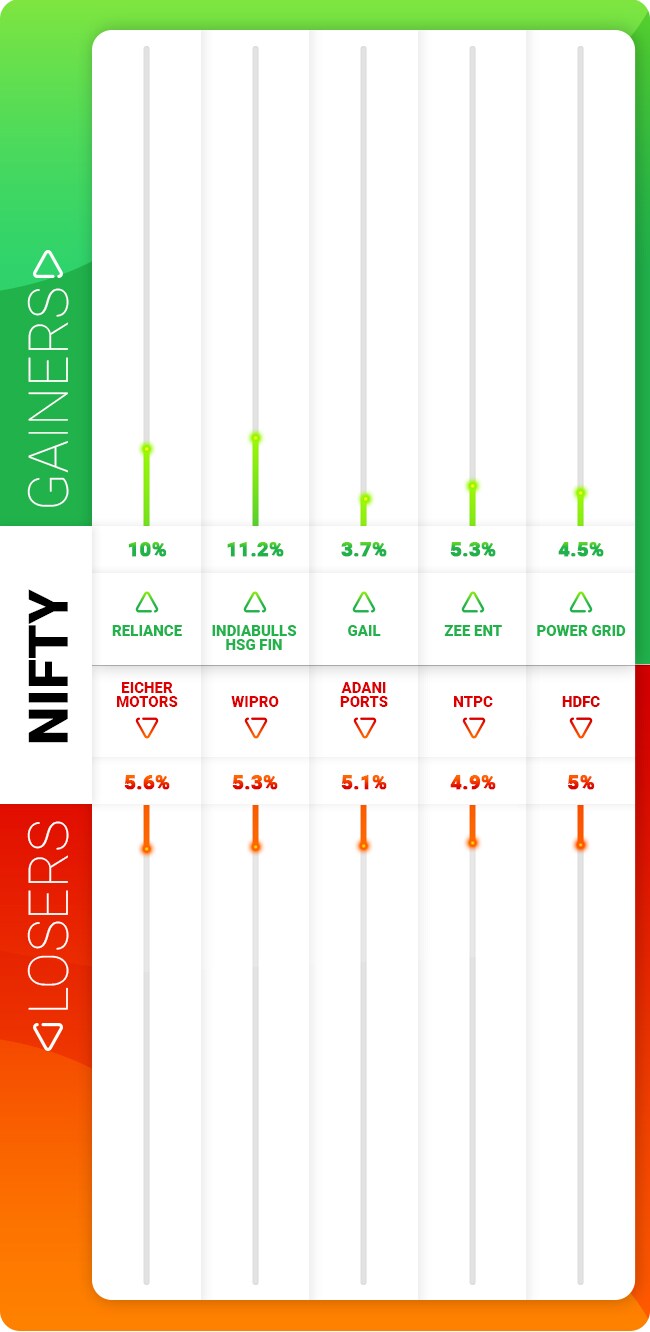 Nifty Losers
Eicher Motors was the worst-performing stock for the week, down over 5.6 percent as a slowdown in the auto sector continues. Media reports said the GST Council may not cut rates for the sector also led to the losses.
NTPC slipped 5 percent this week after it reported a 0.57 percent year-on-year (YoY) rise in net profit at Rs 2,602.79 crore compared with Rs 2,588.14 crore a year ago, missing analyst estimates.
Other losers included Wipro (down 5.3 percent), Adani Ports (down 5.1 percent), HDFC (down 5 percent) and Yes Bank (down 4.4 percent).
Midcap Gainers and Losers
Godfrey Phillip was the top midcap gainer for the week, up 44.8 percent, followed by Apollo Hospitals, which was up 8 percent, Dr Lal Pathlabs (up 7.7 percent), Hexaware (up 6.7 percent), IGL (up 5.2 percent) and Ajanta Pharma (up 4.6 percent).
Godfrey Phillips surged 44.8 percent after the cigarette maker posted a two-fold jump in its June-quarter profit. The company reported a consolidated profit of Rs 118.42 crore in the three months ended June 30 from Rs 57.31 crore in the year-ago period.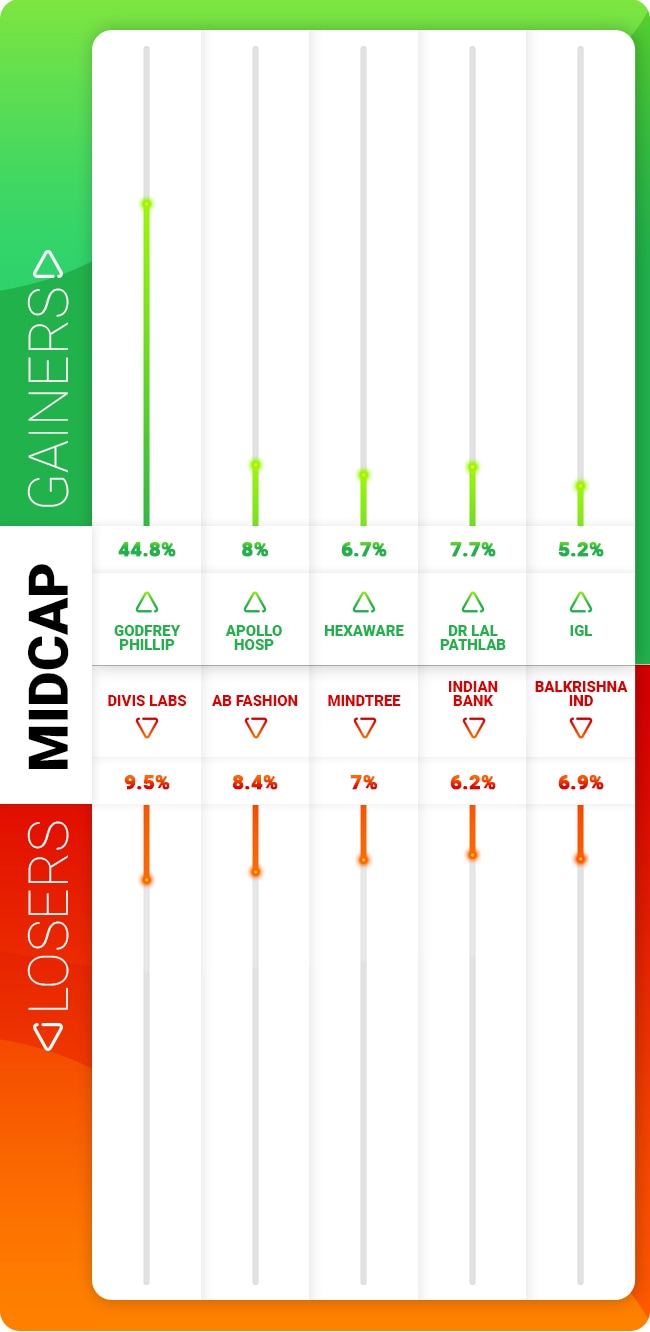 Apollo Hospitals rose 8 percent after it reported robust June quarter results. The company's net profit rose over two-fold to Rs 49.15 crore in Q1 as against Rs 23.34 crore in the corresponding quarter a year ago.
Meanwhile, Divis Labs was the worst-performing midcap for the week, down 9.5 percent, followed by AB Fashion (down 8.4 percent), MindTree (down 7 percent), Balkrishna Industries (down 6.9 percent) and Indian Bank (down 6.2 percent).
Divis Labs shed 9.5 percent after global brokerage HSBC downgraded the stock and cut the stock's price target after its June quarter earnings fell short of analysts' expectations.
Disclaimer: Network18, the parent company of CNBCTV18.com, is controlled by Independent Media Trust, of which Reliance Industries is the sole beneficiary.