The benchmark indices ended flat on Friday as investors remained cautious amid March-quarter earnings season. Gains in realty and banking indices were capped by losses in FMCG and IT sectors.
During the week, the stock market swung between gains and losses to end with marginal losses. The BSE Sensex closed at 38,963, down 0.05 percent (18 points), while the broader NSE Nifty50 ended at 11,712, falling 0.11 percent (12 points).
The Sensex and the Nifty ended 0.3 percent and 0.4 percent lower for the week, the biggest drop since February 11 week. The Nifty Midcap underperformed indices, falling 1.5 percent for the week.
Among sectors, the Nifty Pharma fell the most, down 2.6 percent followed by the Nifty IT (down 2.5 percent), the Nifty FMCG (down 2.3 percent) and the Nifty Auto (down 1.3 percent) for the week. The Nifty Metal was the best performing sector, up 1.1 percent followed by Nifty Energy, which gained 0.8 percent.
Nifty Gainers
Banking and financial stocks were among the top performers on the Nifty50 index for the week. HDFC Bank and Kotak Bank gained 3.7 percent and 2.8 percent, respectively, while, HDFC also rose 1.3 percent. OMCs like BPCL and IOC also rose over 2 percent each for the week as crude oil prices dropped to a month-low after the recent surge above $75/barrel.
Kotak Mahindra Bank gained 2.8 percent as it posted strong quarterly earnings on Tuesday, with an increase of 25 percent in net profit and an 18 percent hike in net interest income for the quarter ended March 31. JSW Steel was the best performing stock for the week, up 5 percent.
Nifty Losers
Yes Bank was the worst performing stock for the week, down 26 percent after the private lender reported a net loss of Rs 1,507 crore for the period ended March 31, compared to a profit of Rs 1,180 crore a year earlier. The loss was driven by a reversal of interest and fee income and a sharp uptick in provisions and slippages. Among banks, IndusInd Bank also slipped 8.5 percent.
Britannia fell 9 percent after the earnings missed analysts estimates for Q4. It reported an 11.82 percent increase in consolidated net profit at Rs 294.27 crore for the fourth quarter ended March 31, 2019.
Indiabulls Housing fell 4.4 percent after it reported a 7 percent year-on-year degrowth in consolidated profit at Rs 1,001.4 crore, but net interest income grew 5.8 percent to Rs 1,591 crore in the quarter ended March 2019, both missing analyst estimates.
HUL also slipped 3 percent as analysts expect slower volume growth by the company in Q4. TCS fell 4.5 percent after IT stocks were under pressure on strong rupee and revision of Cognizant's CY19 revenue guidance.
MidCap Gainers
In the midcap space, Indigo was the top performer, up 6.5 percent amid fall in crude oil prices this week and as brokerages remained bullish on the stock. PVR rose 5.2 percent after Avengers Endgame is on its way to become the highest grossing movie in India.
Among other gainers, Century Textiles gained 2.2 percent this week followed by Bharat Forge (up 2.1 percent), Just Dial (up 1 percent) and HPCL (up 1 percent).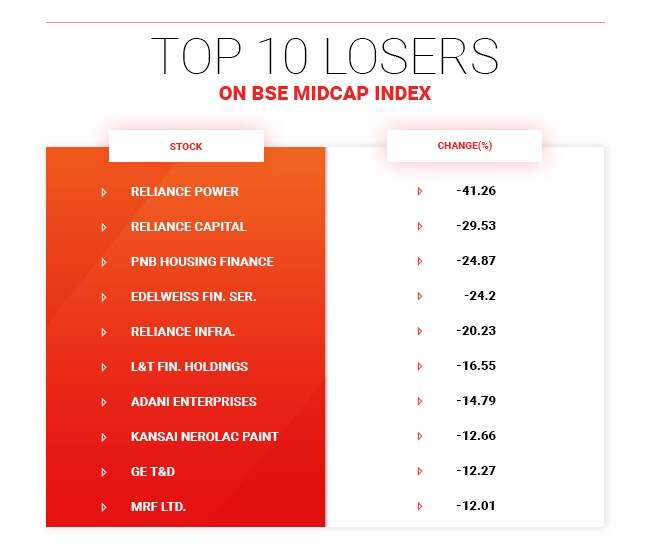 MidCap Losers
Jet Airways was the top midcap loser for the week, down 19 percent amid the ongoing crisis. According to a recent report, potential bidders for Jet Airways Ltd have so far failed to show any firm interest in bailing out the struggling airline, a source involved in the matter said, increasing the likelihood that the company will face bankruptcy proceedings.
Reliance Power fell 12 percent this week followed by CG Power (down 5.9 percent), IRB Infra (down 4.3 percent) and India Cements (down 3.9 percent).