3 Min(s) Read
Mahindra & Mahindra Q4 Results: M&M's board has recommended a dividend of Rs 16.25 per Ordinary (Equity) Share for fiscal FY23. Shares of M&M were trading 0.32 percent higher in Friday's afternoon deals. The stock gained 6 percent in the past one month, while on a year-to-date basis it rose nearly 2 percent.
Mahindra & Mahindra Q4 Results: Homegrown auto major Mahindra & Mahindra (M&M) on Friday reported a strong performance on yearly comparison, but the sequential performance was almost flat. M&M posted a 22 percent jump in its standalone profit after tax (PAT) at Rs 1,549 crore for the quarter ended March 31, 2023. The same was Rs 1,269 crore in the corresponding quarter of last fiscal and Rs 1,528 crore in the December quarter. The profit figure was much lower as against CNBC-TV18's poll of Rs 1,756 crore.
Live Tv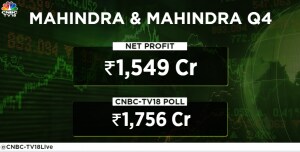 When seen on a consolidated basis, the company's FY23 profit grew 56 percent to an all-time high of Rs 10,282 crore, driven by successful mega launches in automotive, steady growth at farm equipment, strong operating performance at financial services and value unlocking through monetisation/partnerships.