The stock of Bengaluru-based Page Industries has fallen almost 12 percent in the last one month.
The stock of Bengaluru-based Page Industries has fallen almost 12 percent in the last one month. The company is the exclusive licensee of Jockey International Inc (USA) for manufacture, distribution and marketing of the Jockey brand in India, Sri Lanka, Bangladesh, Nepal and the UAE.
Page Industries stock touched an all-time high of Rs 36,370 on August 28, 2018. At that level, the stock was a multi-bagger story as it delivered almost 100 times from its initial public offering (IPO) pricing.
However, the stock has fallen almost by 40 percent from record high levels on weak midcap market sentiments and lower Q2FY19 earnings. In 2017, the midcap segment saw a huge upside rally, which resulted in higher valuations. Overall, midcap and smallcap sector was down almost 16 percent and 30 percent in 2018 respectively.
Among the leisurewear segment, Page Industries reported the most disappointing set of numbers compared to brands such as Dollar Industries, Lux Industries and Rupa & Company. In terms of valuations, Page Industries is an expensive stock compared to its peers.
The current market price (CMP) of Page stands at RS 21,906 in BSE on Monday, while Dollar was at Rs 316, Lux Industries at Rs 1,312 and Rupa at Rs 344.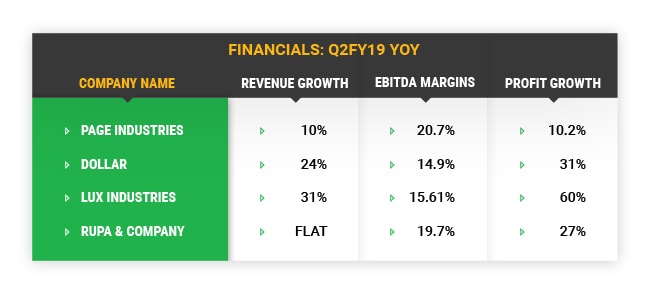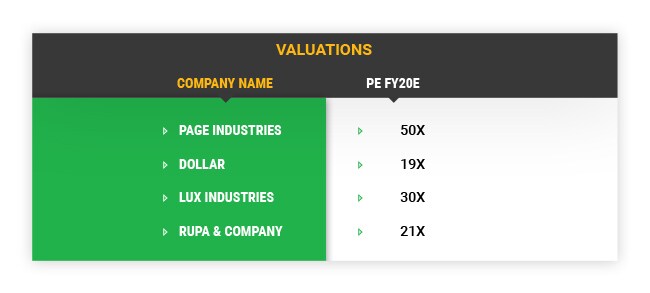 The stock of Page Industries in future may see further lows on higher valuations and lower earnings.
But questions remain unanswered whether is it the right time to invest in Page Industries as the company has guided for a 20 percent revenue growth rate for the next 20 years or is it still an expensive bet looking at its lower earnings performance?
To drive the growth, the company plans to increase the number of exclusive brand outlets to over 1,000 by FY20-end from 470 as of FY18-end. The strong brand equity of Jockey and extension of its licence agreement with Jockey International till 2040, has given the company an edge over its competitors in the leisurewear segment.
Further, store expansion based on low franchise model with limited capital expenditure, leisurewear segment growing by 3.9 percent in Q2FY19, achieving the revenue target of 20 percent plus growth, Return on Equity (RoE) above 50 percent plus levels and margins between 21-22 percent will be beneficial for the company.
The major challenges Page Industries facing are poor Q2FY19 and Q3FY19 earnings, higher valuation compared to peers, higher raw material prices and overhang on volume growth.
The management had attributed the weak performance of the stock owing to lower demand from retailers due to GST related issues and shift in festive season to Q3FY19. Slower volume growth and increasing competition, particularly in the menswear segment also raise concern going ahead.
Analysts across the brokerage houses are expecting a weak Q3FY19 for the company.
Kotak Securities has maintained 'sell' rating on account of higher valuations. The research house estimates 19 percent revenue growth for FY19 led by 9 percent volume growth and 10 percent price mix. Last quarter, revenue growth of 10 percent was primarily driven by higher realisation and the company missed its volume estimates as men's innerwear segment shrink by 3.2 percent.
Coming to Credit Suisse, it has maintained 'underperform' recommendation on Page Industries. The research house cut target price of the stock to Rs 22,000 from Rs 26,000 per share and sees downside risk to earnings if recovery in the festive season does not pan out.
The Page Industries has not announced its Q3FY19 earnings date, so we need to wait for the clear picture on growth scenario.
First Published: Jan 8, 2019 6:10 AM IST