Foreign portfolio investors (FIIs) have remained net purchasers of Indian shares for the seventh day in a row, pumping Rs 14,726 crore into Dalal Street — their longest buying spree since mid-August, according to provisional exchange data.
Foreign portfolio investors (FPIs) continue to make a comeback on Dalal Street, having net purchased Indian shares worth Rs 14,725.9 crore in seven straight sessions — their longest buying spree since mid-August, according to provisional exchange data. In value terms as well, it is their heaviest consecutive buying streak since August 17, when they made net purchases of Rs 21,249.7 crore in 13 days.
The persistent buying by foreign institutional investors in the Indian capital market comes at a time when many experts are optimistic that headline indices
Sensex
and
Nifty50
will scale new highs in the near term, surpassing their lifetime highs of October 2021.
FPI inflows were one of the main reasons behind a near one-sided rally on Dalal Street that ended in October 2021 that lasted 18-odd months.
As of November 4, both main gauges are around one percent shy of their peaks. The Sensex and the Nifty50 stand 524.8 points 233.8 points below their all-time highs — touched on October 19, 2021.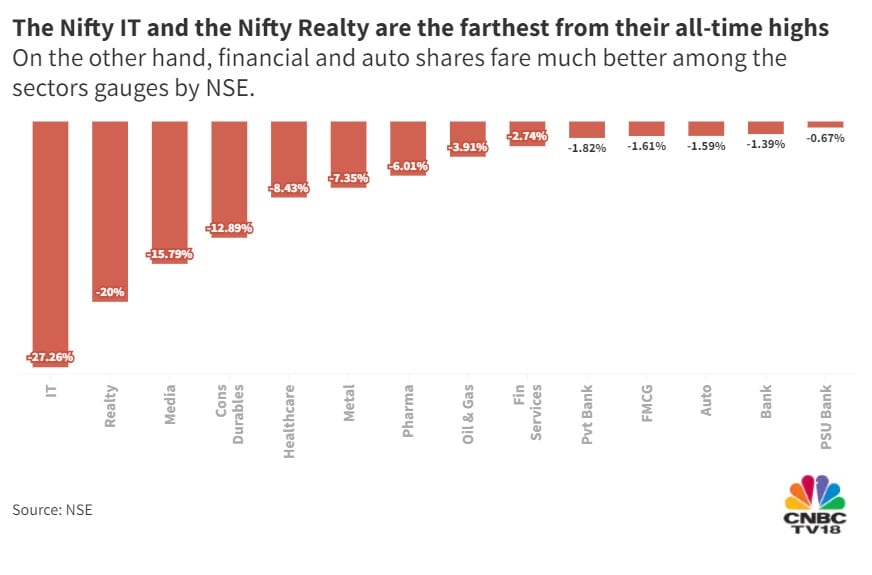 Market expert Ajay Bagga expects fresh all-time highs for Sensex and Nifty50 in November followed some consolidation and then a fall in February-March 2023 mirroring Nasdaq.
"The US is likely to go up five-odd percent in the next 2-3 months and then correct sharply. The Union Budget will keep the market up for India followed by a correction," he told CNBCTV18.com.
The cautious return of foreign investors is in line with expectations of many analysts, who had anticipated that they might not able to re-enter at the valuations at which they exited.
"Valuations do have some room for upside, if you go by past cycles, but we must also remember that no two cycles are similar... When you look at India's valuations in the context of MSCI Emerging Markets, the premium now is a staggering 155 percent, which is at an all-time high because the rest of the markets have done pretty much nothing," Gautam Duggad, Head of Research-Institutional Equities at Motilal Oswal Financial Services, told CNBC-TV18 last week.
The Nifty benchmark is trading at a forward earnings multiple of 19.6 times, which is broadly in line with its long-term average, he pointed out.