Wall Street witnessed rotation from growth to value stocks on Wednesday as rising bond yields crashed into bullishness surrounding growth stocks. That and ADP's monthly employment data showing job growth missing expectations spurred selling of tech stocks, dragging Nasdaq down.
The NASDAQ composite underperformed benchmarks and fell 2.7 percent, while Dow and S&P lost 0.38 and 1.30 percent, respectively.
The market expected the labour market to grow after a nearly stagnant winter, but weaker than expected numbers had investors worried. Soon after, yields rose again, nearly touching the rare-in-a-year 1.5 percent level. This pace with which yields are rising got investors to speculate that Fed might think about tightening their policy. This then led to concerns about overvalued tech stocks as their lofty valuation was supported by expectations of a prolonged period of low-interest rates.
However, the speculations of the rise in interest rates made tech stocks vulnerable, leading to investors dumping them sooner rather than later.
Rising yields (due to inflation fears), combined with sluggish growth, is
bad news for growth stocks
as high yields place a ceiling on their earnings multiples. This, in turn, puts pressure on indices, more so on Nasdaq since a majority of its stock are growth-focussed.
So as the bond scare lingers, investors look to Jerome Powell for directions. They are waiting to see if the Fed Chair would address the rapidly rising long-term borrowing costs. While many Fed officials have downplayed the rise in yields, Fed Governor Lael Brainard acknowledged concerns over the possibility that a rise in yields could dampen economic activity.
Powell is due to speak at 12:05 pm EST before a Wall Street Journal Jobs summit. After this speech, the Fed will go into blackout till March 16-17. Given the nature of the bond market tantrum, this speech is critical.
Nasdaq Composite Technicals
According to technical analysts, yesterday, Nasdaq negated the 50 percent Fibonacci retracement level of the recent fall from an all-time high of 13,590. It then moved lower towards a triple support range at around the 13,000 cluster. This cluster is where the Nasdaq currently sits. It also shows a rising channel of February lows and a rising head and shoulders neckline (see video).
In English, it means, Fibonacci retracement levels trace trends in stocks. When a stock moves in one direction, technical analysts expect a pullback. Except to make it more non-Englishy, the pullback occurs at 23.6, 38.2, 50, 61.8, 76.4 percent levels. These are Fibonacci numbers, save for 50. For example, if a stock sells at $20 and rises to 21, the pullback may occur at 23, 38, 50, 61, or 76 cents.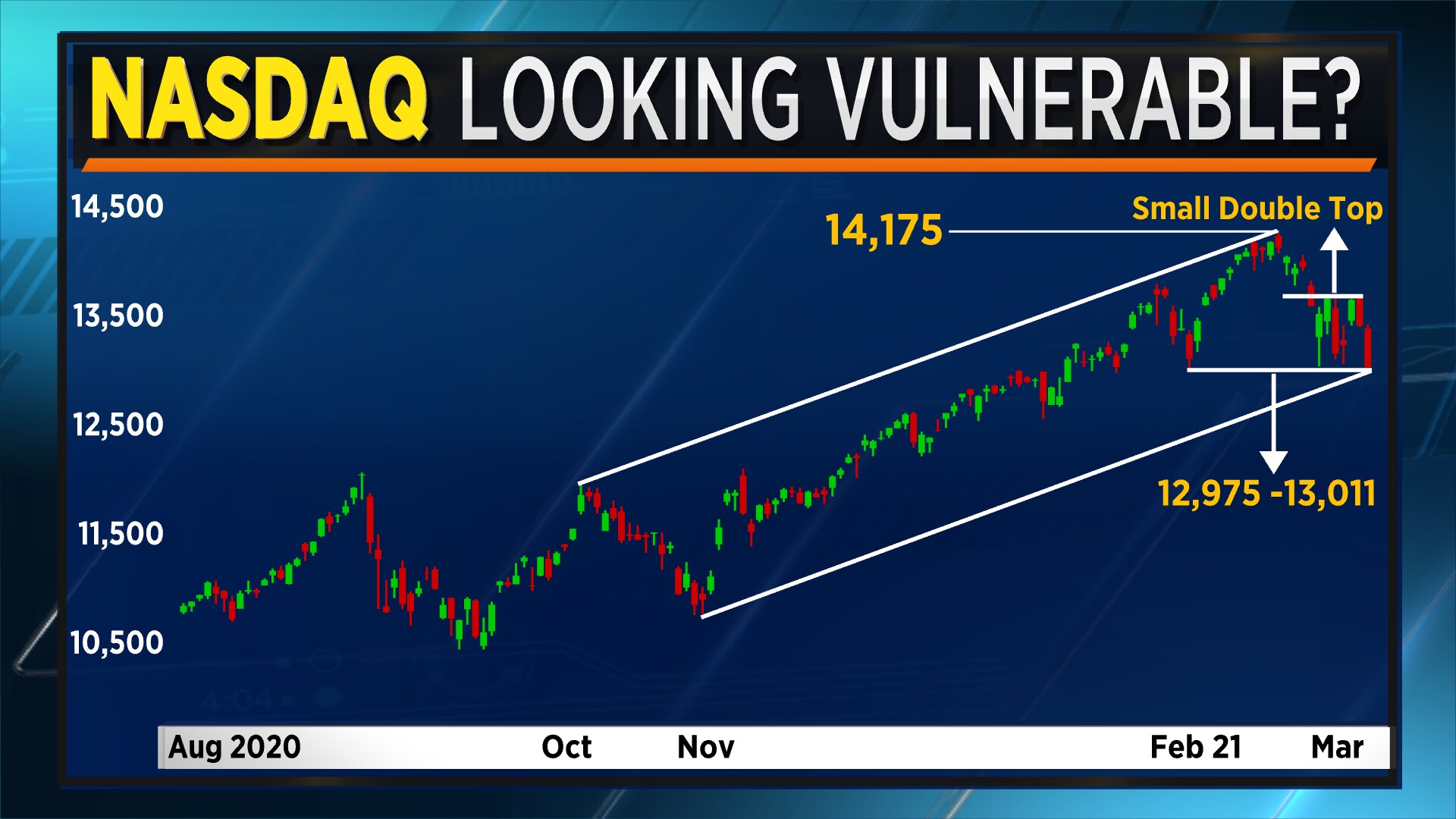 Now, back to Nasdaq. So, Nasdaq missed the pullback at 50 percent yesterday and instead moved even lower towards the triple support range at around the 13,000 clusters. Triple support range signify buyers taking control of price action from sellers. This range, in this case, coincided with the February lows and a rising neckline of head and shoulders pattern.
Investors and analysts are looking forward to Fed's speech, inflation numbers announcement, and treasury auctions. This speech is important to clarify the Fed's views on yields. Either we get stronger than expected inflation numbers and poor auction results like the one of Feb 25 and spark the tantrum once again. Or Fed pushes back and vows to take care of the situation.
Watch the video for an in-depth analysis
With input from Reuters