It's difficult to predict the election outcome. If outcomes become clear, markets don't wait for the result but discount this information. Be counter-intuitive and use data and evidence to stick to your allocation and investment strategy.
If one tunes into any financial news channel these days, the line of questioning is likely to be on the impact of the
Lok Sabha Elections
and the prediction for major indices, sectors, stocks and even policies following the likely outcomes. It's not just restricted to television, all types of media have jumped on the bandwagon and the news flow is only looking to increase in frequency and intensity as D-Day (read results day) approaches.
Elections may be one flash point, but if one looks at the years gone by, there are so many instances which would demonstrate that going against the herd and being counter-intuitive may actually work in your favour. The best part is that this is nothing that demands an extraordinary amount of expertise or research, but some good, old fashioned evidence gathering and a dash of common sense.
The fact of the matter is that there is always something happening somewhere and keeping tab of so much information only makes us paranoid. The year 2018 was no different we managed to get distracted even this year as we keep doing year after year. Every year equity markets show a different character symbolically and metaphorically. The 2018 calendar year can be described by character N.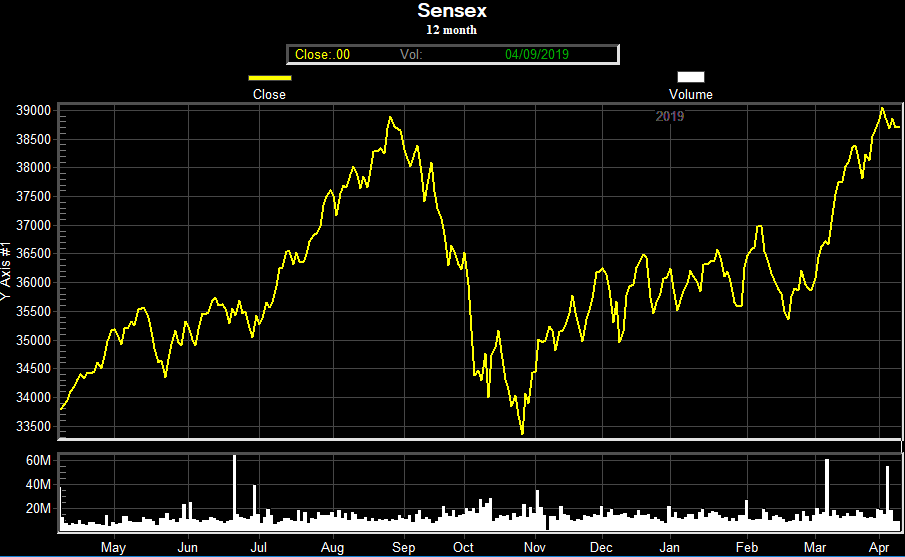 We always prefer to give importance to our intuition when it comes to taking decisions in investment but the irony is that "Good investing is counter-intuitive"
Markets rarely trade at fair valuations; they oscillate between optimism and pessimism. Intuition says that we should invest when everything is safe and the outlook is good. When the future outlook is good most investors get bullish and flock towards risky investments ideas and assets trade at an expensive price. To be optimistic when others are cautious and be cautious when others are optimistic is counter-intuitive.
When we hear 12 percent long term returns of equity, it is intuitive to expect that we will get 12 percent every year. 12 percent average returns in 3 years can come in many ways. 6 percent + 4 percent + 26 percent = Average 12 percent, also -10 percent + 0 percent + 46 percent also gives an average of 12%. There are more 100+ ways in which one can reach 12 percent average returns. Thinking non-linear and not linear is the only way to manage this intuition.
Intuition says that we can predict things easily. In the real world, it's practically impossible to predict. There are so many moving parts to the economy coupled with uncertain variables that it's difficult to predict. All recessions and crises can only be explained in hindsight. Economics is not an exact science. It's not like physics where X happens after Y. In economics instead of X, Z can happen and even if X happens the timing can be uncertain. Preparation and not prediction is the best way to manage uncertainty.
Thinking of returns as addition is intuitive; thinking of compounding is counter-intuitive. If an investment idea has the potential to give 15 percent for the next 20 years, using intuition we feel that the approximate value should be 15 percent X 20 years = 300 percent, which is four times increase in wealth. But thinking in terms of value using compounding is counter-intuitive. 15 percent returns compounded over 20 years = approx. 16.35 times the original money invested.
Intuition says that more complex models give better outcomes. Thinking simple is counter-intuitive. Thinking SIP, asset allocation and sticking to the plan is counterintuitive.
Intuition says equity is risky and Fixed Income is safe. We measure risk with a short term perspective. As tenures become long, risk in equity keeps diminishing and something which seemed risky now seems safe. On the other hand, fixed income which seems safe looks risky when one looks at returns in comparison to inflation and change in lifestyle.
Starting early and saving/ investing more is counter-intuitive. Intuition says we can easily save for our retirement even if we start it at later stages of life. The average mortality rate is increasing. On one hand, it's good that our life expectancy is increasing, but to live a life of dignity and to continue to meet our standard of living, one needs to match it with a high saving and investment rate.
Intuition says we should be worried about central elections. If one looks at past historic data for Indian equities, they have delivered high inflation-beating returns in spite of all possible election outcomes in the last 38 years. This is not the first time that India is going for an election nor will it be the last time. A long term investor who things in decades knows that in his investment timespan there will be at least 5 – 7 elections. Elections do play a role for a short term. It's difficult to predict the outcome; if outcomes become clear markets don't wait for the result but discount this information.
Investing in what everyone is investing in is intuitive. There are some simple questions which we should ask ourselves while investing. Is it over priced? Is it too popular (as was the case with small cap stocks some time back)? Is everyone chasing the same asset class?
Lastly, respect the reversion to mean. Everything reverts back to its average value. In the long run – Equity markets are just a barometer of earnings. In the past, equity markets returns ranged between positive 100% to negative 60% returns in a calendar year. As long as earnings of corporate India are on track from a long term perspective, equity markets long term trajectory would be upwards. It would be prudent if investors don't consider extraordinary gains or losses as part of the new normal.
So how does 2019 looks like? For a good investing experience, let's stop predicting and start preparing. Avoid being sucked in by the popular opinions and the noise around events, be counter-intuitive and use data and evidence to stick to your allocation and investment strategy. Happy investing!
First Published: Apr 9, 2019 8:21 AM IST