As the earnings season for corporate India nears its end, the results reveal subdued performance during the fourth quarter of FY18.
According to a recent report released by CARE Ratings, the financials of 1,377 companies, which have declared results as on May 29, 2018, shows the net sales growth slowing down to 9.1% during Q4 FY18 from 11.4% growth during the same quarter last year.
The same set of companies registered even sharper decline in profits. The aggregate net profits of these companies declined by 53.4% during the quarter as compared to 30.7% growth in Q4 FY17.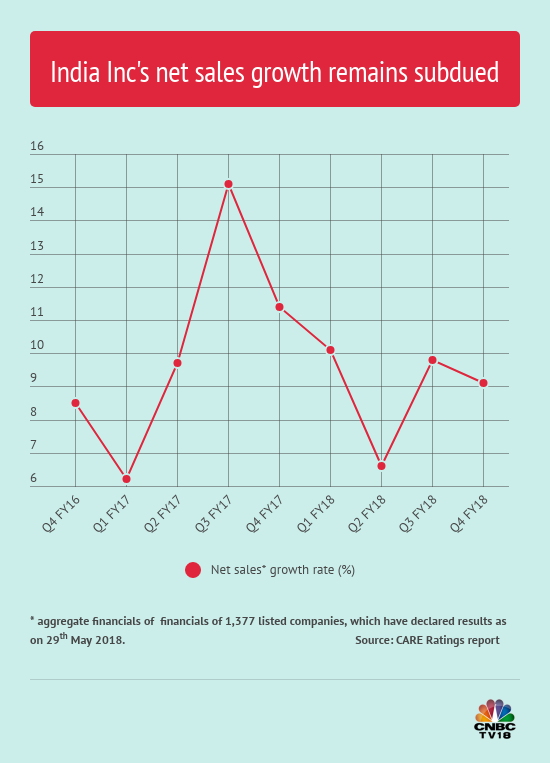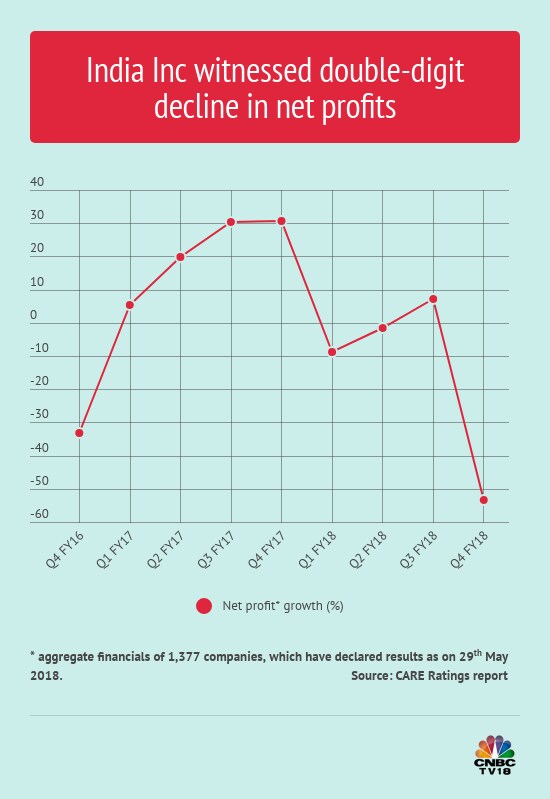 However, these aggregate results are skewed by the poor performance of banking sector, but even after excluding the banking and financial services sector, the results doesn't paint a rosy picture.
Net sales growth for these companies barring banking, financial services and insurance (BFSI) sector, companies were down to 10% during Q4 FY18, as compared to 13.1% growth in Q4 FY17.
Though, in terms of profits, the aggregate performance of these companies witnessed a sharp improvement and increased by 29.3% from a marginal decline of about 3.1% registered in Q4 FY17.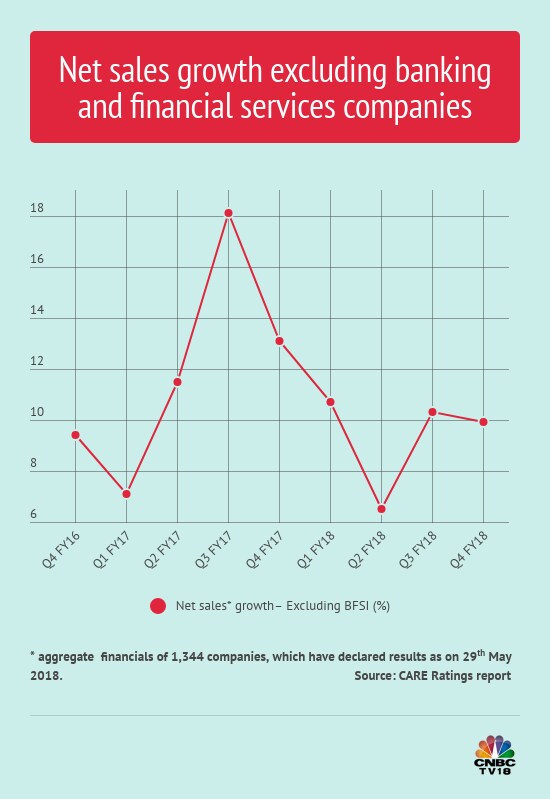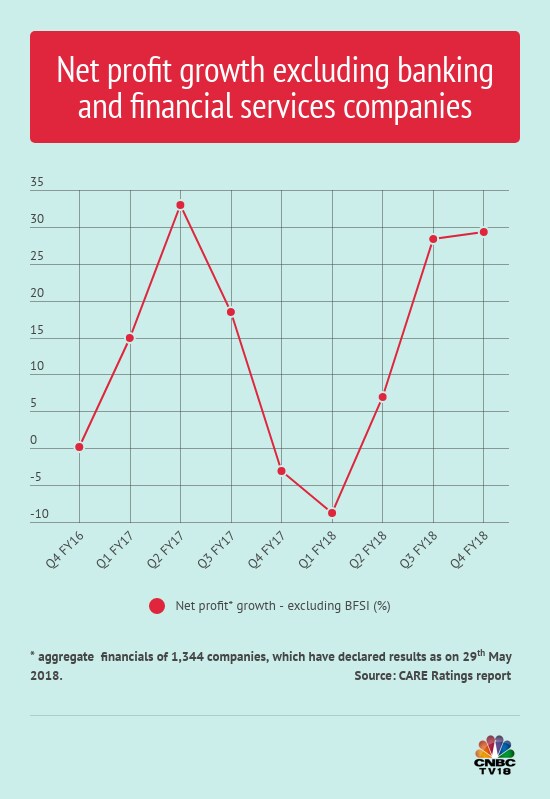 Even the overall results for FY18 are not very encouraging. According to the report, the sample of 1,256 companies analysed, registered a 10.9% growth in net sales in FY18 against 6.4% in the previous fiscal. The net profits witnessed de-growth of 11% compared to 20% growth, a year before.
Excluding BFSI, the growth in sales was higher at 11.8% compared with 7% during same period last year and growth in net profits remained stagnant at 15% during FY18.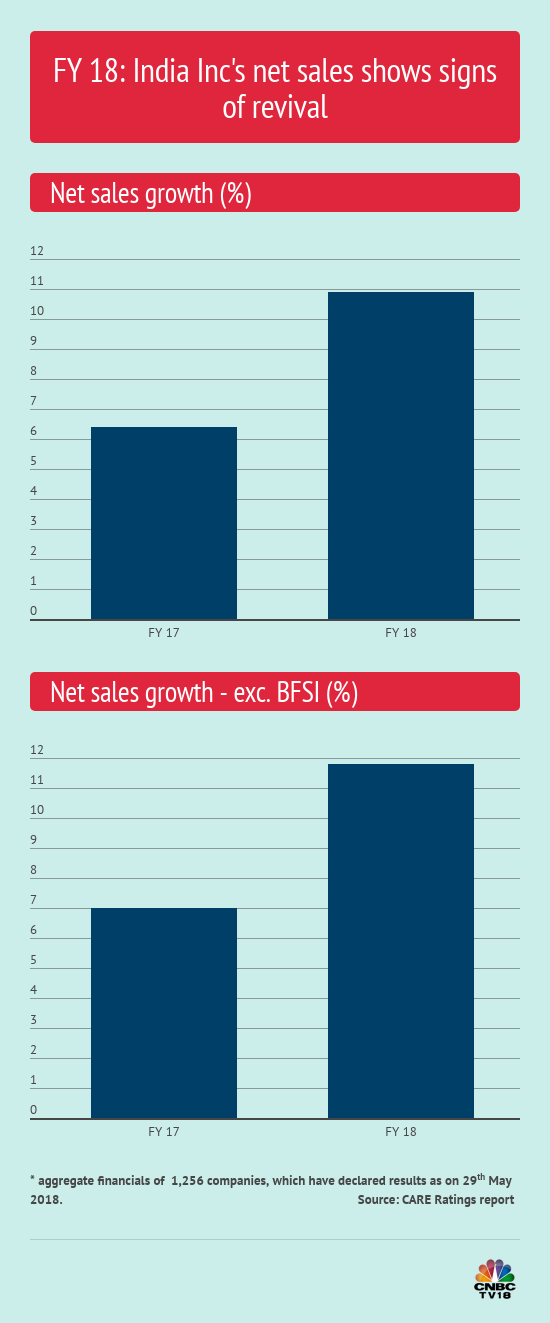 Winners
Despite dismal performance overall, there is a silver lining in this results season. Sectors such as automobile, capital goods and cement did pretty well.
CARE Ratings report said despite went through various regulatory changes in the recent past such as BS-III vehicles ban, GST implementation and rate revisions, the auto sector has still managed to post healthy sales during FY18.
Other sectors such as cement, mining & minerals also performed better. Cement sector was benefited by increased infrastructure spending. "Road projects under 'Bharatmala', metro and smart projects have led to sharp demand for cement industry," said the report.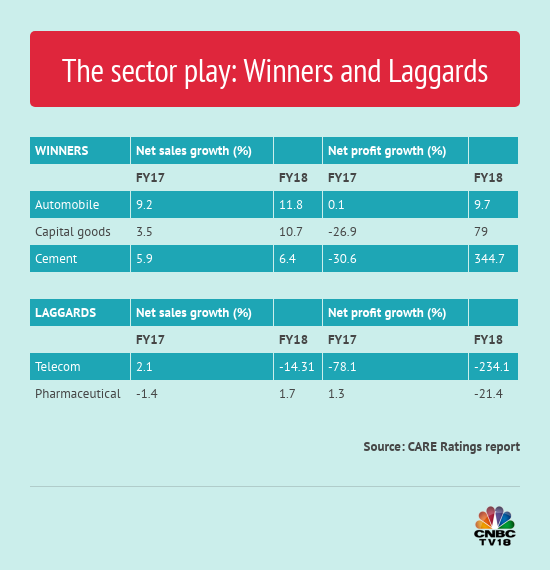 Laggards
The performance of the banking sector was the major reason behind dragging down the overall performance of India Inc. Most of the state-owned banks along with some private ones, with heavy corporate lending exposure reported a higher non-performing assets and, therefore, greater provisioning led to higher losses in the sector.
Apart from banks, sectors such as telecom, pharmaceuticals reported stress during FY18. The pharma sector witnessed only marginal increase in sales growth, but the net profits registered decline of over 21% during FY18 mostly on back of increased competition and price erosion in the US generic market during the quarter.
The telecom Industry was affected by ongoing intense competition among the telecom players leading to double-digit decline in the sales growth during FY18.
"In addition to this, the Interconnection Usage Charges (IUC) was reduced to 6 paise per minute from 14 paise per minute in September 2017, and International Termination Charges (ITC) was cut to 30 paise per minute from 53 paise per minute in January 2018, which also impacted the industry's performance during FY18," the report said.