Since the launch of the Pradhan Mantra Jan Dhan Yojna in August of 2014, there has been a tremendous rise in the number adult Indians with bank accounts.
Data from government's Pradhan Mantri Jan Dhan Yojna or PMJDY website shows that 31.6 crore bank accounts have been opened under the scheme so far. These 31.6 crore accounts have deposits of Rs 81,203.59 crores.
The number of accounts opened under this scheme grew rapidly at first, from about 3.34 crore in September 2014 to 21.92 crores by May 2016. At this point, the deposits stood at Rs 38047.65 crore.
But then came the government's note-ban move on November 8, 2016 and by May 2017, the deposits swelled to Rs 64,163.27 crore
in the span of a year and number of accounts opened under the scheme to 28.75 crores. By 2018, the pace of deposit growth came down again, registering a 27% YoY growth over 2017, compared to 117% YoY growth in 2016 and 69% in 2017.
Between 2014 , when the Modi-government came to power, and 2017, account ownership in India rose by more than 50%, according to the latest Global Findex Survey released by the World Bank in April 2018. Compared to 53% adult account ownership in 2014, 80% of the adults in India has an account by 2017.
Watch
Does one conclude that the government has met its objective of achieving financial inclusion? Hardly.
There is no denying that the increase in number of bank accounts has been impressive, but what remains a worry is the average balance in these accounts which remains low at about Rs 2500. Even worse is the fact that the a large portion of these bank accounts remain inoperative.
The share of small loans has continued to decline during this period. An RTI query also showed that as of Jan 12, 2018, only 4,543 claims have been paid under PMJDY for life cover of Rs 30,000.
Even to this day, 65 million of account holders in India use cash or over-the-counter service for remittances, a World bank study shows. What does this say about financial inclusion in India?
For one, the scheme must be given credit for bridging the divide between female and male account holders. 77% of the female adults & 83% of male adults had a bank account in 2017. Compare this with 43% female adult account holders in 2014 and 63% male adult account holders before the scheme was launched in 2014.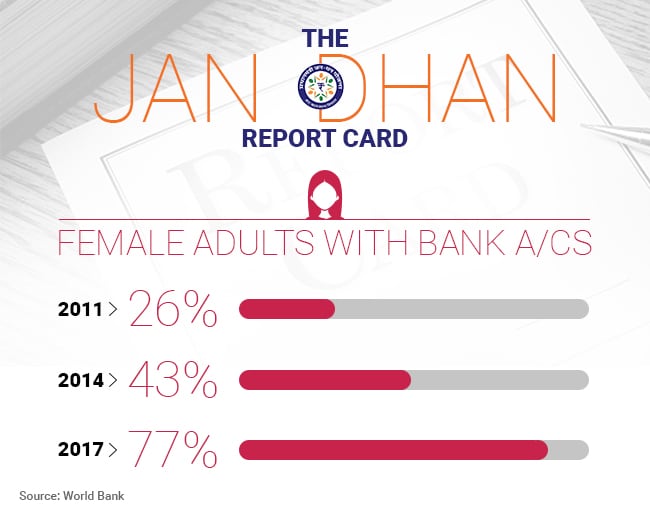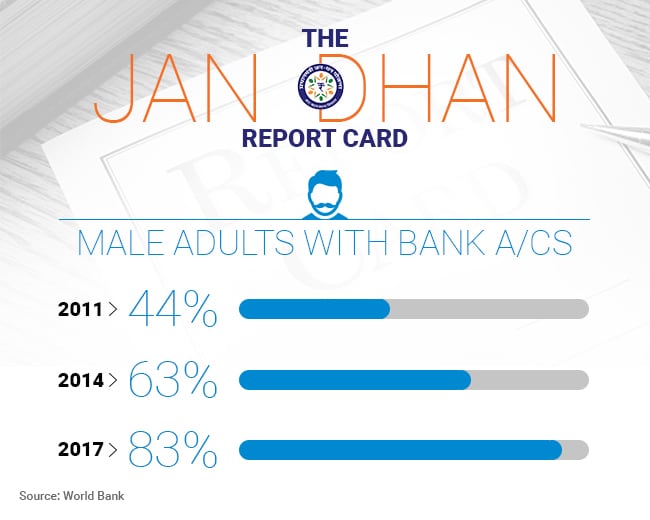 The rich and poor divide has also been bridged to an extent. 77% adult population of the poorest 40% in rural areas had accounts by 2017, compared to 79% of the richest 60% of the population, shows data from World Bank.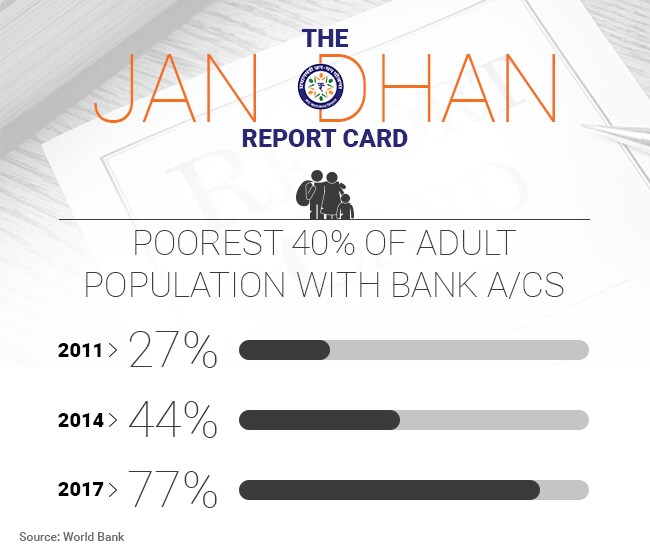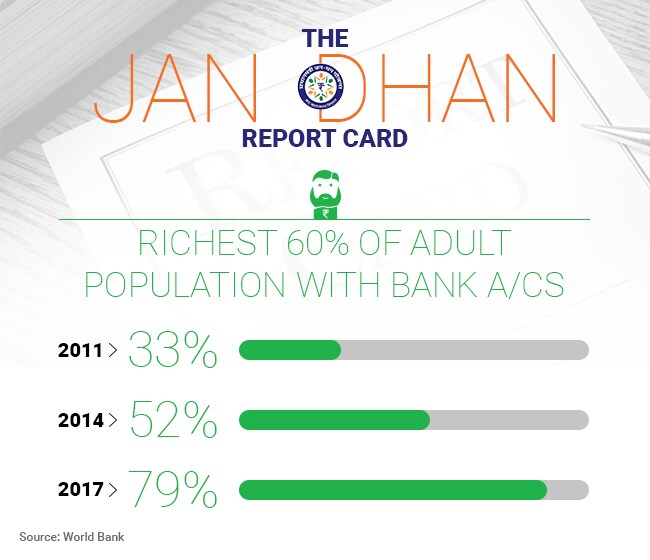 But financial inclusion is not merely the ownership of bank accounts. Financial inclusion is about having access to formal credit from formal sources.
In a reply to the Parliament, the Minister of State for Finance revealed that 49.5 lakh accounts were closed as of December 2017 due to inactivity in those accounts.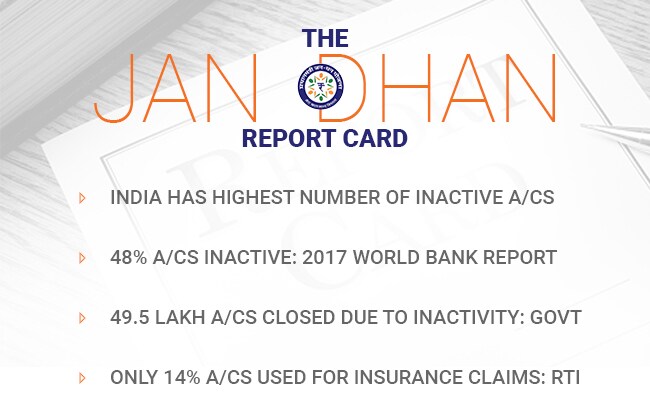 Another RTI query revealed that merely 14% of the of the 31 crore accounts opened under the scheme had made claims for life insurance. A life insurance cover of Rs 30,000 to those beneficiaries who opened their accounts between 15 August 2014 and 31 January 2015 was provided by the government under the PMJDY. This shows that activity in these accounts remains dismal.
How does India stack up with the rest of the world?
India has the dubious distinction of being the second-most unbanked country in the world after China. India has 20% unbanked adults compared to the global average of 31%, according to the World Bank. Similarly, 48% accounts in India remain inactive- that is without nay withdrawal or deposit activity- compared to the global average of 20%.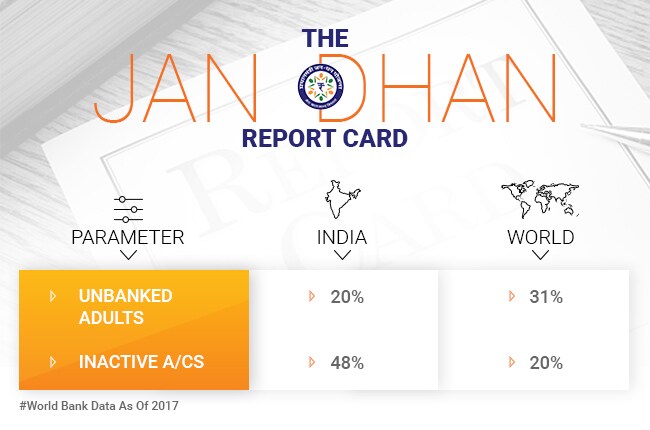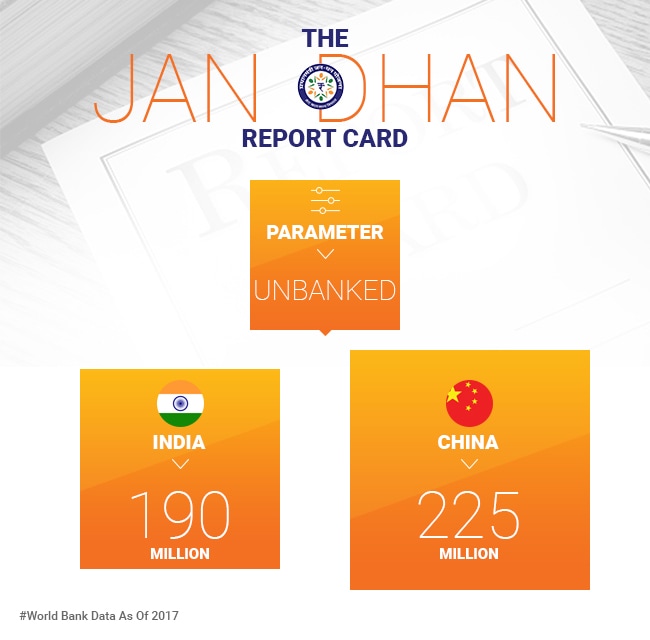 There is no denying that the government has made good stride in taking the first step towards achieving financial inclusion by aiding the opening of bank accounts. But giving the common man access to formal, cheaper credit from banks remains a distant dream.