Well, April 2018 series belonged to the bulls, the Nifty avoided a hat trick of down series after a near 1,000 points in the previous two series combined (February and March).
With the headline Nifty +5.3%, the Nifty Bank that is normally the anchor of the Nifty's up move gained of little over 3%.
But the Nifty IT index took over and played a cracker in the past series.
The Nifty IT + 12% with TCS taking the lead, gaining 24% during the series became the first Indian company to hit a $100 billion mark.
Other IT gainers included Nifty IT + 12%, TCS +24%, HCL Tech +11%, Tech Mahindra +8%, Infosys +4% and Wipro flat.
Well, there were other gainers that contributed to the upside. Yes Bank came out of nowhere and delivered a stellar set of numbers.
The stock jumped 17% and half of those gained came on the last day of the series (Thursday).
M&M: +16%, Kotak Mahindra Bank +13%, Pharma Index +6%, Lupin +11%, Adani Ports +11% and Reliance +10%. The Mukesh Ambani-led Reliance Industries Ltd (RIL) is just $5 billion away from joining the $100 billion dollar mark.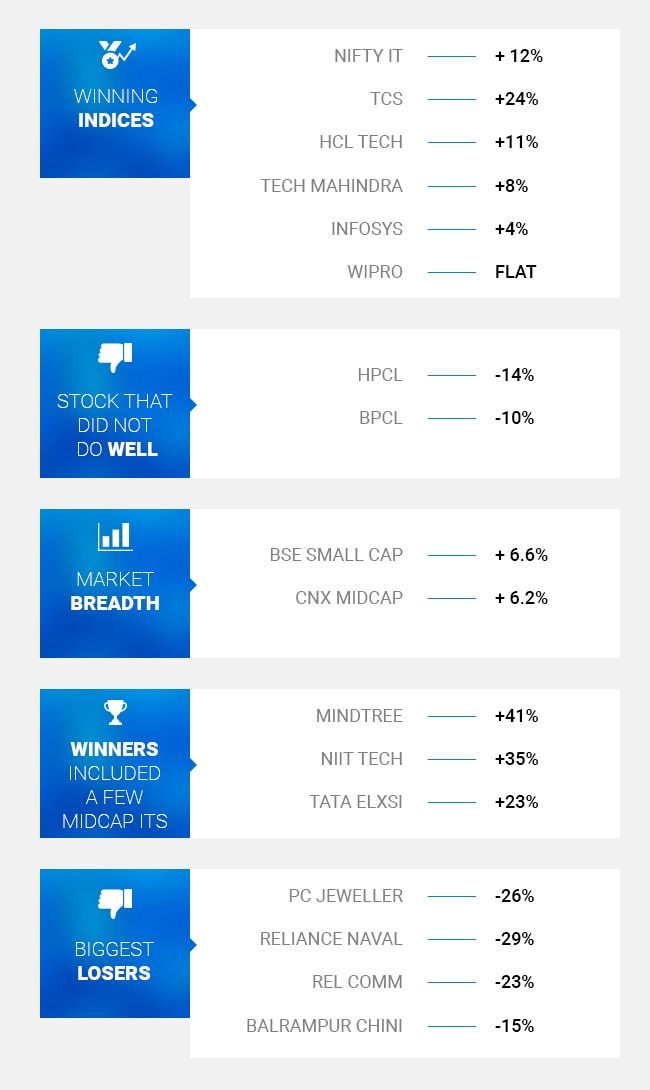 Stocks that did not do well from Nifty were HPCL -14%, BPCL -10% and IOC -9%.
Oil marketing companies were expected to remain jittery in the run up to the general elections as crude oil spikes up and the big question is will they bear the brunt of this spike.
The breadth of the market did well though with BSE Small Cap + 6.6% and CNX MIDCAP + 6.2%. And winners included a few midcap IT names like Mindtree +41, NIIT Tech +35, Tata Elxsi +23 and Raymond +24.
Raymond delivered a strong set of numbers and the street was happy with progress on their land development as well.
Other gainers, SREI Infrastructure +25 and GMR Infra +21, DHFL +21, DCB Bank +21, United Breweries +20 cheers all the way.
Biggest losers were PC Jeweller -26%, Reliance Naval -29%, Rel Comm -23% and Balrampur Chini -15%.