Benchmark Indian indices, the Nifty and the Sensex underperformed compared to its Asian peers such as Hong Kong's Hang Seng, and Japan's Nikkei indices, India Infoline, a financial service company said.
Nifty 50 and Sensex soared to new highs of 11,130 (Jan 29, 2018) and 36,283 (Jan 29, 2018) respectively for the first time.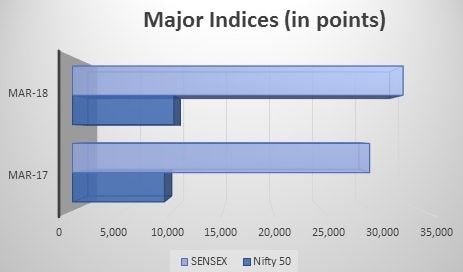 Concerns over political uncertainty over future elections added to woes, while falling credit quality, and a rising number of defaulters contributed to the decline in indices.
Nifty PSU Bank sector performed poorly following the news of constant unveiling of fraud in the banking system.
"Globally, rising interest rate scenario in the US, rising bond yields, trade war between the US and China, not forgetting risk of an inverted yield curve is an early sign of the US economy entering into recession, which increases the risk of a decline in the business cycle," IIFL said.Implementation of Goods and Services Tax (GST), Real Estate Regulatory Authority (RERA) in real estate and better earning season for corporates supported gains, in addition to the moderate consumer price index (CPI) inflation stood positive for the market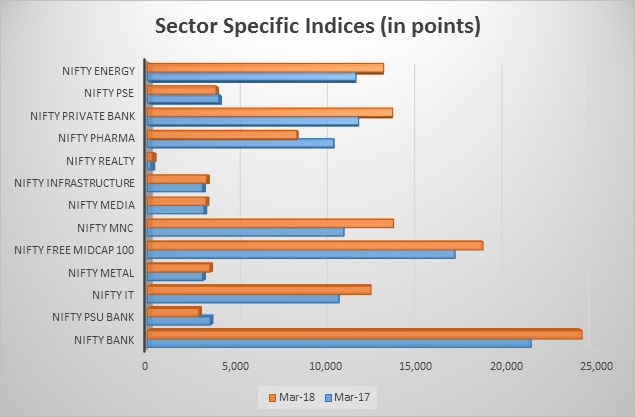 Initial Public Offerings:
Nearly 190 companies started trade on the bourses in the financial year 2017-2018 with a total worth of about Rs. 74,000 crore.
About 13 companies had an issue size of Rs. 1,000 crore which include companies such as:
> General Insurance Corporation of India at Rs. 11,373 crore
> New India Assurance at Rs. 9,600 crore
> SBI Life Insurance at Rs. 8,386 crore
> Bandhan Bank at Rs. 4,473 crore
While most of these IPOs have given high returns, some IPOs listed at a discount and added to losses.
Here are the top companies which listed at a premium in FY 2017-18.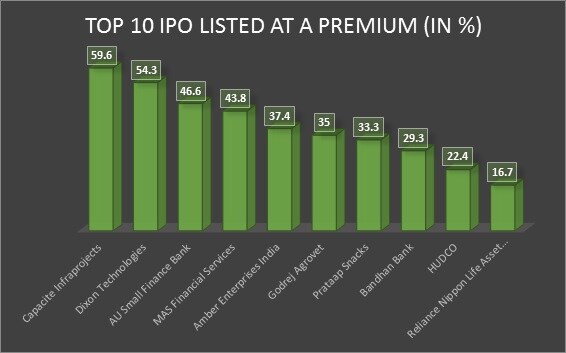 Here are the top companies which listed at a loss in FY 2017-18
.