Total mobile 4G subscriptions in India to rise to 432 million by 2020, Cyber Media Research (CMR) group said in a report published on Tuesday.
Reliance Jio, with its affordable data services and new feature phone, "JioPhone", has taken the market by surprise prompting merger talks between Idea and Vodafone to tackle the telecom giant.
However, CMR had a different view on the competition between Reliance Jio and incumbents, Bharti Airtel, Idea and Vodafone.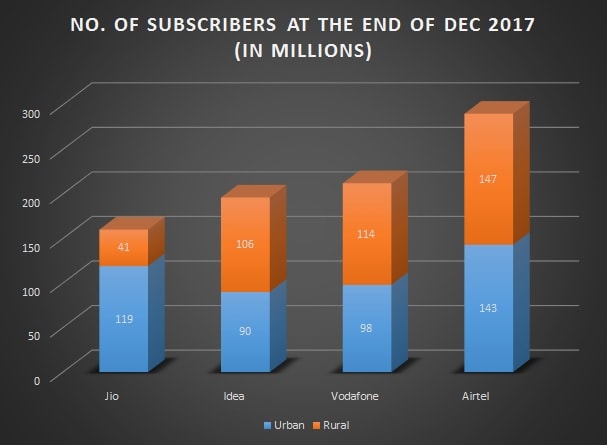 Jio's entry into in the 4G market has forced the incumbents, to ramp up their technology, enabling them to increase their subscribers base at a rate of 457%. Jio's subscribers base, although higher at 88 million, grew at a lower rate of 112% by the end of December 2017, the report said.
83 million out of the 238 million 4G subscribers at the end of December 2017, were from the rural regions of India, the report added.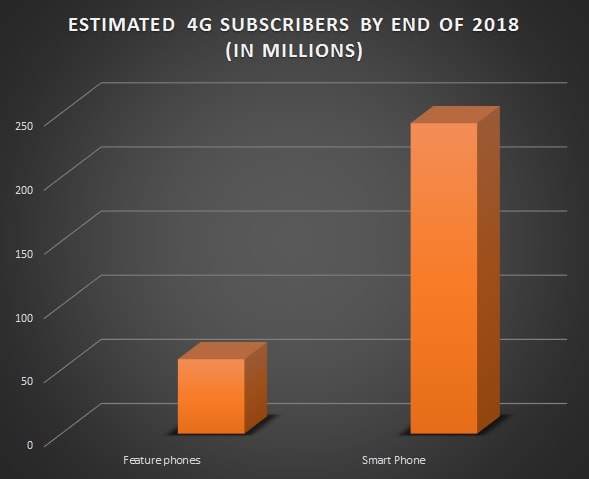 CMR estimates, India to have 300 million 4G subscribers by the end of 2018, of which 58 million will be using a 4G Featurephone. Remaining 81% of the subscribers will be using 4G over a Smartphone.
"Though laggards, incumbents have managed to increase their 4G subscriber base 3.8 times more than the disruptor operator Jio during 2017. This could be attributed to incumbents aligning their 4G offering to that of Jio in terms of price as well as content," said Faisal Kawoosa, Head – New Initiatives, CMR.
In rural India, 26% of subscribers are using Jio 4G, while its competitors had a higher share of 53% at the end of 2017, the analysis showed.