The recent slide in the rupee isn't all bad news. While it will impact inflation, as our imports exceed our exports, and a good chunk of the imports is crude oil, it will also make India's exports more competitive and perhaps provide an opportunity to grow overseas sales of goods and services — thus helping to narrow the trade deficit.
For Indian companies, the impact will vary based on their nature of exposure to overseas markets — as importers, exporters or borrowers. A study of the forex earnings and expenditures of companies forming part of the BSE-500 index throws up some interesting facts.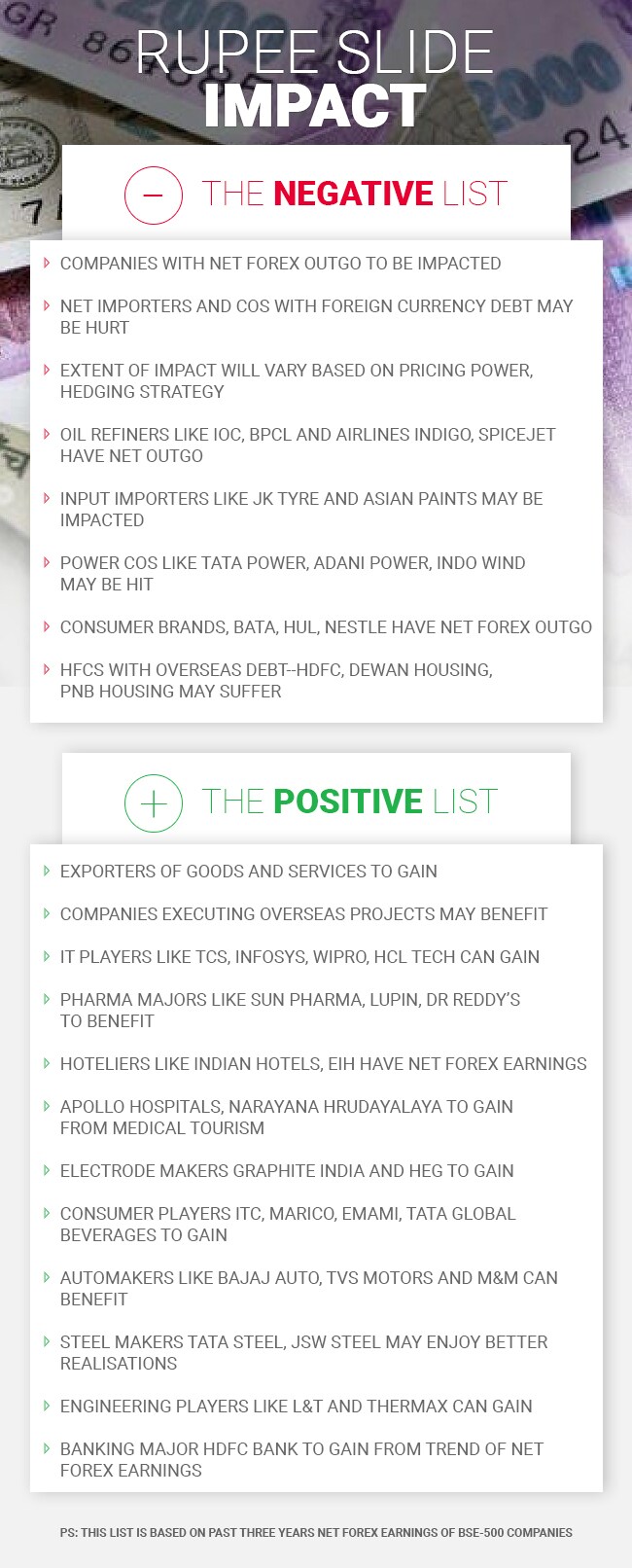 Major Gainers
Besides, IT services companies like TCS, Infosys, Wipro and HCL Tech and pharmaceutical majors such as Sun Pharma, Dr Reddy's and Lupin, who generate large revenues from exports, other likely gainers are hotels (Indian Hotels and EIH), hospitals (Apollo Hospitals, Narayana Hrudayalaya—from medical tourism), steel exporters (Tata Steel and JSW Steel), electrode makers (HEG and Graphite India), auto-makers with significant overseas presence (Bajaj Auto, TVS Motor and Mahindra & Mahindra), engineering majors (Larsen & Toubro and Thermax) and banking major HDFC Bank.
The extent of positive impact on profits in the coming quarter(s) for these companies, though, will depend on the rupee remaining weak for a sustained period, as well as the hedging and pricing strategies of the individual companies. Also, any such impact is likely assuming all other factors remain unchanged.
Major Losers
The companies that may suffer due to a weaker rupee include the large oil importers such as IOC, BPCL and HPCL and airlines with limited overseas operations — IndiGo/Interglobe and Spicejet. Tyre maker JK Tyre and paint maker Asian Paints also have a net forex outgo record. Power majors, Tata Power, Adani Power and IndoWind, could be hurt.
Interestingly, housing finance biggies HDFC, Dewan Housing Finance and PNB Housing Finance could also be impacted due to their significant overseas debt exposures. Bharti Airtel also has a high net forex outgo. And last but not the least, consumer goods companies such as Bata, Hindustan Unilever and Nestle could be impacted.