Fulfilling a long-cherished wish of various stakeholders, Sebi has recently allowed the participation of mutual funds in the commodity derivatives market (Salient features in Table 1)
Commodities provide better alpha than many other asset classes, making this asset class ideal for retail investors (Table 2 gives the main features of commodity as an asset class). However, trading in commodities requires fundamental knowledge as each commodity price is driven by its own set of supply demand equations. As a result, many retail investors feel inadequately equipped to actively participate in the market. Financial institutions like Mutual Funds have access to high quality research and can actively participate in the Indian commodity derivatives market thereby offering cross asset class investment products with diversification benefits to a large pool of retail investor.Besides, the presence of Mutual Funds in commodity derivatives market can make the market more robust by providing liquidity especially to the far months contracts. Enhanced liquidity and presence of diverse participation groups, including hedgers, can strengthen the price discovery mechanism of the commodity market and make risk management on exchange platforms more attractive to the stakeholders by lowering the impact cost of trade.
Global Trends
Investments in commodities have dramatically increased in the last decade to the point where commodities have now become a mainstream asset class. The increasing popularity of commodity investing reflects the desire of investors to take advantage of the diversification benefits of broad commodity investment. Globally, a number of Mutual Funds too have started taking advantage of investor interest and are actively involved in commodity investment through strategies such as futures-based Exchange Traded Funds (ETFs), long-only or short-only strategy, actively managed commodity Fund, Commodity-Arbitrage Fund etc.The mutual fund industry of India, as in the global markets, has continuously been evolving. The participation of mutual funds in the commodity derivative markets will not only help the domestic commodity market to broaden and deepen; but the bigger volumes will also make the markets efficient and safe. Several segments in India's financial market witnessed a big leap forward after institutions started to participate in a big way and a similar benefit can be expected for commodity markets when mutual funds start offering schemes with commodity derivatives.
This is a partnered post.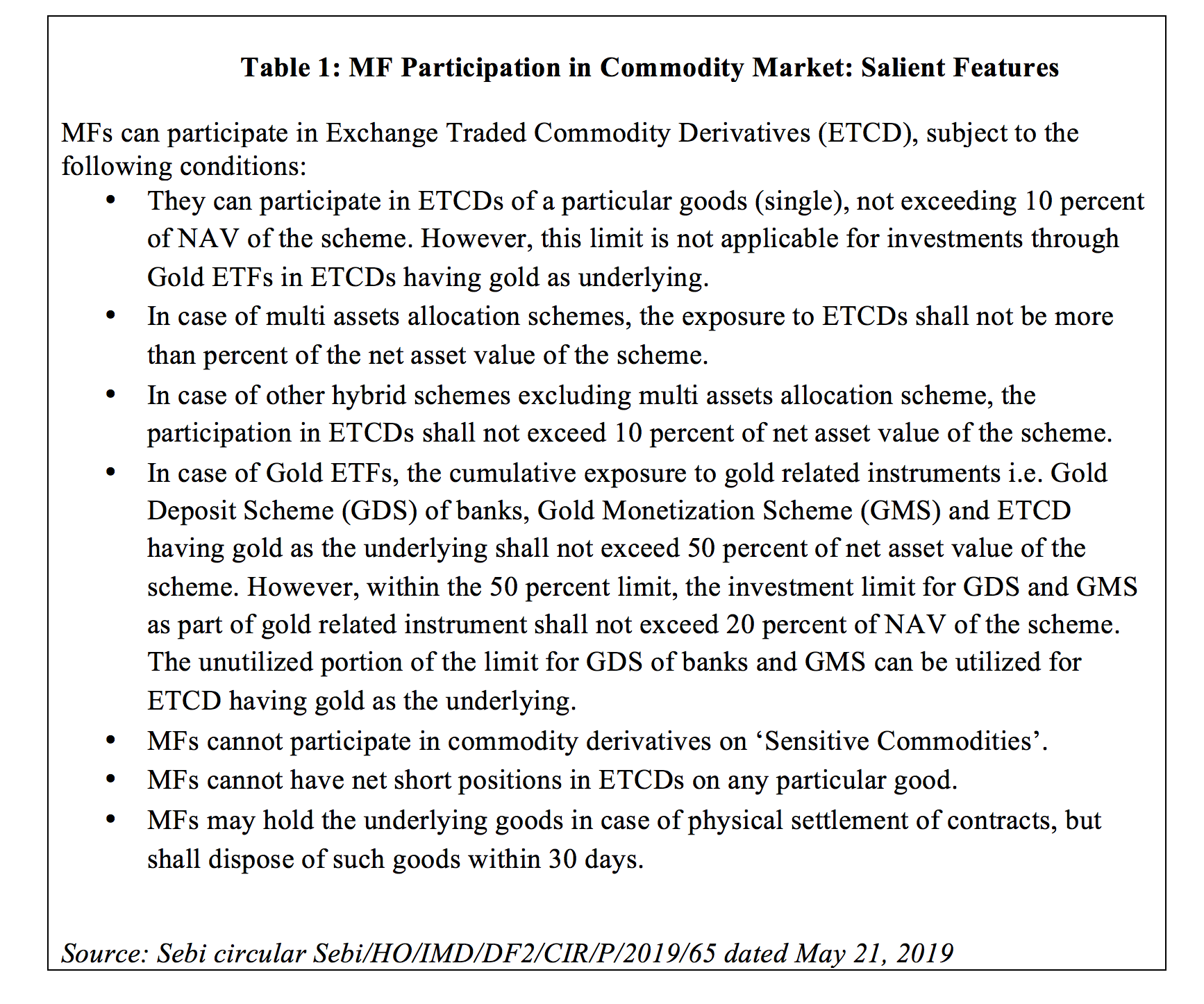 First Published: Oct 10, 2019 3:23 PM IST