It is safe to higher revenues from ethanol and lower sugar inventory levels will drive the sector in the long run.
The sugar industry had a forgettable year in 2018 due to record production — a growth of 59.1 percent — which resulted in glut and lower prices. Sugar producers suffered losses as prices fell to Rs 25 a kg in FY17-18. The minimum selling price has since only improved a tad to Rs 29 a kg.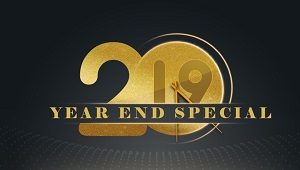 Exports were not the answer because global prices too were subdued. Global sugar prices dropped to below 11 cents a pound in FY17-18. In October, there was a small uptick and touched the level of 13 cents and currently, it is at 19 cents.
The annual demand of sugar in India is around 26 million tonne (MT) but companies produced a record 32.5 MT of the commodity in 2017-18 due to good cane season. Usually, sugar mills keep some inventory and this year, it got piled up due to low demand. The government also took some steps in 2018 to address this issue.
India also has an opening stock of 10 MT at the start of the current marketing year, which began in November.
The problem would have precipitated if not for the sharp increase in the output of ethanol, a byproduct of sugar and the principle ingredient in alcoholic beverages such as beer, wine and brandy.
In sugar, when there is a problem of plenty, and unpaid cane arrears rise as a consequence, ethanol can come in handy. The solution is to divert cane to produce ethanol.
This year, the government attempted to pare down sugar arrears by providing subsidy or by increasing ethanol prices. Besides reducing sugar arrears, diversion towards ethanol also helps cut down the dependency on oil imports.
The government also provided incentives to sugar mills to boost exports by meeting costs related to shipments abroad. For the next season, Indian Sugar Manufacturers Association (ISMA) revised output guidance from 35 MT to 32 MT and to 31.5 MT if cane is diverted towards ethanol. Lower production, diversion towards ethanol and exports are expected to clear arrears.
All these developments signal that the worst may be behind the industry.
Higher ethanol prices will bump up the profitability of sugar companies. Lastly, sugar prices may increase in the next season, propping up sugar companies.
But first let's take a look at the steps taken by the government:
May 2018
To pare down arrears, the Cabinet approved subsidy of Rs 5.5 per quintal to cane farmers on May 2.
June 2018
The government announced MSP (minimum support price) at Rs 29 a kg and incentives for setting up distillery capacity.
September 2018
The government permitted revision of the price of ethanol derived from B-heavy molasses/ partial sugarcane juice. It fixed a higher price for 100 percent sugarcane juice-based ethanol for the forthcoming sugar season (from December 1, 2018 to November 30, 2019). The Uttar Pradesh government offered a loan subsidy of Rs 4,000 crore through banks and other financial institutions on an interest of 5 percent for five years to clear cane dues.
Is Ethanol The Way Ahead?
The policy changes pushed by the central government related to ethanol and its blending in May and September are expected to benefit the sugar sector in the long run. In May, the government asked oil marketing companies (OMCs) to target 10 percent blending of ethanol from the current blending of 4-5 percent. In September, the government raised ethanol prices by 25 percent to divert the sugar surplus.
The current ethanol prices are as follows:
Sugarcane juice: Rs 59.19 a litre
C-heavy molasses: Rs 43.46 a litre
B-heavy molasses: Rs 52.43 a litre
Now, the calculation has become simple: if a sugar mill is making ethanol from B-heavy molasses, additional revenue of around Rs 23 a litre (ethanol price of Rs 52.43 – MSP of Rs 29) is generated. As the input cost for ethanol largely remains at similar levels, the additional revenue generated from the ethanol business will directly flow into the bottomline.
With the next season already underway from December 2018, the industry expects 200-225 crore liters of ethanol from sugar factories to flow to OMCs against the total requirement of up to 340 crore litres. Of this, around 40-50 crore will be from B-heavy molasses and the rest from C-heavy molasses.
The tender for ethanol procurement for 2018-19 has been launched by OMCs, and for the first time, there has been a bid for 48.5 crore litres of ethanol from B-heavy molasses and 1.84 crore litres from sugarcane juice. There will be further reduction in the sugar production because of the diversion towards ethanol. Already, Balarampur Chini has bid for 11 crore litres under tender for ethanol procurement.
Problem is only 25 percent of the sugar mills in India have distillery capacity. It is expected to take 2-3 years for the industry to meet the current ethanol demand. Companies with exciting capacity will enjoy the early benefits.
Financial Impact If Sugar Production Is Diverted Towards Ethanol
Ethanol is a high-margin business for sugar companies. Companies make margins of up to 50 percent on ethanol blending. Listed below is the Q2FY19 margins from ethanol segment and the current capacity: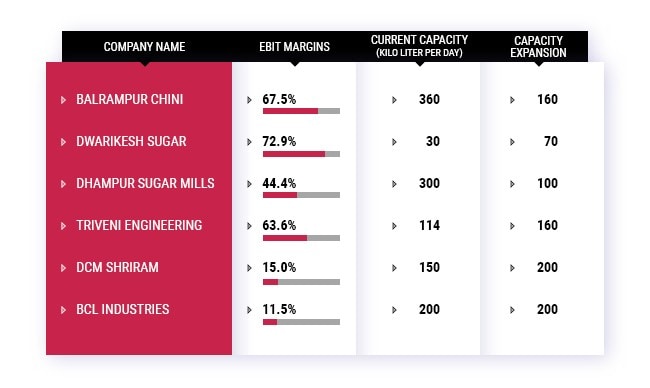 What About Exports?
Besides raising ethanol prices, the government also provided subsidies to boost sugar exports. Total assistance of more than Rs 5,500 crore was offered to the sugar sector.
That translates to Rs 13.88 per 100 kg of cane. The government also approved subsidy on freight and handling charges. India has bagged contracts to export about 8 lakh tonnes of the sweetener to countries in the Middle East and Sri Lanka. Also fixed target of 5 million tonne of annual exports for the current season.
The Revised Outlook For Sugar Production
Earlier, ISMA had projected production of 35 MT in the 2018-19 season, accounting for the higher cane acreage and forecast of a normal monsoon. Rainfall in most of the sugarcane areas in Maharashtra has been substantially lower than last year as well as below average in the last three years. The estimate has been revised to 32 million tonne for 2018-19. If ethanol diversion were to be considered, sugar production is estimated at 31.5 million tonne.
Companies are now focused on building new capacity for ethanol business due to the high margin and reduce inventory levels. Additional revenues coming from ethanol will directly flow to the profits. It is safe to higher revenues from ethanol and lower sugar inventory levels will drive the sector in the long run.
First Published: Dec 27, 2018 5:19 PM IST