2019 (CY) has been good for IPOs (initial public offering) as compared to the last year. Markets are flourishing again because of increased equity infusion by the foreign investors and upcoming general elections.
Among 16 IPOs, eight have already delivered more than 10 percent growth since their listing. However, the best performance has been delivered by
Rail Vikas Nigam Ltd (RVNL)
.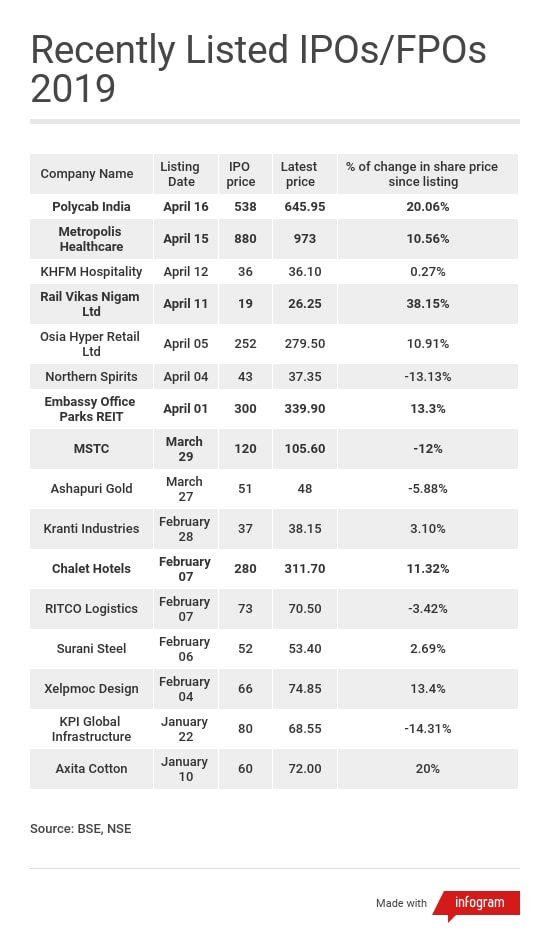 The company was listed on April 11 at a price band of Rs 17-19 per share, and the stock has already risen 38.15 percent on the NSE. The Miniratna company is responsible for setting up new rail routes for Indian Railways. RVNL is the third PSU after RITES and IRCON. It is the only railways PSU that has been profitable for the last 13 financial years.
After RVNL,
Polycab India
has witnessed a robust demand and healthy rally of 20.06 percent on the NSE. The wires and cables manufacturer was listed on April 16 at a price band of Rs 533-538 per share. The stock was listed at a 17 percent premium over its issue price and received positive comments from analysts.
Embassy Office Parks was subscribed 100 percent on the last day of its share sale, at the price band of Rs 299-300. The real-estate company is seen as a strong balance company which is expected to grow with its leasing and rental revenue coming through commercial and hotel businesses.
Meanwhile, Metropolis Healthcare has delivered 10.56 percent on the NSE since its listing on the exchanges. The stock received healthy thrust from the analysts with 5.83 times subscription on its final day of bidding. Metropolis is one of the leading diagnostics centre in India with a range of clinical laboratory tests and profiles.
State-run e-auction company MSTC has been the only prominent stock that has seen a negative growth of 12 percent. The company had extended its listing date to lower the price band to Rs 120-128 from Rs 121-128 per share earlier. Even after that, the stock didn't see much growth and had opened 5.1 percent lower than its issue price.
Thus, this year has started with a good run for the IPOs as compared to the last. Last year, IPOs took a really hard-hit due to weakening rupee, surging bond yields, rising interest rates, expectations of higher inflation and increased volatility. Of the top 10 IPOs by issue size last year, only three companies traded above their issue price, which are Bandhan Bank, HDFC Mutual Fund and Lemon Tree Hotels.