The Van Gogh 360° exhibition made its first stop in India in Mumbai on January 20. The next destinations include Delhi and Bengaluru, the dates for which would be announced soon. The organisers are also looking at expanding the exhibit to Hyderabad and Chennai and hope to take it to tier-II cities as well. Find out more about the immersive show, experienced firsthand in Mumbai.
The day wasn't going all that well for PR professional Gauri Sultanpuri. That's when she decided to attend the Van Gogh 360° exhibit in Mumbai. And things kind of changed. "The moment I entered the immersive experience exhibit, Vincent van Gogh's The Starry Night was up. I instantly felt so calm and glad I made the decision to come," she said.
The Van Gogh 360° immersive experience is just what the name suggests. As viewers sit comfortably or lie flat on their backs and look at Van Gogh's paintings ascend, amalgamate and transition effortlessly into the other, it feels like one is inside the painting. It's quiet in here and there are appropriate seating arrangements for those who cannot sit on the floor. The experience is all-consuming, but in a good way.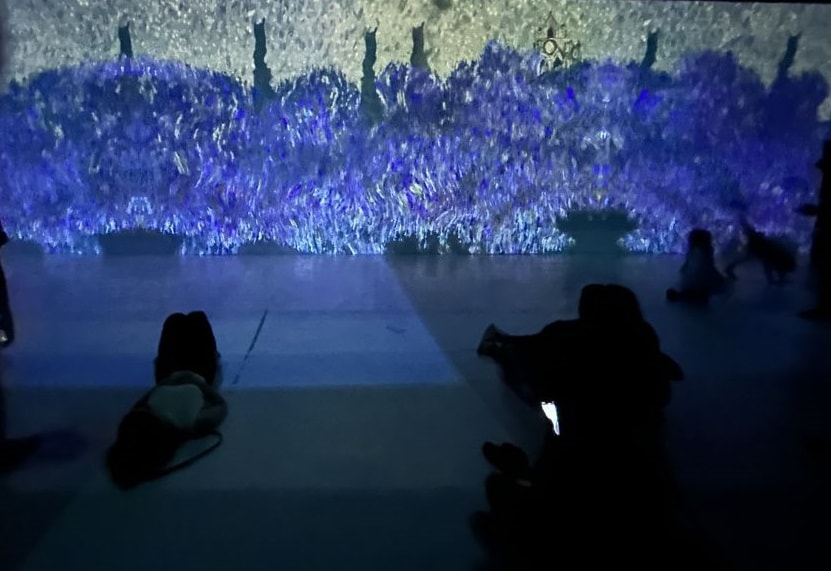 A woman lies down and watches the Van Gogh 360 exhibit in Mumbai (Pic courtesy: Shloka Badkar)
Subjects: Landscapes, people, self-portraits, mental health and more
"I work as diligently on my canvases as the labourers do in their fields" — Vincent van Gogh.
Vincent van Gogh was a 19th century Post-Impressionist Dutch painter, with over 2,100 artworks to his name, which he created over a span of 10 years. He also worked as an art dealer, a language teacher, bookseller and lay preacher. He took up painting at age 27, and is said to have sold only one painting in his lifetime — The Red Vineyard at Arles
While his impact on the art world has been massive, just recognition came his way only after his death. The artist also struggled with mental health issues, and at one point he severed his ear with a blade. He got himself admitted to a psychiatric hospital, where he also went on to paint The Starry Night, one of his most famous artworks, which is now displayed at the Museum of Modern Art in New York.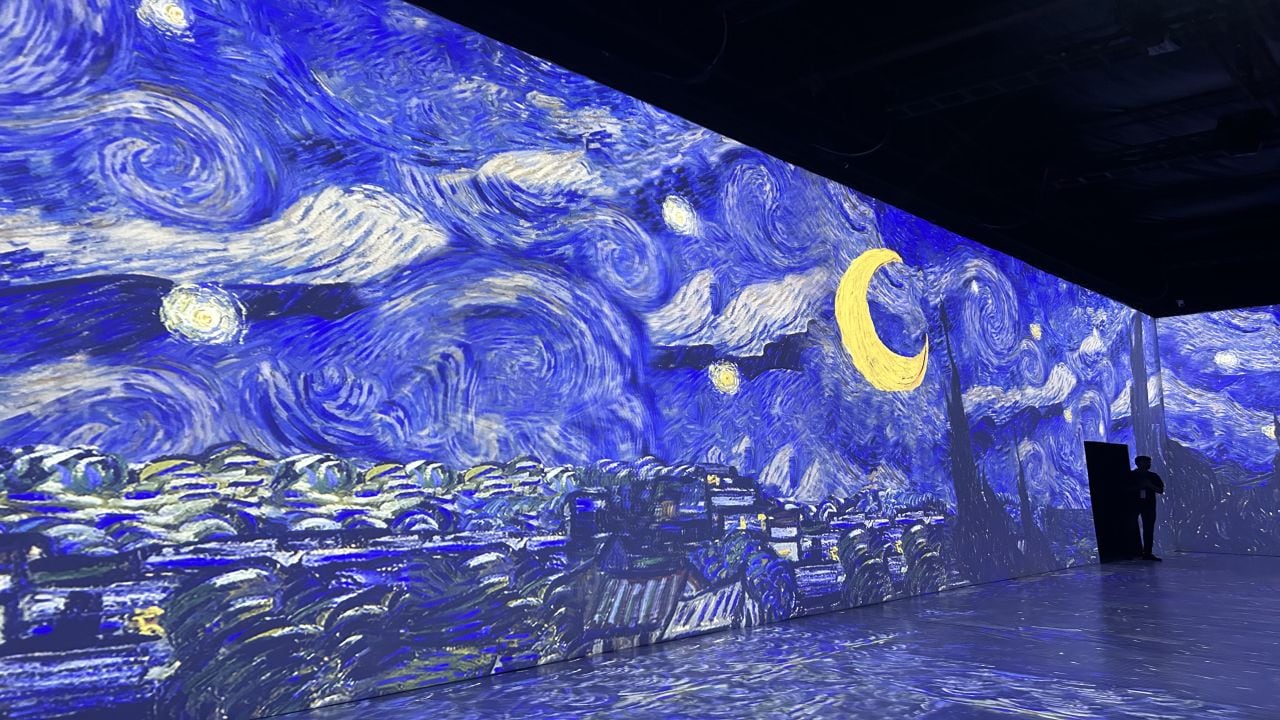 Vincent van Gogh's The Starry Night (Pic courtesy: Shloka Badkar)
Van Gogh 360° in India: Upcoming shows & how to book
While the immersive exhibit opened to visitors in Mumbai on January 20, its next stops are Bengaluru and Delhi, with the latter most likely to start in April. The organisers are also looking at other cities such as Hyderabad and Chennai and are exploring venue options. The dates for all would be announced on their website vangogh360.in as and when the locations get locked.
"We are also intending to go to the tier-II cities of India as we want to take this experience there," said Tabish Khan, the director of Theia Enterprise Pvt Ltd, which is the media partner for Van Gogh 360° in India.
The Mumbai show is on till March 3 and visitors can book their tickets on bookmyshow.com. The ticket prices start from Rs 999 for weekdays and Rs 1,299 for weekends and the rates vary according to the time slots.
The 'any time ticket' costs Rs 2,500 and allows entry at whatever time is convenient for them.
Khan said van Gogh's art is the main inspiration to bring the exhibit to India. "We have experienced something like this internationally, and found that there is nothing like it in India. We thought that this is one of the finest immersive experiences in the world, and we must bring it to India," he said, adding that for people who get to travel, they get to experience a lot of such exhibits.
"The ones who don't get to travel, they are missing out on something and we want to get the art to our own people. It's a one-of-a kind experience and we are very glad we could do this," he said.
Exhibit's growth in India
While the exhibit made its first stop in Mumbai, the organisers said they are gauging the response and will accordingly make the upcoming ones larger. The exhibit in Mumbai has three sections — the first is the introduction to van Gogh, second is the immersive experience, and the third is the souvenir section. The entire experience takes around 45 minutes to an hour.
The van Gogh exhibits in other countries have VR experiences as well as physical touch-and-feel experiences, which the organisers are expecting to incorporate in India as well in the future. "As we are learning about how Indians are accepting this, which we feel they are accepting really really well, we hope to see those experiences in India really really soon," he said.
The organisers also said revenue is not their top priority when it comes to the exhibit. "We are here to give an experience. Yes definitely, when someone is doing business, they are looking at the revenue part, but if you ask me about our expectations, that (revenue) is our second priority. We want to give the best experience to India." Khan said.
Vincent van Gogh's Almond Blossom transitions into Sunflowers (Pic courtesy: Shloka Badkar)
The Emily in Paris charm
While the van Gogh art exhibit started touring in North America in 2017, and then went on to other cities such as London, Tokyo, Amsterdam, an episode from the Netflix show, Emily in Paris, sort of helped spread more awareness about the immersive art experience.
"The show has definitely helped spread awareness about this art and immersive experience. We are getting to see a lot of youth also now coming here, because they know exactly what to expect, after watching the show. It is a huge art-centric show. Usually, the youth are not that inclined towards art and such exhibitions, but it has definitely helped people understand what they are going to experience, so yes, it has helped in some form," said Jay Punjabi, who works for Nikhil Chinapa, the brand ambassador for the Van Gogh 360° in India.
Visitors speak
The visitors CNBCTV18.com spoke to said they enjoyed the exhibit and it was something they had never experienced before. "It was nice. We wanted a full 360° view, but the upper layer was not there. But otherwise, the way it is done, the way it is presented, the whole transitions, it was so beautiful," said one of the visitors, Nisha Lulla.
Tejal, a mother of two, said she brought her children to the exhibit because her older one was learning about the artist in school. "He is learning about van Gogh in school and I thought the exposure would be good for both of them. My three-year-old daughter doesn't really know much yet, but she found the experience very fascinating," she said.
(Edited by : Shoma Bhattacharjee)
First Published: Jan 23, 2023 8:05 PM IST